Google unveils new Pixel phones, Home speakers, laptop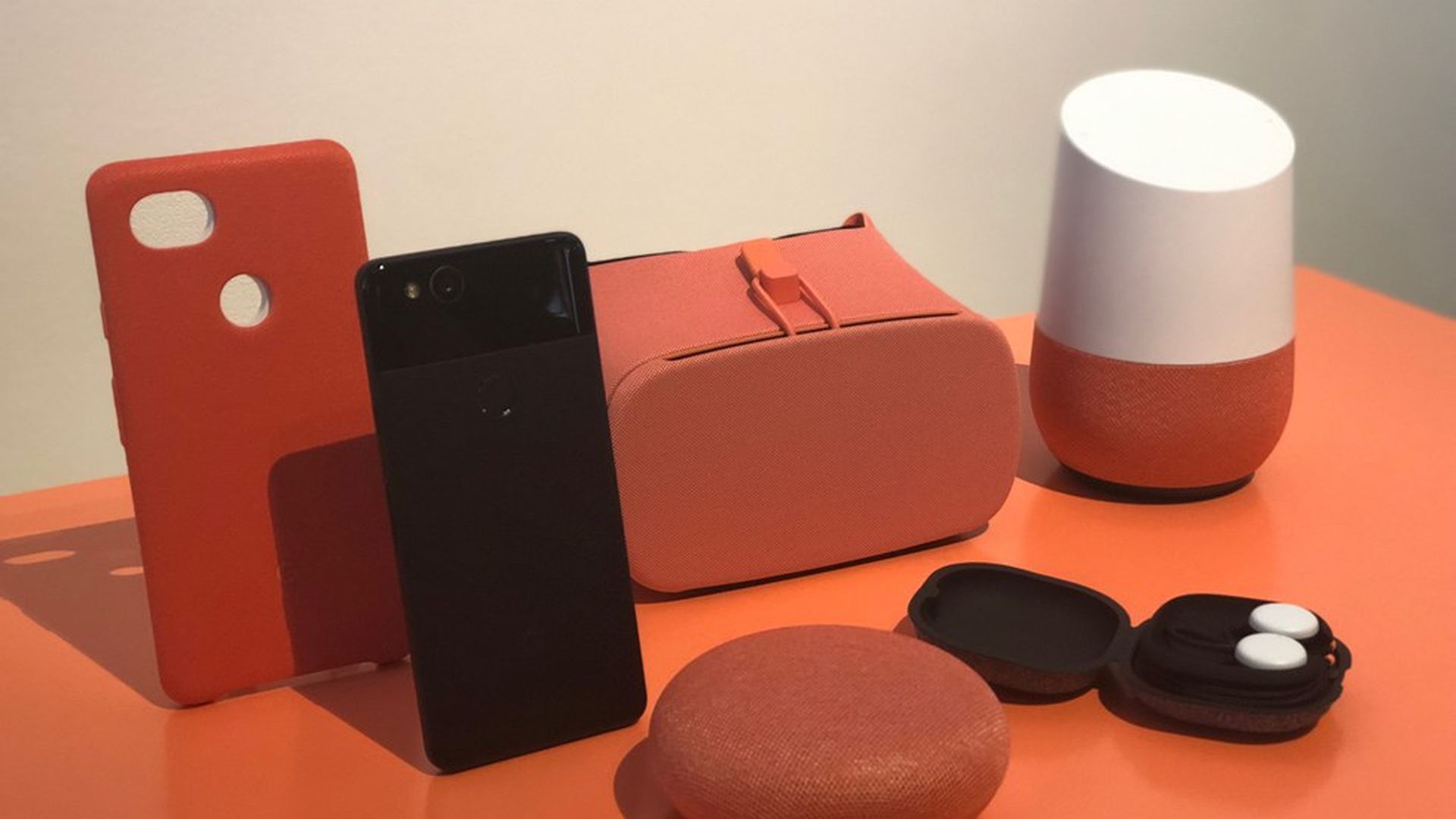 Google introduced a parade of new hardware products Wednesday, including second-generation Pixel phones and Pixelbook, a high-end Chromebook with built-in Google Assistant and support for Android apps.
It also introduced Google Home Mini, a smaller version of its Amazon Echo rival, and Google Home Max, a high-end model that is poised to rival Apple's forthcoming HomePod.
Why it matters: Google just doubled down on its hardware effort, spending $1.1 billion to acquire a significant chunk of HTC's phone operations and know-how. Now it needs to make the bet pay off.
While much of what Google is due to introduce leaked out, including new Pixel phones, Google hardware chief Rick Osterloh promised there would still be "a few surprises." Google delivered with new wireless earphones that can do on-the-fly language translation and Google Clips, a new accessory camera for automatically capturing photos.
Here are details on the new products as they are being unveiled:
Google Home Mini, $49, pre-orders now, in stores Oct. 19.
Google Home Max, $399, coming in December, includes 12 months of its YouTube Red subscription music service.
Google also announced new kid-friendly features for Google Home, including a partnership with Disney, to bring voice-powered stories and games to the Google Home family.
Google Pixelbook, a high-end Chromebook, with support for Google Assistant and Android apps. Can fold up to tablet and supports up to 512GB of storage. It will start at $999, with pre-orders now and devices in store Oct. 31. An optional $99 Pixelbook Pen stylus can be used to draw or highlight a photo or word and pull up Google Assistant.
Google's Pixel 2 will come in both a 5-inch and 6-inch XL model. It's got a bunch of new features, but as rumored, it also ditches the headphone jack found on last year's model. Though it has only a single rear camera, Google has its own take on portrait mode, using machine learning to create a blurred background. The phones will also get a preview version of Google Lens, a visual search tool Google previewed at its I/O conference earlier this year. As was the case last year, Verizon will be the only carrier selling the Pixels in store, though it's expected to work with others when bought unlocked from Google.Pixel 2 will start at $649 and Pixel 2 XL at $849. For a limited time, both will come with a Google Home Mini.
Pixel Buds, a new pair of wireless headphones. with built-in Google Assistant support, including real-time language translation. Unlike AirPods, though there is still a cord connecting the two earpieces. They will come in three colors and be available in November for $159.
Google Clips, an accessory camera for capturing spontaneous moments, especially of kids and pets, using artificial intelligence. It will sell for $249 and is "coming soon," Google said.
Go deeper