Google, Facebook, Amazon among contributors to Trump's education initiative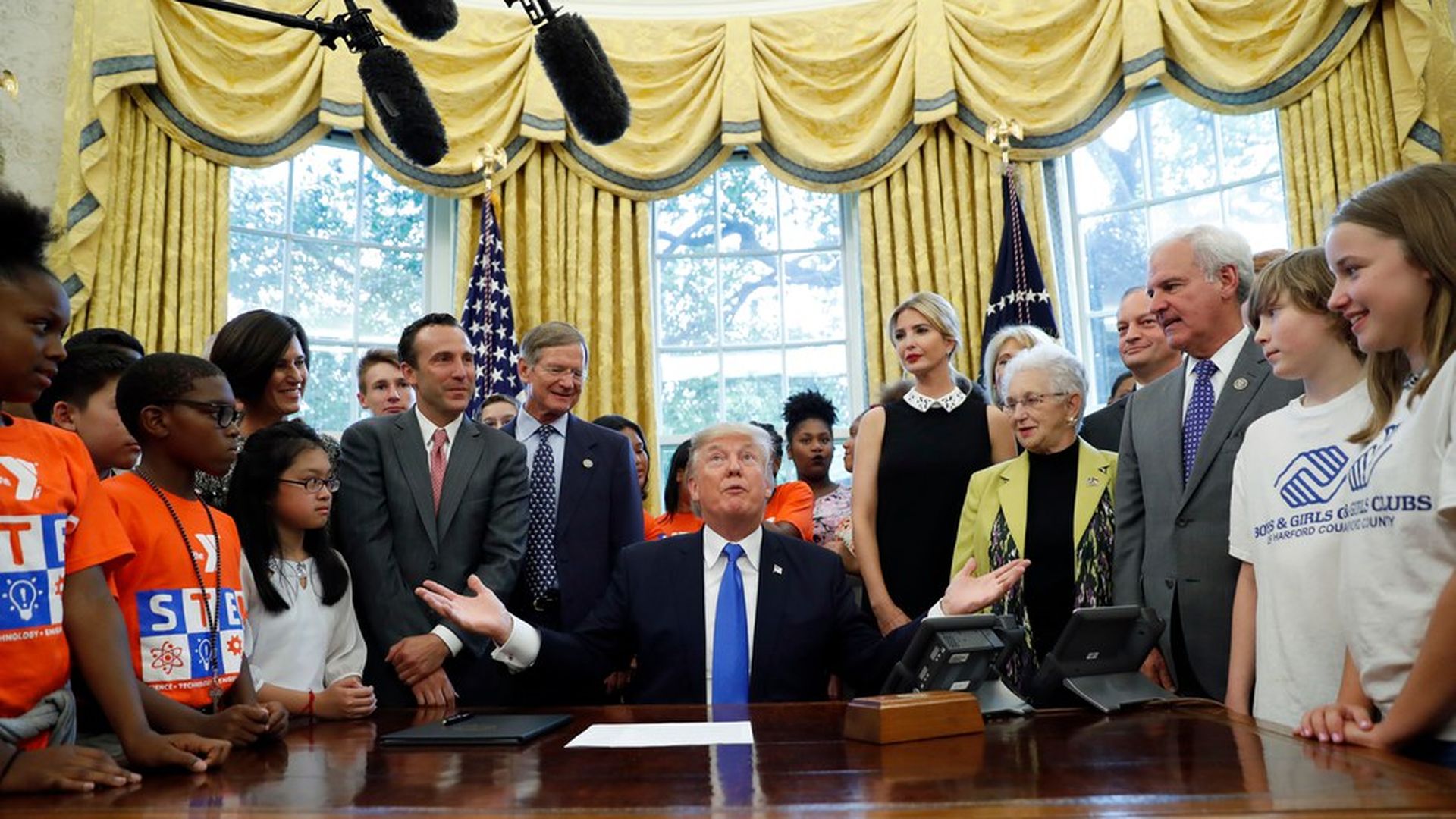 The Internet Association announced Tuesday that its member companies, including Google, Facebook and Amazon, will contribute a combined total of more than $300 million to support the Trump administration's new initiative, announced yesterday, aimed at expanding access to STEM and computer science education. Lockheed Martin and Salesforce, which are also contributing, have sent their top executives to Detroit to make the formal announcement with Ivanka Trump today.
Why it matters: Despite the tense relationship between the tech industry and the Trump administration, major tech firms are financially supporting this effort because it's of vital business importance to them.
They repeatedly say they need a stronger pipeline of employees with STEM backgrounds to fill tech jobs. Finding an area of alignment with the administration is also smart politics for Silicon Valley companies that are feeling heightened Washington scrutiny.
Member contributions:
Amazon, Facebook, Google, Microsoft, and Salesforce each commit $50 million.
Lockheed Martin commits $25 million.
Accenture commits more than $10 million.
General Motors and Pluralsight both commit $10 million.
Private individuals and foundations commit $3 million to nonprofits focused on computer science education.
Detroit-based Quicken Loans commits the financial resources required to ensure more than 15,000 Detroit Public Schools students receive the computer science training they deserve.
Intuit and Internet Association are also making "a significant contribution."
CEOs joining Ivanka Trump in Detroit today:
Lockheed Martin Chairman, President & CEO Marillyn Hewson.
Quicken Loans Chairman Dan Gilbert.
Salesforce.org CEO Rob Acker.
Code.org CEO Hadi Partovi.
Internet Association President & CEO Michael Beckerman
Take note: Amazon, Facebook, Google, Microsoft, and General Motors — all companies facing increased backlash from both Washington and their own employees for their increasing political roles — have not sent a CEO to Detroit to represent them.
Livestream the announcement.
Go deeper