Freedom Caucus chair pessimistic about health bill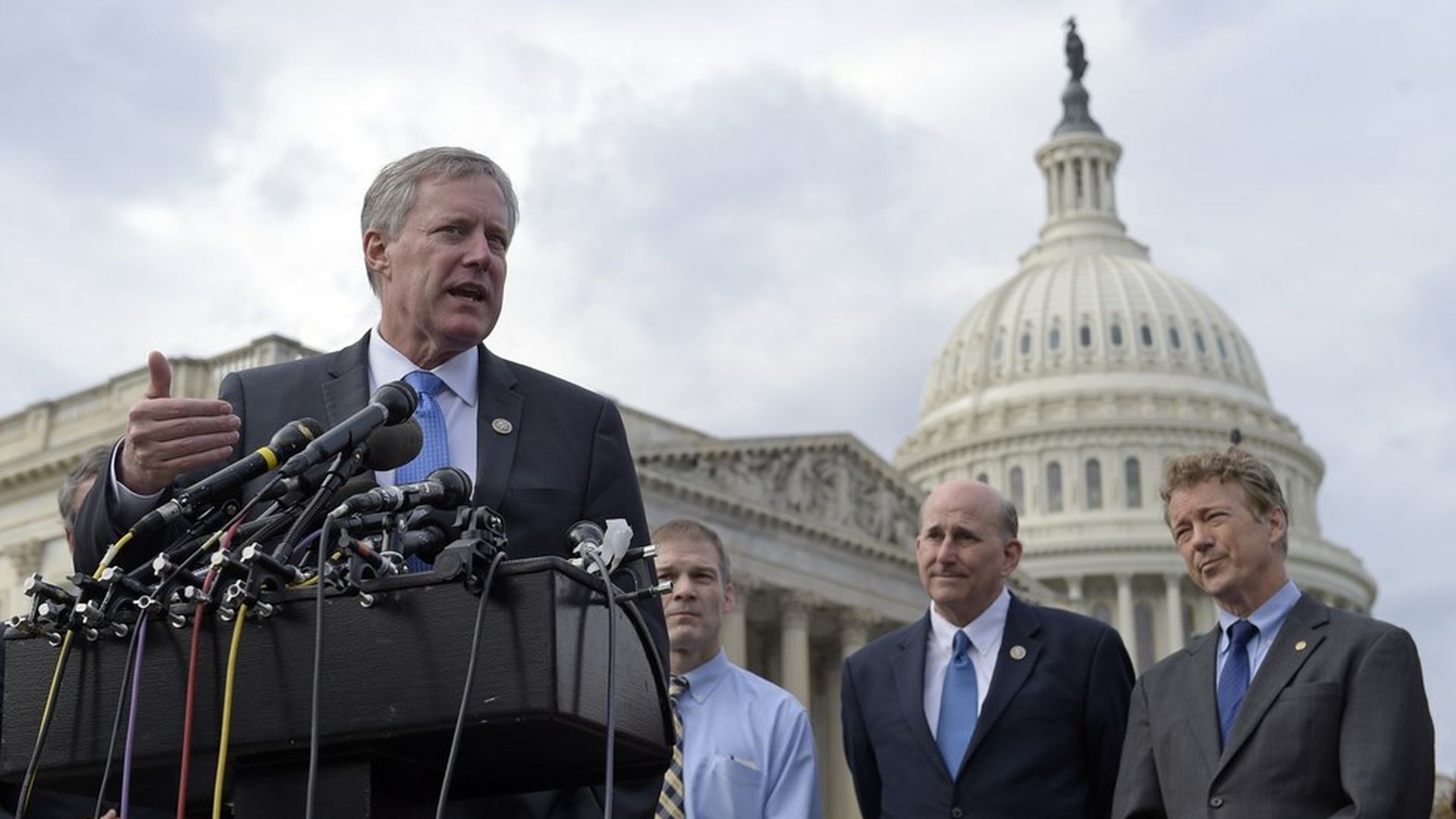 Trump's team is doing its utmost to sell Mark Meadows on its Obamacare replacement bill, but the Freedom Caucus leader ain't buying it.
Here's what Meadows told Axios early Monday evening:
After investing hours and hours and hours of trying to find common ground between our moderate members and conservative members, and believing, because of the White House's engagement in the process, that we could find common ground; I've now reached a conclusion that our leadership is going to put forth a bill that does not address any of the concerns in a meaningful way and will dare us to vote against it.
Why this matters: If the White House loses most of the Freedom Caucus members they can't pass this bill. Meadows was only speaking for himself tonight, but his is a voice to move votes. The caucus will meet tonight, and whether to collectively oppose the bill or not will certainly be discussed.
What Meadows says he needs to get to "yes": He wants Obamacare's market reforms and regulations repealed, including the list of health benefits insurers are required to cover. He says repealing these is "the only thing that will drive down prices." The rest of the problems, like issues with the bill's tax credits, he called "negotiable items that make the bill either more conservative or more moderate."
But leadership says these Obamacare pieces can't be included in budget reconciliation, the method being used to pass the bill, per Senate rules.
Can Bannon help? The administration is working hard to win over Meadows. He was invited to Mar-a-Lago over the weekend and he's in regular touch with Steve Bannon. Politico wrote a smart piece on a recent behind-the-scenes meeting between Bannon and Meadows, but their relationship goes much deeper than that. They text regularly and have the 90-second phone calls familiar to all who interact with Bannon.
Bottom line: Meadows will always listen to Trump and Bannon, but three days out from when leadership wants to put the bill on the floor, he's a solid "no."
Go deeper