Fox considers future without O'Reilly as advertisers flee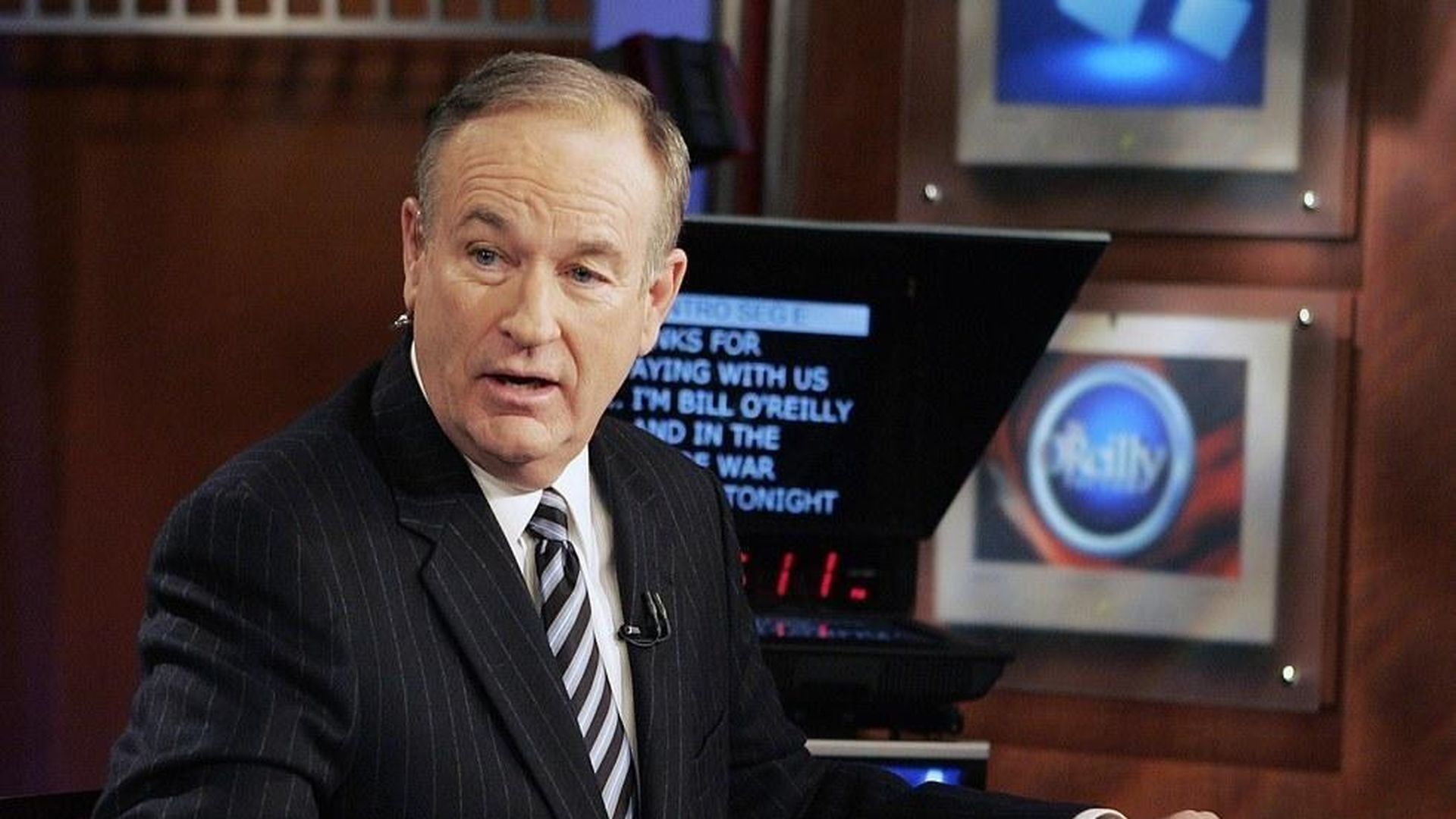 A firestorm of reports from credible journalists surfaced Tuesday, all pointing to the same conclusion: The Murdoch support that has been keeping primetime anchor Bill O'Reilly at the network is waning, and reports could surface by the end of the week that the O'Reilly Factor star will likely not return to his primetime seat after his Italian vacation.
Why it matters: News reports and advertisers moved Fox before Fox moved O'Reilly.
The tea leaves: Axios' Mike Allen reports that corporate execs would love to bring in an outside, non-political big name from another network.
The reports:
Per Stelter, 21st Century Fox will hold a board meeting Thursday, and sources say O'Reilly will be a primary topic. WSJ's Joe Flint notes that the network hasn't finalized an exit agreement with O'Reilly, whose spokespeople originally said he would be returning to the network April 24 when he first left for vacation. (Stelter reports that on Tuesday, Fox would no longer confirm his April 24 return date.)
What the Murdochs are facing:
Federal investigation: Per WSJ's Joe Flint: "21st Century Fox is being investigated by federal prosecutors, who are probing whether the company made insufficient disclosures about settlements of harassment claims, according to people familiar with the matter."
Protests: Advocacy groups have been organizing protests outside the Fox News headquarters in NYC, per the NYT.
Declining ad dollars: Fox executives are reportedly alarmed by the amount of advertisers pulling from the show, per Sherman, with one noting "It's worse than Glenn Beck," referring to Beck's advertiser exodus that pushed him to leave the network in 2011
Sky TV acquisition in the UK: The Murdochs still face a regulatory hurdle in getting final approve of their Sky TV acquisition in the UK next month, a move that will partially come down to whether regulators believe the Murdochs are "fit and proper" to run another major news outlet.
Sinking morale: Sources tell Sherman "morale is awful" at the company, particularly among female employees who are increasingly frustrated that Murdoch didn't remove O'Reilly sooner.
Family split, per Stelter: "There had been a split between Rupert Murdoch, the company's patriarch, and his sons James and Lachlan, with James advocating for O'Reilly's ouster. Lachlan was previously said to be in the middle." Per Sherman, in recent days Lachlan Murdoch has "leaned more in his brother James's direction."
What we've learned: Fox fans are loyal. Ratings (and book sales) remained strong for O'Reilly up until his departure and fill-in anchors received strong ratings while O'Reilly was out.
Sexual assault lawsuits against O'Reilly existed for months, but it wasn't until The New York Times' in-depth report on Fox settling $13 million in those lawsuits did the outside world know how bad the situation was. Fox continued to keep O'Reilly on air, and according to Stelter, even recently renewed O'Reilly's contract with the knowledge that the Times' story was being written about the lawsuits. The drama into the O'Reilly saga grew bigger as dozens of advertisers pulled their ads from the show, creating a mounting narrative that Fox wouldn't see the same $100 million+ ad revenue gains from their 8 p.m. slot if they kept O'Reilly on, despite good ratings.
What's next for Fox: This would make the third major departure for the network within a year: Roger Ailes, Megyn Kelly and now, potentially O'Reilly. Dana Perino, Eric Bolling and Greg Gutfeld have been filling in for now, but there's no clear answer as to who would be awarded O'Reilly's spot should the network part ways with its star anchor.
What's outstanding: O'Reilly still denies any allegations of sexual assault and the President has yet to dispute any support for the anchor after he said he thought O'Reilly did nothing wrong two weeks ago.
Go deeper