For Republicans, there is no safe position on Trumpcare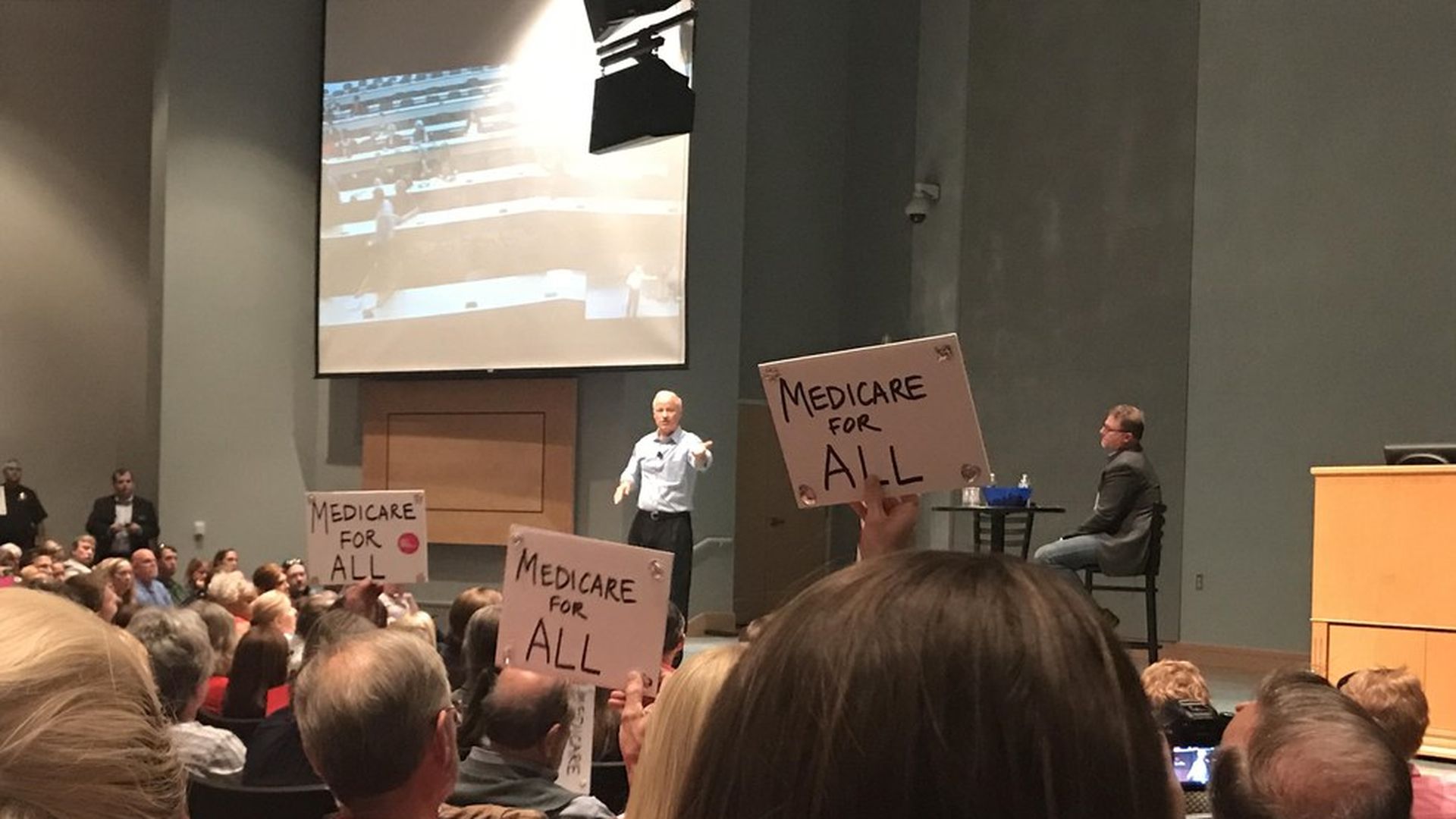 I attended Rep. Mike Coffman's town hall in Aurora, a Denver suburb, on Wednesday night, and this was the biggest takeaway: No one is very happy with his support of the House Trumpcare bill. Even his Republican supporters told me they didn't like it, either because it worsened existing problems or because it didn't go far enough.
Of course, there were also dozens of very angry liberals questioning Coffman about protections for those with pre-existing conditions and the newly insured. During the nearly two-hour event, the conversation kept coming back to health care. And everyone at the event seemed to agree on one thing: Trumpcare isn't dead.
Here's what they told me:
Mickey Sims, a retiree who gets his coverage on the Obamacare exchange, came to the town hall to "support" Coffman. But he called the AHCA a "bad bill. It didn't address the rates we're paying." Sims wants the next bill to "keep the good things and replace all the others, including the subsidies to the insurance companies."
But here's Paul Bezdek, who's on Medicare: "He is playing too much to the middle of the road. I'd rather him be more ideological," he told me. And while Coffman told reporters before the town hall began he thinks the Freedom Caucus needs to compromise, Bezdek said he likes their ideas. "If the Freedom Caucus hadn't been there, this bill would have retained a lot of payments that would have gone to the insurance companies...You really have to do something drastic."
Contrast that with people like Alyx Reese, an Obamacare supporter: "When Obamacare's reworked, I lose my insurance," she told me.
The drama only escalated during the town hall itself. This was the first questioner: "I was shocked when you said you would support Trumpcare and now they're looking at repealing again with more cuts than the previous version," she said, accusing Coffman of "supporting Trump over the people who live here."
What comes next: Coffman is clearly trying to walk a very fine line. He said he doesn't regret supporting the House bill — he was the only member of the Colorado delegation to do so — but isn't clear about what should happen next.
He said repeatedly he disagrees with Trump's suggestion Republicans should just let exchanges "implode" to force Democrats to the bargaining table.
His goals are to preserve consumer protections, particularly those regarding pre-existing conditions, and to fix the individual market. (He also wants to lower the federal contribution to the Medicaid expansion population.)
But he's pretty vague about whether that means continuing the effort to repeal and replace, or turning to a bipartisan solution. "I think it's better we fix the health care system," he told reporters.
Why this matters: While this is just a tiny sampling of opinions, national polling shows the House bill was hugely unpopular. Democrats were always going to hate it, and the coverage losses under the bill were always a liability with independents. But it also suggests messaging from the right is getting through to Republican voters, meaning moderates are feeling extreme heat from all sides.
Go deeper