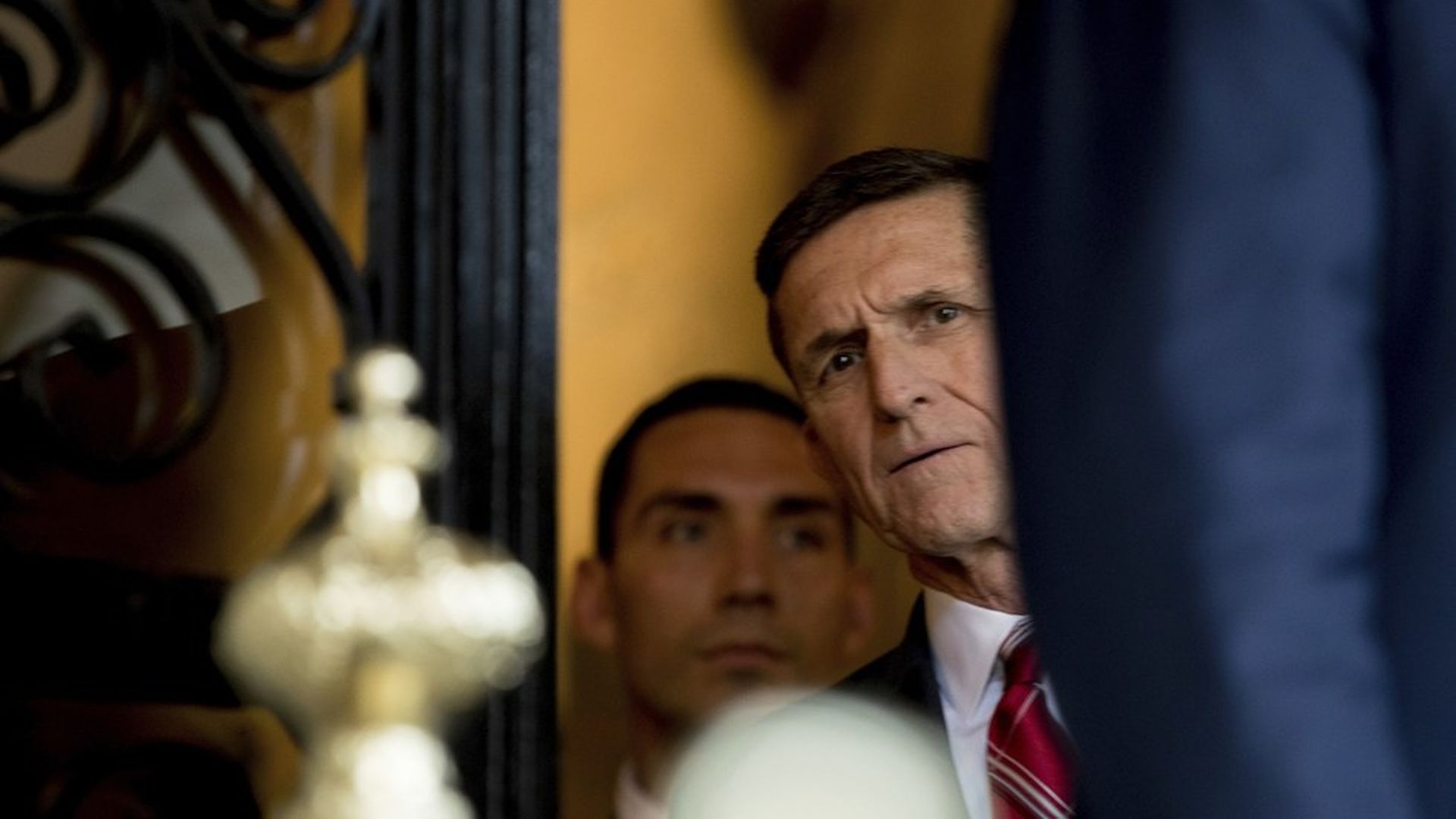 At 4:06 p.m. yesterday on MSNBC, Kellyanne Conway — Counselor to the President, and someone who authentically has his ear and affection — twice told anchor Steve Kornacki, live from the White House briefing room, that embattled national security adviser Mike Flynn "does enjoy the full confidence of the president — this is a big week for General Flynn."
Well, at least half that was true. An hour later, press secretary Sean Spicer put out a very different statement, resulting in the all-evening headline on CNN: "WHITE HOUSE: TRUMP IS 'EVALUATING' FLYNN SITUATION." How often does that end well?
We told you Sunday that Flynn "looks gone," and yesterday that he was "toast." It was obvious to our top West Wing sources that he had to go after lying to Vice President Pence, who was mad about it — his own credibility had been damaged, along with the administration's, after the V.P. went on TV and repeated Flynn's assurance that he had not discussed sanctions with the Russian ambassador during a transition conversation. After it was clear that transcripts of the call were leaking, Flynn became less sure.
And yet, President Trump hesitated for 97 hours, from the time The Washington Post posted its devastating revelation Thursday night that Flynn had the discussions "despite denials." Flynn took a last joyride on Air Force One, spent the weekend at Mar-a-Lago, and a "senior administration official" told CNN on Sunday that Flynn had "no plans to resign and no expectations that he will be fired."
Who's running this railroad? Yesterday evening, The Post struck again, revealing that acting attorney general Sally Yates, later fired by Trump for refusing to enforce the migrant travel ban, informed White House Counsel Don McGahn late last month that she believed Flynn had misled officials about his communications with the ambassador — and was potentially vulnerable to Russian blackmail!
At 11:12 last night, the White House finally announced: "President Donald J. Trump Names Lt. General Joseph Keith Kellogg, Jr. as Acting National Security Advisor / Accepts Resignation of Lt. General Michael Flynn." (Details of the resignation here.)
The New Yorker's Evan Osnos tweeted:
The Flynn story is a reminder of a big truth: Journalism lives. And principled public servants who got the story out are hidden heroes.— Evan Osnos (@eosnos) February 14, 2017
Alumni of the George W. Bush and Barack Obama administrations are agog: They tell me their bosses never would have tolerated drift in the face of such a revelation. There may well have been something behind the scenes that we don't know about.
If so, someone in the White House will no doubt cough it up, pronto.
Go deeper