Fallout from Trump's immigration ban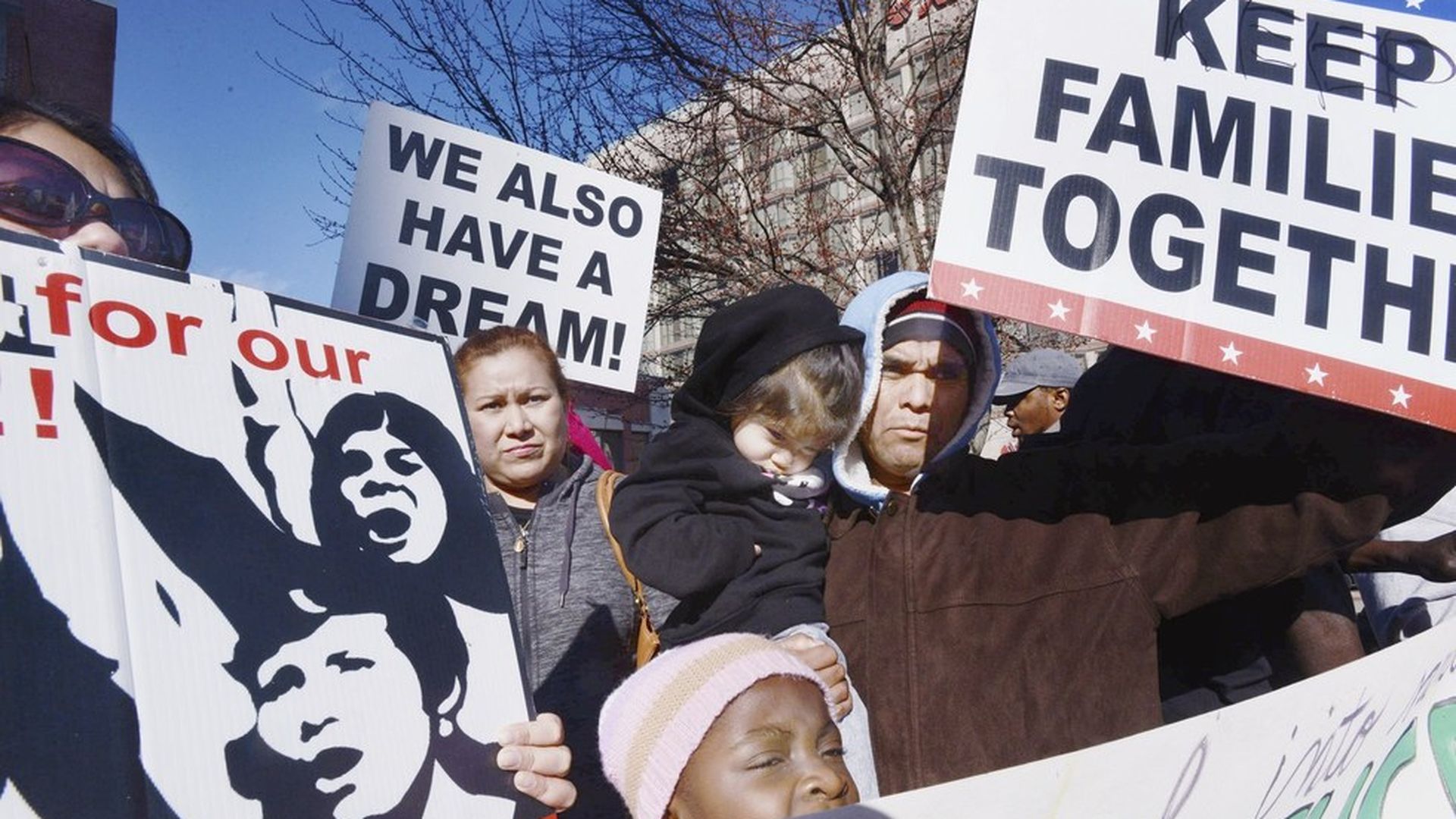 Trump's order temporarily bars visas for people from Iran, Iraq, Syria, Sudan, Libya, Yemen and Somalia. Refugee resettlements are suspended for 120 days, and refugees from Syria are barred indefinitely. The order led to people being kept off U.S.-bound planes, confusion and protests at U.S. airports and criticism from the heads of technology companies.
It's not a Muslim ban, but we were totally prepared. It's working out very nicely. You see it at the airports, you see it all over.— Trump to reporters in the Oval Office today
Rolling updates below:
Key details from White House background briefing (via pool report)
The order had been in the works for many weeks, involving officials from State, Defense and Homeland Security.
Number of people impacted by order: "We're dealing with a relatively small universe of people," the official said.
"It's important to keep in mind that no person living or residing overseas has a right to entry to the U.S.'
Green-card holders from impacted countries would be reviewed on case-by-case basis.
Still determining what "in transit" means for cases of refugees already en route for hardship exemptions.
Precedent
Fears of Al-Qaeda infiltrating the U.S. led the Obama administration to place a six-month pause on Iraqi refugees —including those who'd helped the U.S. — in 2011. That pause cut the number of Iraqi refugees in half that year.
The terrorist attacks this ban wouldn't have prevented: 9/11 (Saudi Arabia, Egypt, Lebanon and the United Arab Emirates), Boston Bombings (Russia), San Bernardino shootings (Pakistan).
People stuck in limbo
Refugees who were in the air on the way to the U.S. when the order was signed were stopped and detained at airports, per the NYT. Two members of Congress, Reps. Nydia Velazquez and Jerry Nadler, are at JFK airport working to get people freed.
Some green card and visa holders were being blocked from boarding flights to the U.S. Friday night, New York Daily News reports. People who had already landed were sequestered at airports and told they have to return to their point of origin.
USA Today: Abed Ayoud, legal and policy director for the American-Arab Anti-Discrimination Committee, said they've received more than 1,000 calls by midday Saturday from people who have been stranded or detained in the U.S. and abroad.
Customs and Border Protection has been notifying airlines about passengers whose visas had been canceled. Airlines are being told to keep them off those flights, per AP.
Lawsuits begin
The American Civil Liberties Union (ACLU) sued Trump today on behalf of Hameed Khalid Darweesh and Haider Sameer Abdulkhaleq, two men from Iraq who were detained and threatened with deportation shortly after arriving at New York's JFK on Friday. "President Trump's war on equality is already taking a terrible human toll," ACLU president Omar Jadwat said in a statement. "This ban cannot be allowed to continue."
International Refugee Assistance Project and the National Immigration Law Center also filed a lawsuit on behalf of Darweesh and Abdulkhaleq.
The Council on American-Islamic Relations said it would challenge the constitutionality of the executive order, according to the AP.
What's next
Companies, including Google, directed employees traveling abroad with visas or green cards to return immediately, according to Bloomberg.
Iranian state news agency reported that Iran will 'retaliate' against the order: "Iran, to defend the dignity of the great Iranian nation, will implement the principle of reciprocity until the removal of the insulting restriction against Iranian nationals," per AP.
Canadian Prime Minister Justin Trudeau tweeted:
Reaction
Mark Zuckerberg condemned Trump's ban in a Facebook post: "Like many of you, I'm concerned about the impact of the recent executive orders signed by President Trump." He added that the U.S. should keep its doors open to refugees.
CEO of the Internet Association issued a statement addressing the "troubling consequences" of the executive order: "Internet Association member companies – along with companies in many other industries – include legal immigrant employees who are covered by these recent executive orders and will not be able to return back to their jobs and families in the U.S."
Senators retaliate:
Go deeper