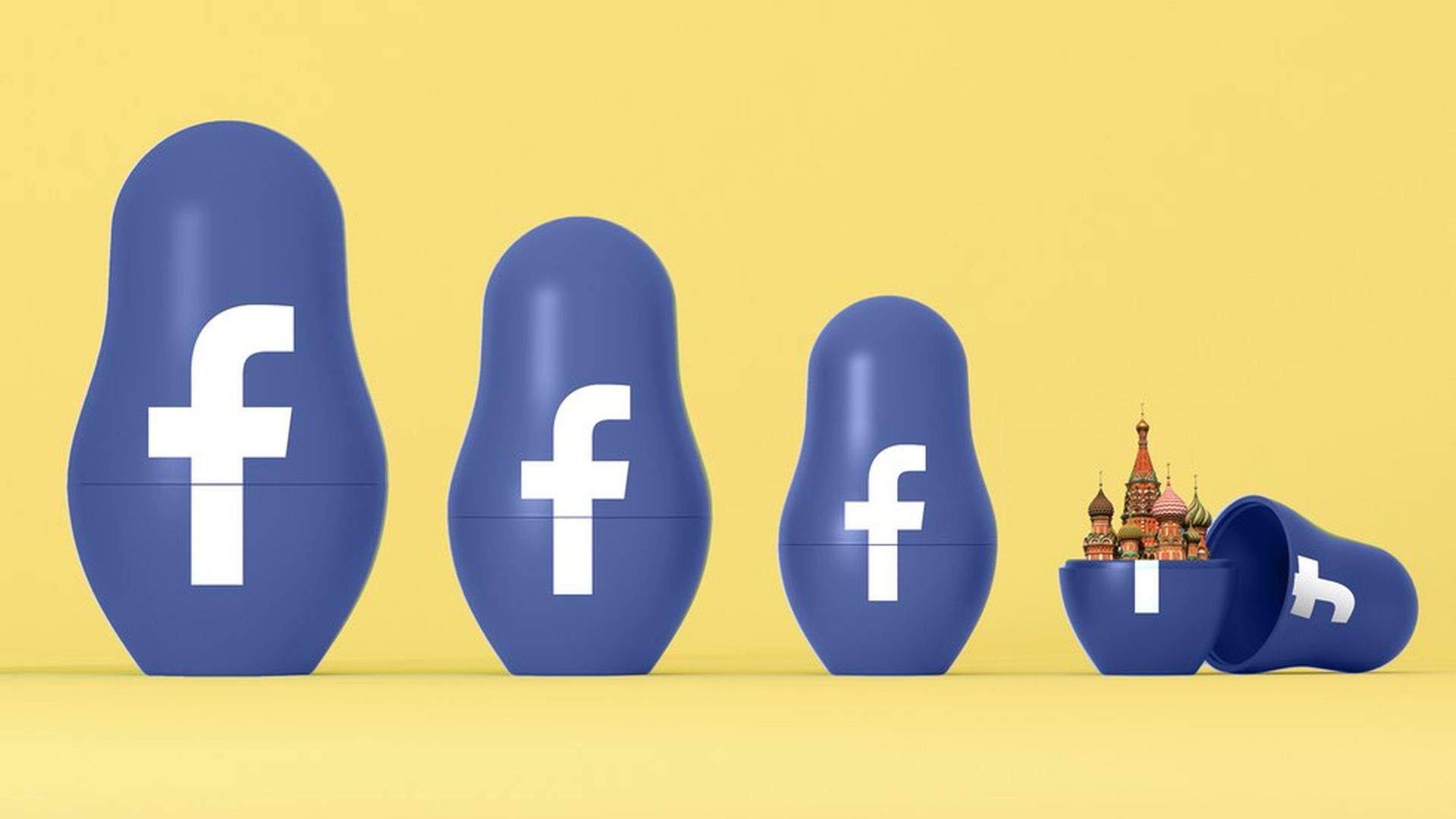 Facebook is stepping up its offensive to respond to questions about the role it played in Russian meddling in the 2016 presidential election. The moves come as it prepares to testify on Capitol Hill.
Why it matters: Facebook is investing in full-page ads, new policies and C-suite lobbying efforts as it stares down a crisis that imperils its reputation with Congress and relationship with the public. In contrast, Google and Twitter have kept a lower profile in response to the same investigation.
Buzz:
Facebook ran ads in national outlets (including the front sections of the Times, Post and Wall Street Journal) and beltway publications on Wednesday laying out its plans to improve the handling of political ads. "We will fight any attempt to interfere with elections or civic engagement on Facebook," the ads said. Facebook is clearly trying to reach influential decision makers in Washington, rather than the public at large.
Facebook hired consulting firms on both sides of the aisle to help the company confront the controversy, according to a source familiar with the matter. The right-leaning Definers Public Affairs has pitched itself recently as being able to help Silicon Valley navigate the world of political opposition research. On the left, Facebook is working with GreenLight Strategies (helmed by a former top aide to John Kerry) and TSD Communications, led by former Democratic operatives.
Facebook was the first to commit to testifying before the Senate Intelligence Committee at a planned November 1 hearing. Twitter also says it will appear. Facebook also said it will attend a similar hearing in the House. Google has yet to say whether it will attend either.
Internal frenzy: Top brass are closely involved in the effort to address the questions swirling around the Russia probes.
CEO Mark Zuckerberg, COO Sheryl Sandberg and top policy staffer Joel Kaplan have been working the phones — talking to players in DC about the issue, according to a source. Multiple lawmakers involved in the investigating say they have spoken with Zuckerberg recently. Top execs who are usually sparse with publicity have put their names on a number of statements, a sign of serious engagement at the C-suite level.
Other well-connected Facebook staffers are doing outreach for the company to reassure partners that it's taking this seriously. That includes Campbell Brown, the former CNN anchor who now runs the company's journalism initiative — which involves building close relationships with publishers.
The company is also relying on PR and policy staffers in both Washington and Menlo Park, Calif. It's frequently posting updates to its "Hard Questions Blog" that is being shepherded by Liz Spayd, the ex-New York Times public editor recently hired by Facebook to work on transparency initiatives.
The competitors: Top Senate Intelligence Committee Democrat Mark Warner reamed Twitter out for what he called an "inadequate" effort to address the panel's questions.
A Twitter spokesperson said in an email Wednesday that the company "will continue to both work with the investigations and to share details of our findings with the public as we are able."
Google has been the quietest of the three companies in the spotlight. It hasn't yet committed to testify but is expected to brief investigators in the future. "We will of course cooperate with inquiries; we're looking into how we can help with any relevant information," the company said in a recent statement.
Warner said at a Wednesday press conference updating reporters on the status of the broader Russia investigation that he thought the tech companies were "out doing" necessary work to investigate the Russia issue.
The bottom line: This is an unprecedented response for Facebook at an unprecedented moment. "I've never seen anything quite like [this]," tweeted Salesforce CEO Marc Benioff on Wednesday juxtaposing Facebook's ad with a Wall Street Journal story on the controversy.
Go deeper