Everything we know about the Las Vegas shooting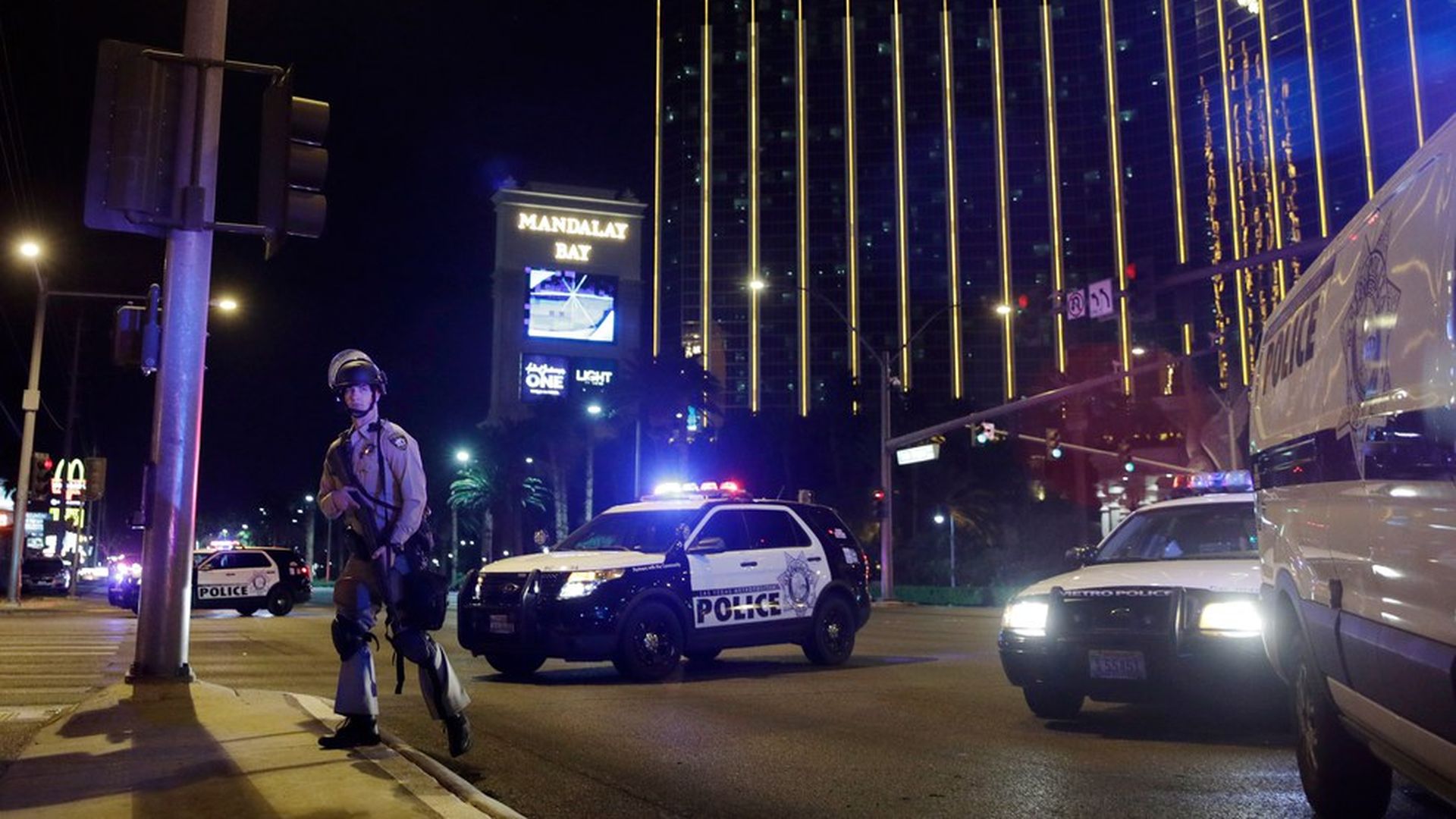 A day after Americans woke up to the worst mass shooting in the country's modern history, authorities are still trying to learn more about the suspect, 64-year-old Stephen Paddock, who opened fire on a country music concert from a towering hotel across the Las Vegas Strip at 10:08 p.m. PT on Sunday.
What we know:
At least 59 people are dead, and 527 were injured.
Police say Paddock, a local resident, acted alone.
He had no apparent ties to international terrorist organizations, per the FBI.
A team of six officers searched the Mandalay Bay Resort and Casino, where Paddock had been staying since Thursday, floor-by-floor Sunday night before locating his suite.
Paddock had a large suite with two rooms, and broke two windows with a "hammer-like" tool before opening fire.
Paddock was alive when a SWAT team approached the suite, more than an hour after he started shooting. He fired at the officers through the door and shot a security guard.
By the time the officers broke down the door and entered, Paddock had already killed himself.
Police recovered at least 23 firearms, some fully automatic, in his suite. The weapons included a handgun and rifles equipped with scopes. Paddock also used multiple rifles during the attack, per the N.Y. Times.
Officials found 19 more firearms, we well as explosives, several thousand rounds of ammunition, and "electronic devices" in his home in Mesquite, NV.
Paddock's brother Eric said their father was Patrick Benjamin Paddock, a bank robber who was on the FBI's most wanted list before being captured in 1978, per NY Mag.
How he bought his weaponry. One law enforcement official said Paddock had recently purchased multiple firearms, but investigators believe they were bought legally, per CNN. A North Las Vegas gun store reportedly sold a shotgun and a rifle to Paddock in the spring. "All state and federal requirements, including a FBI background check, were met," according to David Famiglietti, president of New Frontier Armory, per CNN. Famiglietti said none of the weapons sold to him were "capable of what we've seen and heard in the video without modification."Christopher Sullivan, general manager of Guns & Guitars in Mesquite, confirmed Paddock had purchased three guns at his shop — a handgun and two rifles — within the last year, per the N.Y. Times. All the purchases were legal and cleared.
The key thing we don't know:
What's next:
Vegas authorities are asking people to keep donating blood for the victims. Donation centers have been filled since the hours after the attack.
The Mandalay Bay is asking for grief counselors to help.
President Trump will visit Las Vegas on Wednesday.
Go deeper: Paddock's weapons arsenal ; brother speaks ; deadliest mass shootings ; Trump comments ; the human toll of mass shootings ; why America still won't take action
Go deeper