Everything we know about Michael Flynn's plea deal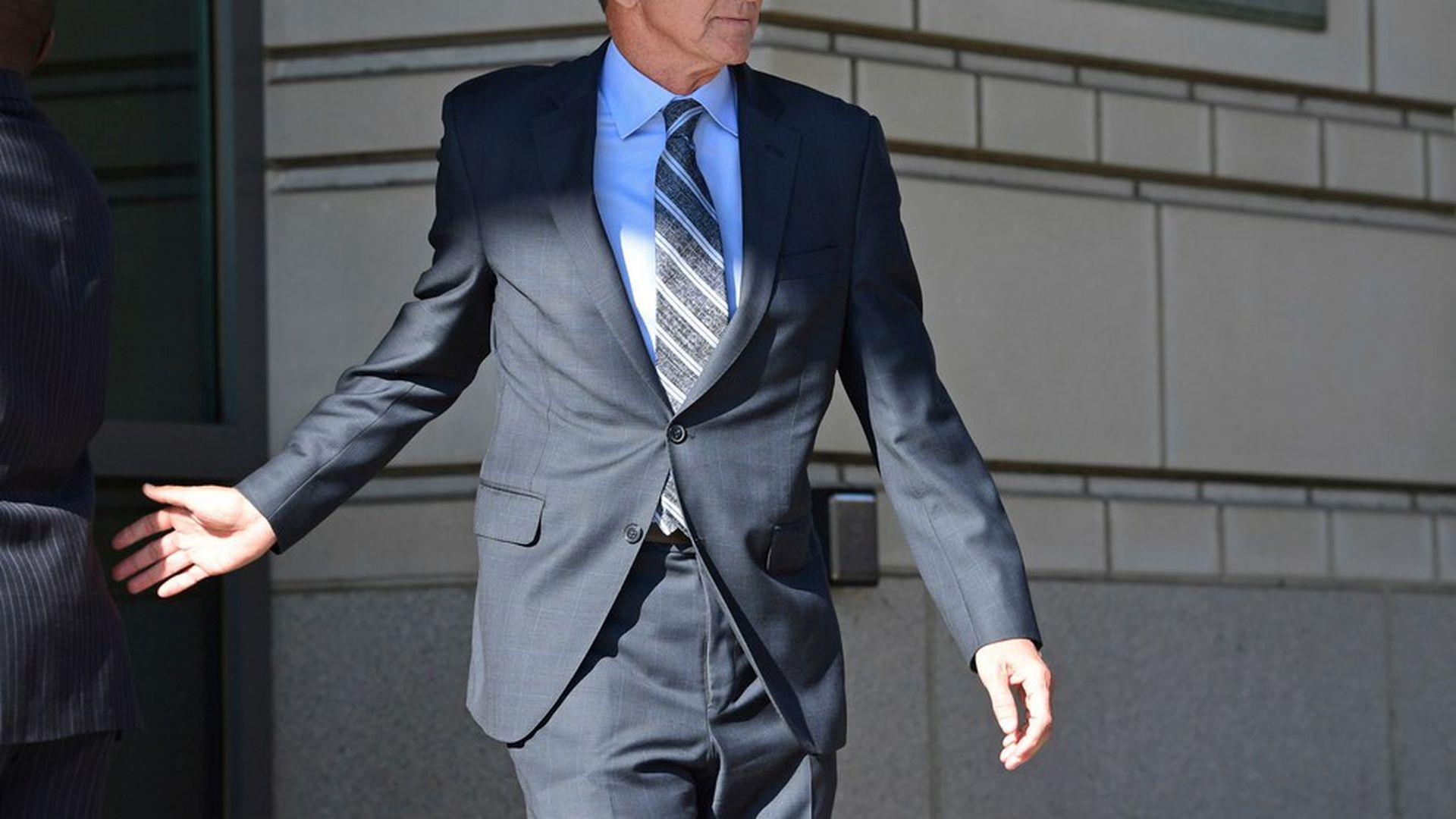 President Trump's former national security advisor Michael Flynn pleaded guilty during a court appearance this morning to "willfully and knowingly [making] false, fictitious and fraudulent statements and representations" to the FBI regarding his conversations with Sergey Kislyak, Russia's then-ambassador to the United States. Flynn's plea came under Special Counsel Robert Mueller's expanding investigation into Russian interference in the 2016 election.
Why it matters: With his plea, Flynn agreed to cooperate fully with Mueller's investigation. In a development that could have far-reaching implications as Mueller's probe moves forward, Flynn admitted in his plea that senior transition officials directed his contacts with Russian officials in late December of last year.
The lies that Flynn told FBI agents:
Flynn claimed he did not ask Kislyak to attempt to "refrain from escalating the situation" after sanctions were imposed against Russia by the Obama administration during a December 29, 2016 conversation.
Flynn "did not recall" that Kisylak told him that Russia planned a moderate response to the sanctions thanks to that conversation.
Flynn claimed that he did not ask Kislyak to delay or defeat a pending vote on a U.N. Security Council resolution during a conversation on December 22, 2016.
Another big thing: Flynn's charging document states that his false statements to the FBI came on January 24, 2017 — after Trump's inauguration and during his service as national security advisor.
Flynn's single charge carries a maximum of five years in prison and a fine up to $250,000.
Flynn arrived at the courthouse ahead of his morning plea hearing, dodging questions from assembled reporters:
Flynn locked in his guilty plea and agreed to cooperate with the government. ABC News reported that Flynn is prepared to offer "full cooperation" to Mueller's team and testify against President Trump and other Trump family members. The biggest bombshell in the report: Flynn will state that then-candidate Trump directed him to get in contact with Russian officials.
Flynn's plea deal confirmed aspects of the ABC report as the statement of facts filed in federal court placed Flynn in contact with multiple senior members of the Trump transition team, huddled at Mar-a-Lago on December 29, 2016, who directed his contacts with Russian officials, per the AP.
What's next, from Axios' Shannon Vavra, who was in the courthouse: A sentencing report is scheduled for February 1, 2018. The sentencing hearing date has not yet been set, but a failure to appear at the hearing would result in new charges. He will not be able to appeal his sentence or conviction, with "very limited exceptions," as he has waived his right to a trial.
Flynn's statement after his plea:
"After over 33 years of military service to our country, including nearly five years in combat away from my family, and then my decision to continue to serve the United States, it has been extraordinarily painful to endure these many months of false accusations of "treason" and other outrageous acts. Such false accusations are contrary to everything I have ever done and stood for. But I recognize that the actions I acknowledged in court today were wrong, and, through my faith in God, I am working to set things right. My guilty plea and agreement to cooperate with the Special Counsel's Office reflect a decision I made in the best interests of my family and of our country. I accept full responsibility for my actions."
White House attorney Ty Cobb's statement:
"Today, Michael Flynn, a former National Security Advisor at the White House for 25 days during the Trump Administration, and a former Obama administration official, entered a guilty plea to a single count of making a false statement to the FBI.
The false statements involved mirror the false statements to White House officials which resulted in his resignation in February of this year. Nothing about the guilty plea or the charge implicates anyone other than Mr. Flynn. The conclusion of this phase of the Special Counsel's work demonstrates again that the Special Counsel is moving with all deliberate speed and clears the way for a prompt and reasonable conclusion."
Go deeper: A timeline on the events surrounding Flynn that brought us to today.
This is a developing story and will be updated.
Go deeper