Dengue vaccine program put on hold in the Philippines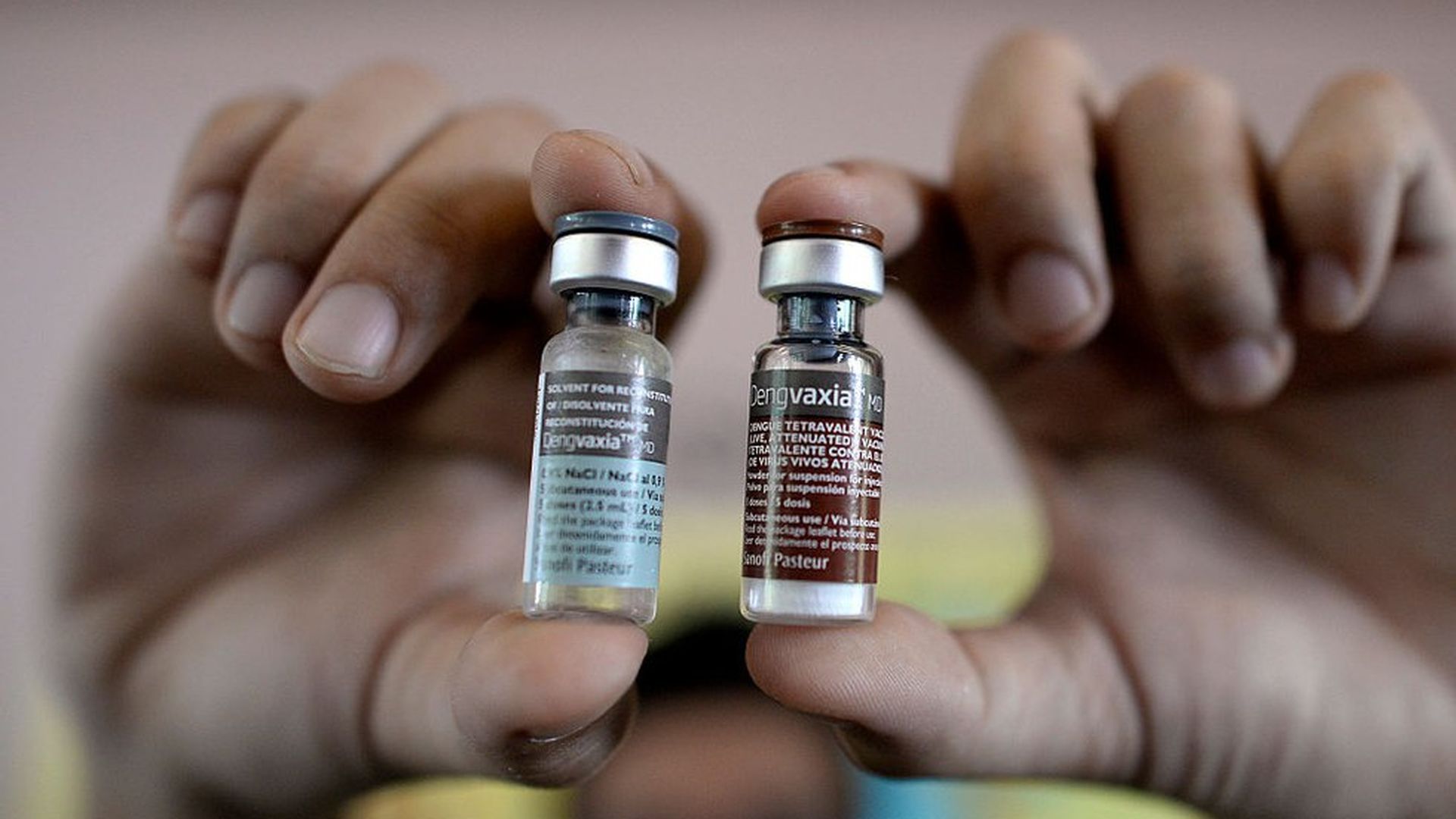 School children in the Philippines are no longer receiving a vaccine for dengue virus after the manufacturer announced people were at risk for developing more severe cases of the disease if they hadn't been previously infected with the virus before immunization, reports the New York Times. The Dengvaxia vaccine by Sanofi Pasteur is currently the only licensed one for the virus in the world.
Why it matters: As many as 390 million people around the world are infected each year with dengue virus. Most who are treated can survive the disease but in some cases it turns into a hemorrhagic fever that can be deadly. In the Philippines, more than 730,000 school-aged children have been vaccinated with Dengvaxia as part of a nearly $70 million government-funded immunization program. It appears the Dengvaxia vaccine makes hemorrhagic fever more likely.
What's happening: There are four different groups or serotypes of dengue virus. People who recover from infection with one type are then immune to it. But some people can develop hemorrhagic fever if they are later infected with a different serotype. In the Philippines, about 200,000 people are infected with dengue each year, reports the NYT.
Earlier this week, Sanofi Pasteur announced a long-term study of the vaccine found while it protected people who had already been infected with dengue, "more cases of severe disease could occur following vaccination upon a subsequent dengue infection."
Concerns about the Philippines vaccine program emerged early on. Anthony Leachon from PhilHealth told the NYT there was "lingering uncertainty" about the vaccine as medical experts awaited long-term clinical trial results. "Evidence from manufacturer's trials shows that there may be a paradoxical increase in the incidence of severe dengue beginning a few years after children are vaccinated, and possibly continuing for the rest of their lives," he said.
The World Health Organization's position is that the dengue vaccine should only be administered in regions where there is a high burden of disease and to children over the age of 9. By then, most children in those areas will have already contracted the disease.
What's next: The program is being suspended while health officials monitor the children, none of whom have currently developed a severe form of the disease according to the country's Health Secretary Francisco Duque III.
Go deeper: Axios' Erin Ross on the dengue virus' complex relationship with the immune system.
Go deeper