Democrats' latest hope for fighting gerrymandering: the Supreme Court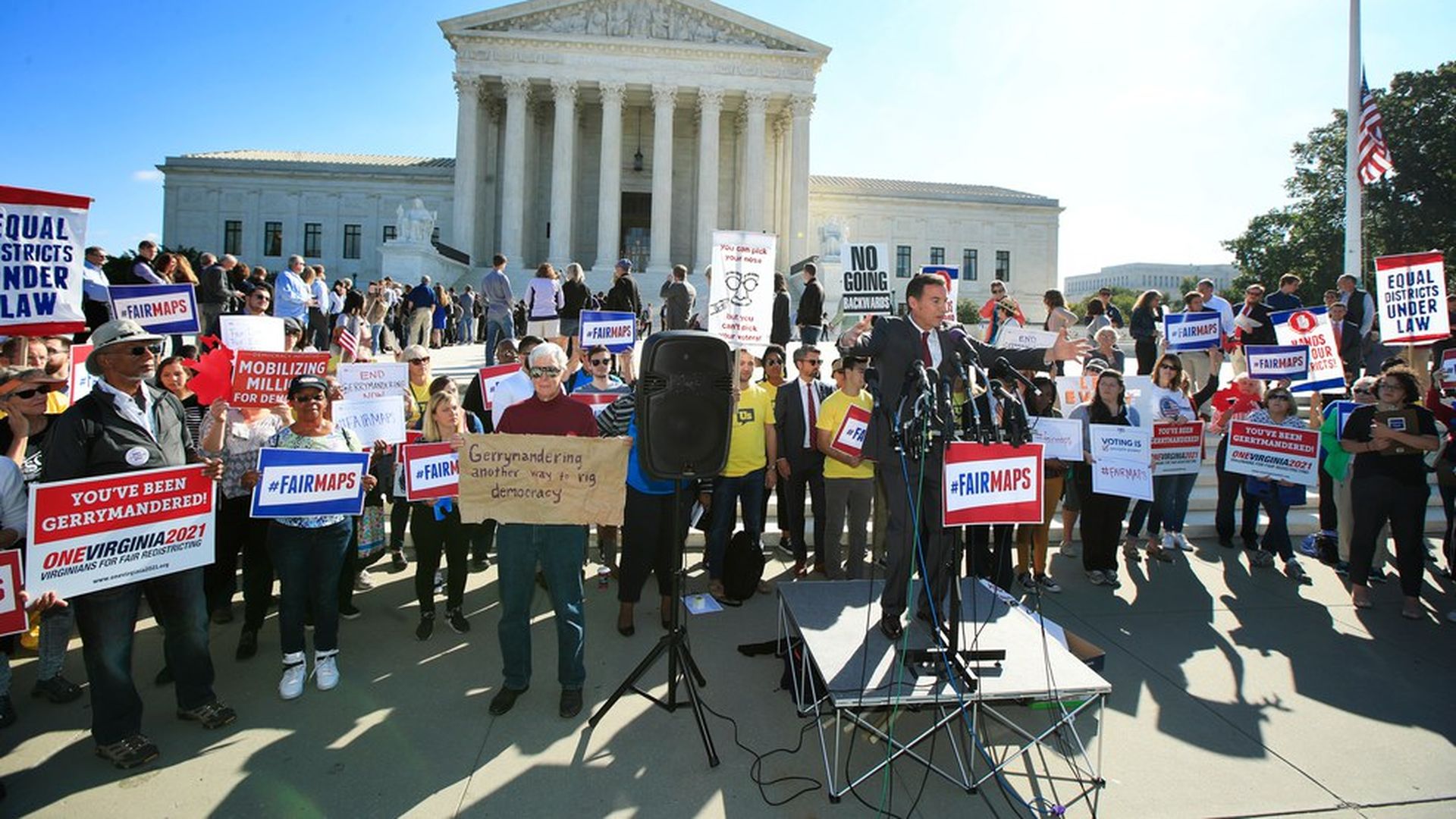 The Wisconsin Democrats who brought the Gill vs. Whitford gerrymandering case to the Supreme Court are the latest example of Dems working at the local level in the hopes of helping the party at every level.
Why it matters: Both parties have taken advantage of drawing districts in their favor, but this case has the potential to fundamentally change how voting maps reflect representative democracy and, ultimately, how each party can gain control of state legislatures or House delegations in the future.
Gerrymandering dates back to the 19th century, but the Supreme Court has never ruled a partisan gerrymander unconstitutional. The court remained divided on the case hearing held today, with Justice Kennedy only asking questions of the lawyers defending the map and conservative Justice Samuel Alito saying, "Gerrymandering is distasteful ... but if we're going to impose a standard on the courts it's going to have to be manageable."
The Gill v. Whitford case started in 2010 after Republicans gained control of Wisconsin's government for the first time in more than two decades. At the beginning of a redistricting cycle local lawmakers drew a State Assembly map that helped Republicans secure legislative majorities. Republicans won 49% of the vote for State Assembly candidates in 2012 after the redistricting, but picked up 60 of the Assembly's 99 seats.
Battle lines
Democrats: The partisan fight over gerrymandering is another way Dems are trying to regain control of districts they've lost to Republicans over the years.
David Cohen, co-founder of Forward Majority, said, "Forward Majority is working to unrig the map by investing in the state races that ... right wing special interests have poured millions of dollars into year after year as part of a concerted effort to gerrymander maps across the country."
Former Attorney General Eric Holder is leading a group that is accusing Georgia of hurting black constituents' voting power with redrawn districts, per NYT. (Note: Racial gerrymandering and partisan gerrymandering are different.)
Their recent efforts: Just last week, the national progressive advocacy group Priorities USA quietly worked with the Florida Democratic Party to help a Democrat win a state Senate seat previously held by a Republican.
Democratic groups like Forward Majority are working to win back some of the 1,000 state legislature seats Dems lost to Republicans, particularly ahead of the next round of redistricting in 2021.
Republicans: New GOP groups are popping up to counter Dems' organized efforts. And some argue Dems have diminished their voting power because they've concentrated themselves into cities.
The National Republican Redistricting Trust (NRRT), which launched last Thursday, will use data and "serve as a central resource" for GOP redistricting efforts.
Jason Torchinsky, a senior adviser for the group, argued Democrats are looking to blame their party's loss on gerrymandering because of the "inefficient way their voters are spread around the country in an attempt to maximize votes."
"This lawsuit in Wisconsin is nothing more than Democrats being unable to accept that in recent years Republicans have won," said David Avella, chairman of GOPAC, an organization that recruits and trains Republican candidates. "Should former Attorney General Holder and the Democrats prevail, Republicans living in New York, Illinois, Maryland and the handful of states where Democrats draw legislative boundaries should immediately seek the same remedy."
What's next: Even if the Supreme Court rules in favor of Wisconsin Dems, it'll likely still be many years and several more court cases before it's decided what's fair in drawing districts.
Go deeper