Connecting the dots: Russia's links to Trump officials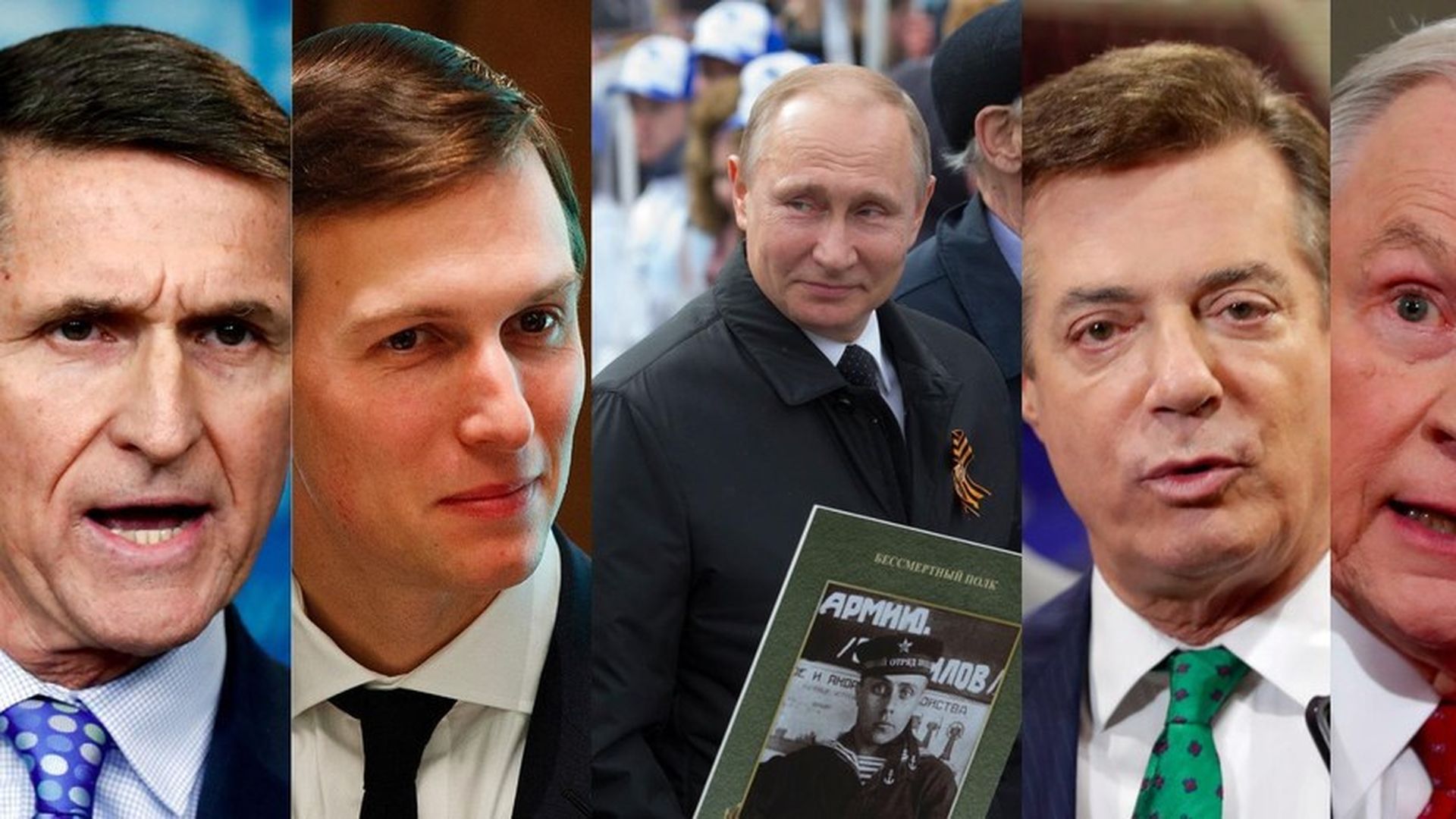 Mike Pence and White House spokespeople have denied that the FBI's investigation into Russia had anything to do with Comey's firing — Comey was slated to testify in front of the Senate on Thursday. But under Comey, the FBI uncovered information about a number of connections between Trump associates and Russia. These are the 6 people from Trumpworld we know have had dealings with Russian officials.
What about the President? Other than the unverified dossier, which made claims about Trump's own personal contact with Russia, there has been no evidence of Trump directly colluding with Russia. The concern is the people he surrounded himself with during the campaign, and in some cases, in the White House.
Paul Manafort
Trump's former presidential campaign manager worked for Russian billionaire Oleg Deripaska — who has ties to Putin — "almost a decade ago," he said. The AP reported that his work involved promoting the Kremlin's political interests, although he has denied that.
He resigned as campaign manager after reports surfaced that he had secretly received payments for up to $12.7 million from the Russia-backed, former Ukrainian dictator Viktor Yanukovych's campaign.
In late March, a Ukrainian lawmaker released documents indicating Manafort tried to hide a $750,000 payment.
Manafort reportedly met twice with a former aide from his time in Ukrainian politics, Konstantin Kilimnik ,who is a dual citizen of Ukraine and Russia and has been suspected of having ties to Russian intelligence, according to Politico.
Michael Flynn
On February 13, Flynn resigned from his position as National Security Advisor after it was revealed that he had secretly discussed Obama's sanctions with Russian Ambassador Sergey Kislyak over the phone in December. He had also texted Kislyak on occasion.
The White House claimed Flynn was fired for lying to Vice President Mike Pence about his conversations with Kislyak.
He was paid at least $5,000 for a speech with RT — the English language, state-funded, Russian news network. Flynn did not disclose this information during his confirmation hearings.
He partnered with a technology company last year, which was co-led by Subu Kota. In the 80s, Kota tried to sell stolen biotech material to an FBI agent who was undercover as a KGB spy, according to the Washington Post.
He requested immunity in exchange for discussing Russian involvement in the election with congressional investigators, but his request was denied.
Jared Kushner
Kushner also met with the Russian ambassador along with Flynn.
In December, Kushner also met with a Russian bank chairman who was appointed by Putin and whose state-run bank has been under US sanctions.
Jeff Sessions
The Attorney General recused himself from the Russian investigation after the Washington Post reported that he had talked with the Russian Ambassador after an event in July, as well as held a private meeting with him in September. During his confirmation hearings, Sessions had claimed he had no contact with such Russian officials.
Carter Page
The FBI has been monitoring Trump's former campaign advisor, as the government had reason to believe he was a Russian agent, the Washington Post reported.
Page admitted to the Senate Intelligence Committee that he had "brief interactions" with the Russian diplomat Victor Podobnyy in 2013, who has been suspected of being a spy by U.S. officials.
Roger Stone
Trump's long-time friend and campaign consultant has been under investigation for collusion with Russia, after tweeting "Trust me, it will soon the Podesta's time in the barrel," during the campaign before Wikileaks released Podesta's emails.
Stone had also claimed that he had talked with Julian Assange, who he has said "may or not be a Russian asset," according to NYT.
Go deeper