Companies are struggling to figure out Snapchat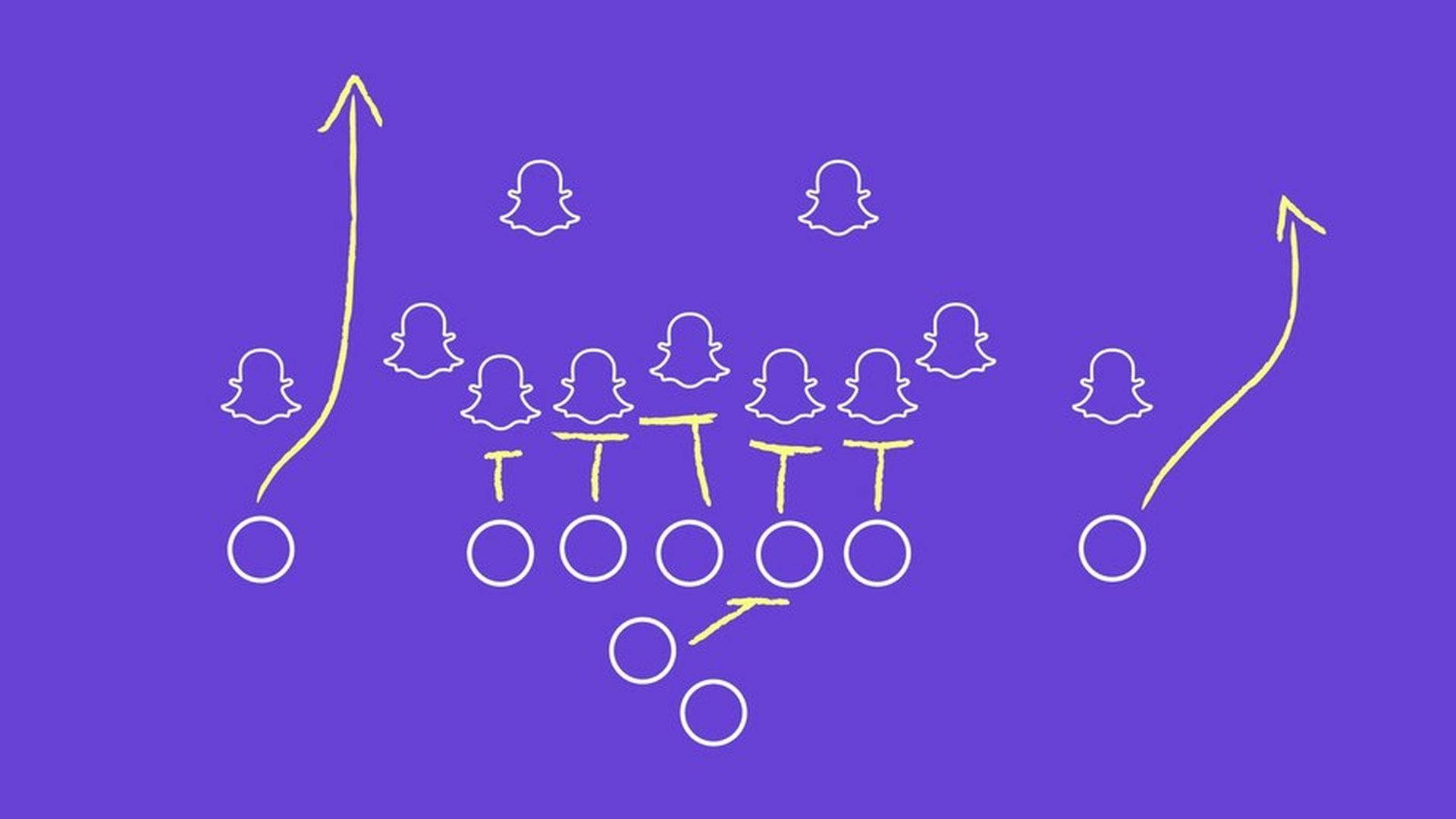 Snapchat stories by companies have great engagement stats but the rules Snapchat places on stories mean advertisements must run separately, where the effectiveness is less clear.
Why this matters: Snapchat's parent Snap is preparing to go public with a valuation of more than $16 billion because more than 150 million people use the app every day and investors think that will turn into a gusher of money from advertising. But if advertisers don't feel like the platform is delivering, Snapchat could end up an investor disappointment like Twitter, instead of a home run like Facebook.
A study by Snaplytics finds that Snapchat stories (not ads) have an open rate of 50% and that 88% of people that start watching a story watch it all the way through — up to 11 snaps on average. Those are tremendous engagement stats. But companies can't use those kinds of stories to sell. Snapchat makes companies buy ads if they're going to explicitly push products or market content.
So the question is, are Snap ads effective? We don't exactly know.
Maybe yes. Snapchat is private about releasing statistics around their ad campaigns, but ahead of its IPO, they shared a few case studies in its S-1 filing that show the effectiveness of brands using Snap Ads. Han Ma, Associate Director at Ketchum Digital, who works for an array of companies on Snapchat, says overall, companies can leverage more refined targeting methods by buying ads. "Stronger analytics lead to stronger insights, which lead to better opportunities to optimize content and strategies for brands," Ma tells Axios.
Maybe no. Some third-party analytics providers say the ads aren't effective marketing tools. A new study by marketing analytics platform Fluent finds that 69% of Snap users report skipping ads on Snapchat "always" or "often," and that number rises to 80% among 18- to 24-year-olds, Snapchat's core audience. Fluent CMO Jordan Cohen tells Axios that millennials use Snapchat as a video messaging service, not a content service, and "that's why advertising in that format isn't that appealing to them."
Snap had revenue of $404 million in 2016, and though the company doesn't break out what comes from advertising, reports suggest that's where it makes most of its money. It ramped up its advertising efforts ahead of filing to go public and last year eMarketer projected the company would gross nearly $1 billion in advertising in 2017, nearly 2% of all social network revenue dollars in the U.S.
The big issue: Timing is a problem here. Snap ads could very well be more effective than third-party studies give them credit for, but ad buyers don't have confidence in the data. Snapchat waited too long to give them the type of measurement and reporting metrics that they are used to getting from companies like Twitter and Facebook, making them skepctical of Snapchat as a good place to buy advertising.
Go deeper