Clash of titans: tech v Trump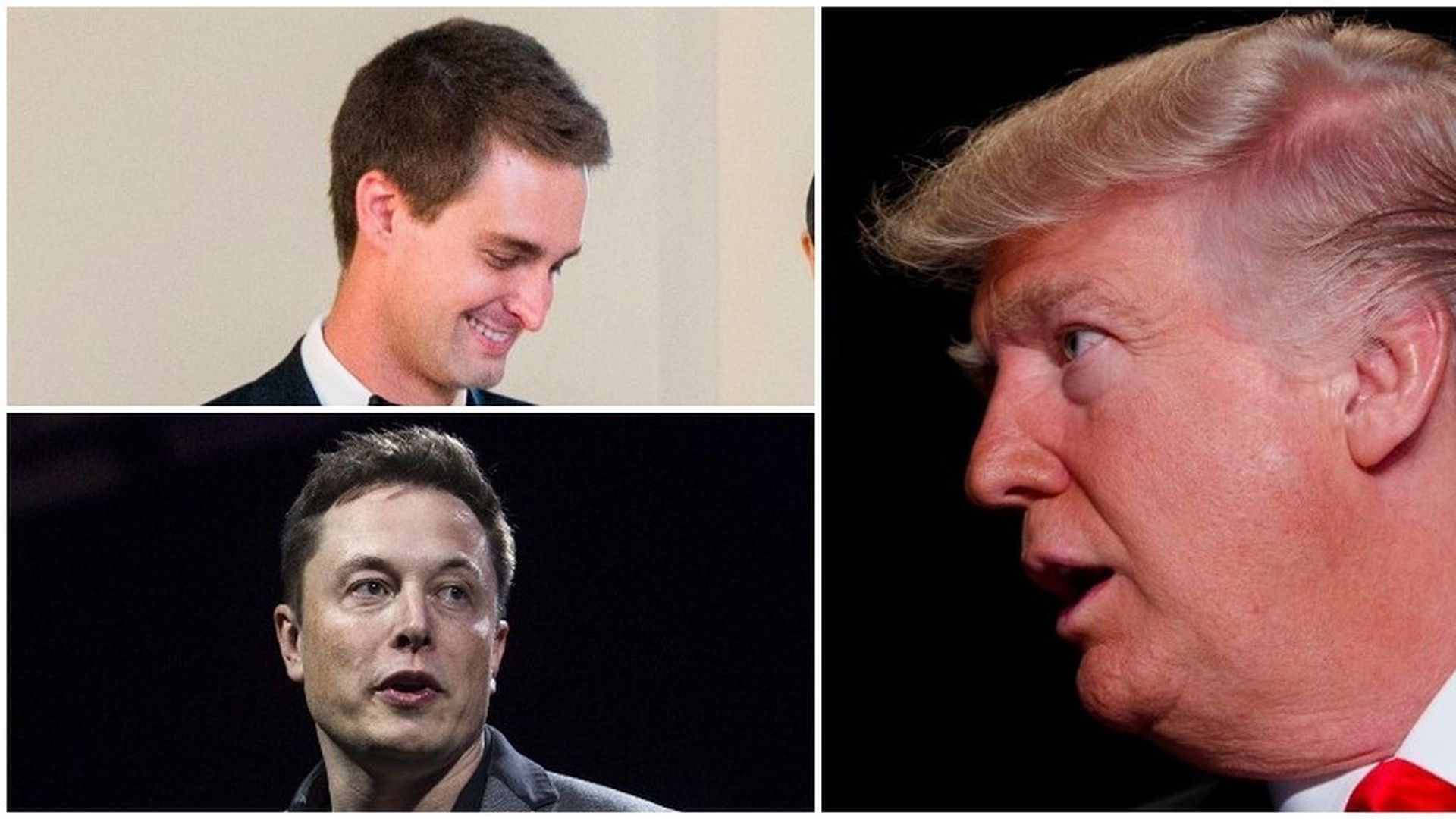 May you live in interesting times ...
A 26-year-old who created disappearing messages for kids filed for an IPO that could top $20 BILLION, despite losing $500 million last year. This was days after Snapchat CEO Evan Spiegel agreed to invest $2 billion in Google's "cloud," which until a few years ago was something that blocked the sun, but now houses our digital secrets and creates vast riches for tech titans.
Thanks in part to this money cloud, Google knocked off Apple as the world's most valuable brand. Elon Musk, who builds private rocket ships and mass-consumer electric cars for the rich, agreed to keep his meeting with Donald Trump this morning, so he can push for, among other things, making "humanity a multi-planet civilization."
Meanwhile, the sector where all of the companies reside seemed ready for war with Trump over restricting the foreign-born talent that helped bring them to life and property.
Only major changes are going to defuse this collision between the new White House and the new economy. A sweeping WashPost front-pager led by Silicon Valley correspondent Elizabeth Dwoskin points to "[r]ising alarm along the West Coast's tech archipelago from Silicon Valley to Seattle."
The Post reports that tech companies "are preparing themselves for a high-stakes confrontation with the president." Three juicy points:
A new letter warning of the economic risks of the administration's economic policies is being drafted by executives at Facebook, Google, Microsoft, Apple and others.
"Some tech companies are now considering whether to move jobs out of the United States to places with more relaxed immigration policies, such as Vancouver, B.C., and Dublin, which have made clear they would welcome an influx of U.S.-based immigrant technology workers."
Read this paragraph: "A little more than half of U.S. start-ups that are estimated to be worth more than $1 billion were founded by immigrants, according to the National Foundation for American Policy, an Arlington think tank. ... Satya Nadella, the chief executive of Microsoft, is an immigrant from India; Google co-founder Sergey Brin is a refugee from the former Soviet Union; and Omid Kordestani, Twitter's executive chairman, was born in Iran. Apple co-founder Steve Jobs was the son of a Syrian immigrant."
Go deeper