Cassidy's brutal Obamacare town hall in Louisiana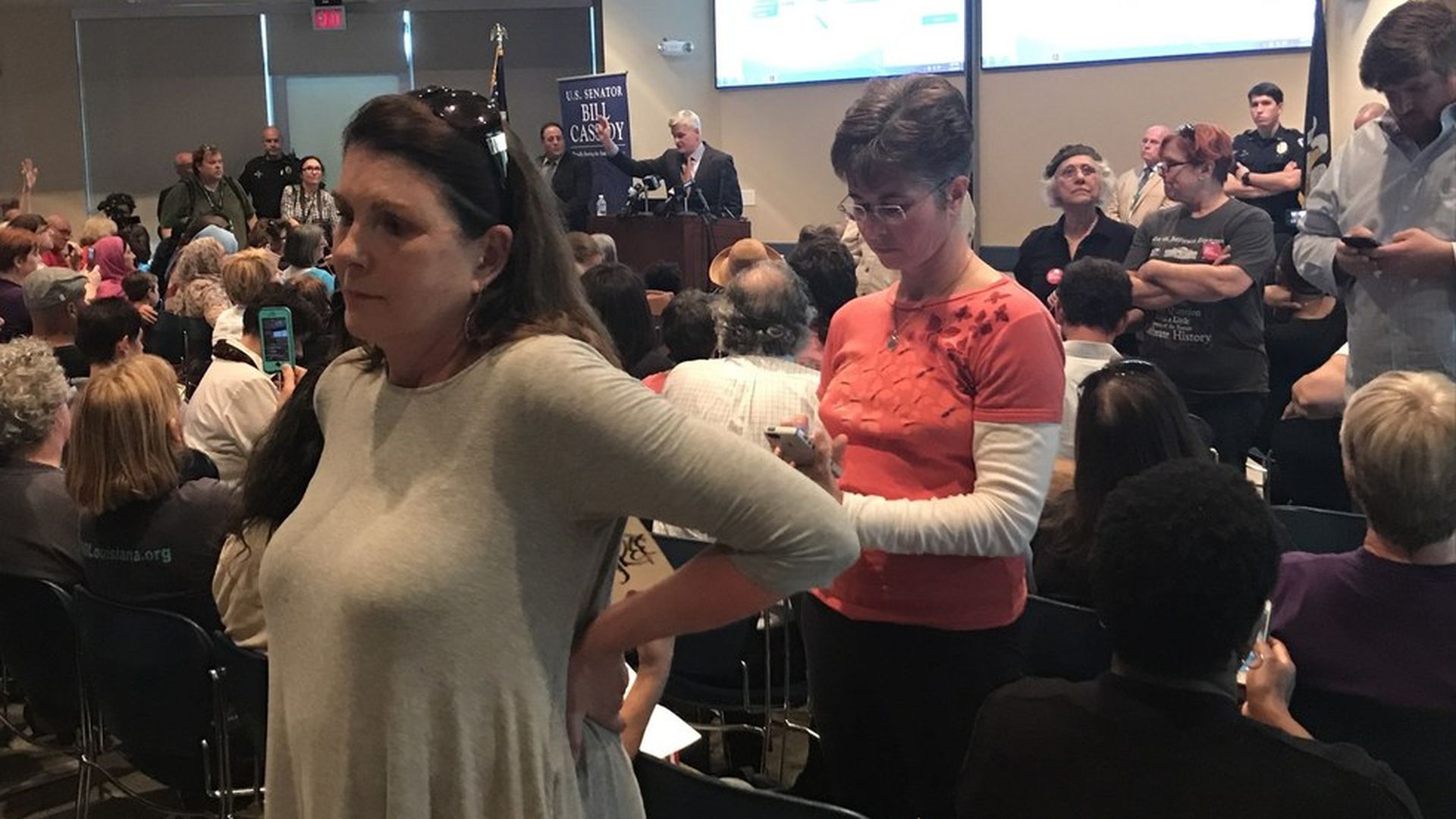 METAIRIE, La. — Sen. Bill Cassidy's town hall meeting this afternoon began with protesters arriving hours beforehand, many with their questions about Obamacare repeal and replacement prepped and ready to go. Then, they turned their backs on him as he tried to explain his Obamacare replacement plan with a PowerPoint.
That's pretty much how the whole meeting went. Read on for the highlights.
D.C. context: Cassidy is one of the only GOP members who has put forward an actual bill replacing Obamacare in addition to repealing it, making his town hall particularly interesting on the health care front. He told the town hall audience that his plan could actually result in fewer uninsured people. He's also been one of the most vocal members about the need to be thoughtful about the process and is a former doctor.
But in the video below, a woman yells at Cassidy that her child is "uninsurable" under his plan.
One man shouted at Cassidy as he presented his replacement plan: "Will you repeal Obamacare without this in place?"
Another woman protested: "This is hypothetical, we want real."
Before Cassidy even arrived (late), the crowds began chanting "Where is he?" Some attendees then took the microphone themselves to ask questions about whether they'd still be able to get health coverage under a new GOP system.
"Are you going to stand aside when the bills become too high…and let me die?" one woman asked.
Another woman, becoming emotional, said her daughter has cancer and "she believes no one cares" whether she lives or dies, including Cassidy. "She wants assurance that's not going to happen," the woman said.
What Cassidy told reporters afterwards about the health care fears: "The unfortunate thing is there was so much common ground that they would not listen to. If you actually look at the bill that I and Susan Collins and others have put forward to replace the Affordable Care Act, it actually would cover that young child. It would take care of those with pre-existing conditions. It would lower costs. Now unfortunately, people came in with their prejudices, and with their prejudice, they would not listen."
Go deeper