Bret Stephens' NYT debut sparks climate change outcry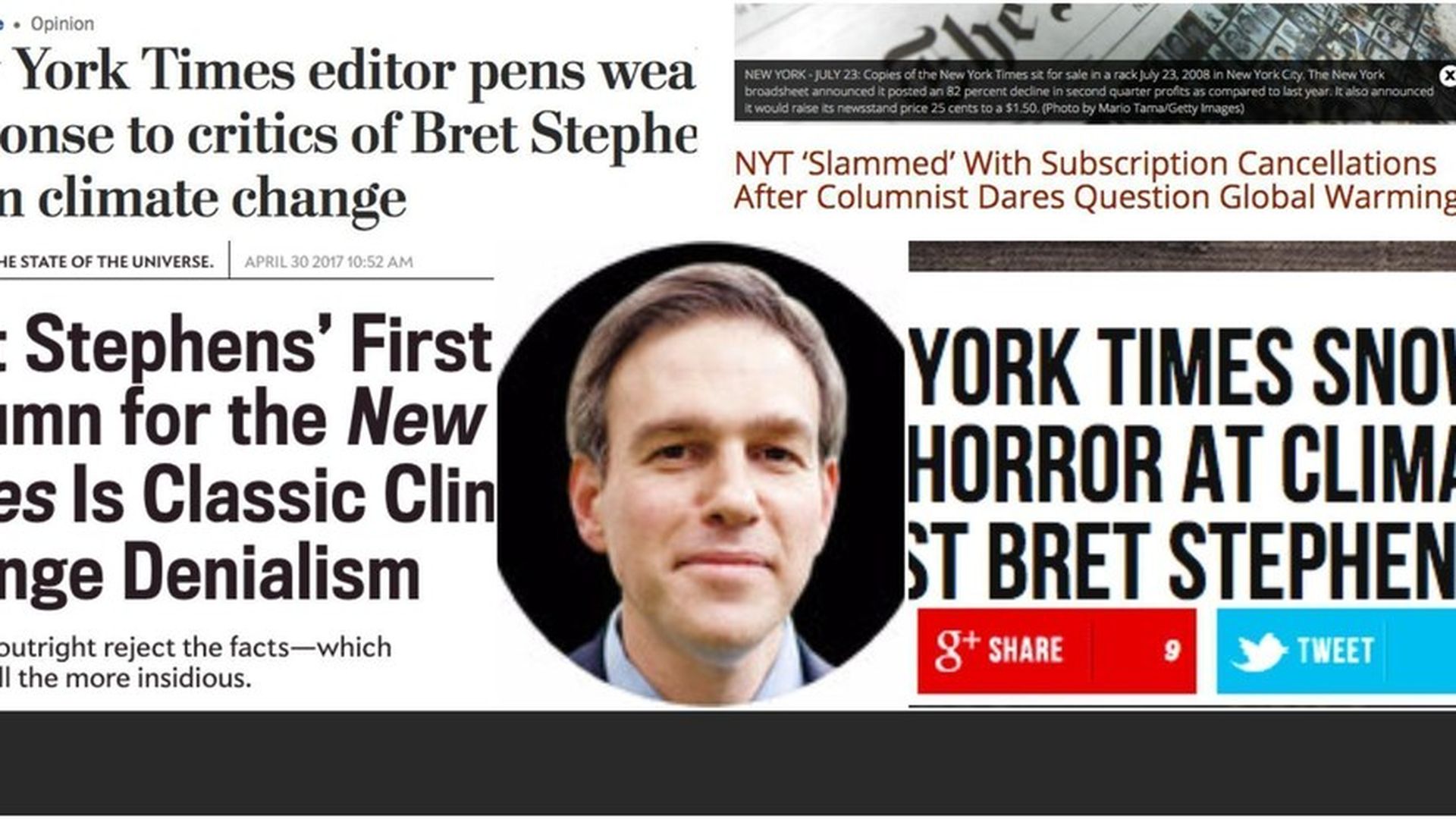 NYT opinion writer Bret Stephens — formerly of the Wall Street Journal — wrote what became an extremely controversial story about climate change called "Climate of Complete Certainty" last Friday. In the piece, Stephens warned readers of overconfidence in the scientific claims about climate change. Here's some of the hot takes from left-wing and right-wing media over the weekend.
Why it matters: It yet again shows the deep, volatile divide in America, the firm expectations readers have of their news organizations, and the difficulty of allowing a different, unpopular opinion on a news site.
The Left
New Republic: Bret Stephens Isn't the Only Problem at the New York Times Op-Ed Page
Slate: Bret Stephens' First Column for the New York Times Is Classic Climate Change Denialism
Washington Post: New York Times editor pens weak, vague response to critics of Bret Stephens's op-ed on climate change
HuffPost: 13 Better Things To Read Than Bret Stephens' First New York Times Column
Think Progress: After hyping itself as antidote to fake news, New York Times hires extreme climate denier
The Right
Breitbart: Delingpole: New York Times Snowflake Readers Melt in Horror at Climate Skeptic Columnist Bret Stephens
Newsweek: UPROAR OVER BRET STEPHENS CLIMATE COLUMN UNDERSCORES RIGIDITY OF THOUGHT AMONG LIBERALS
LA Times: Bret Stephens just trolled the left with his supposed climate change denialism
National Review: Bret Stephens Gives Climate-Change Alarmists Advice, and the Left Erupts
The Daily Caller: NYT 'Slammed' With Subscription Cancellations After Columnist Dares Question Global Warming
Stephens' response:
After 20 months of being harangued by bullying Trump supporters, I'm reminded that the nasty left is no different. Perhaps worse. https://t.co/uQ2L5lox6e— Bret Stephens (@BretStephensNYT) April 28, 2017
On May 1, the New York Times made a correction to Stephens' piece, which spurred another round of attention:
"An earlier version of this article misstated the area that warmed by 0.85 degrees Celsius as noted in the 2014 Intergovernmental Panel report. It was the globally averaged combined land and ocean surface, not only the Northern Hemisphere." - NYT correction
Go deeper