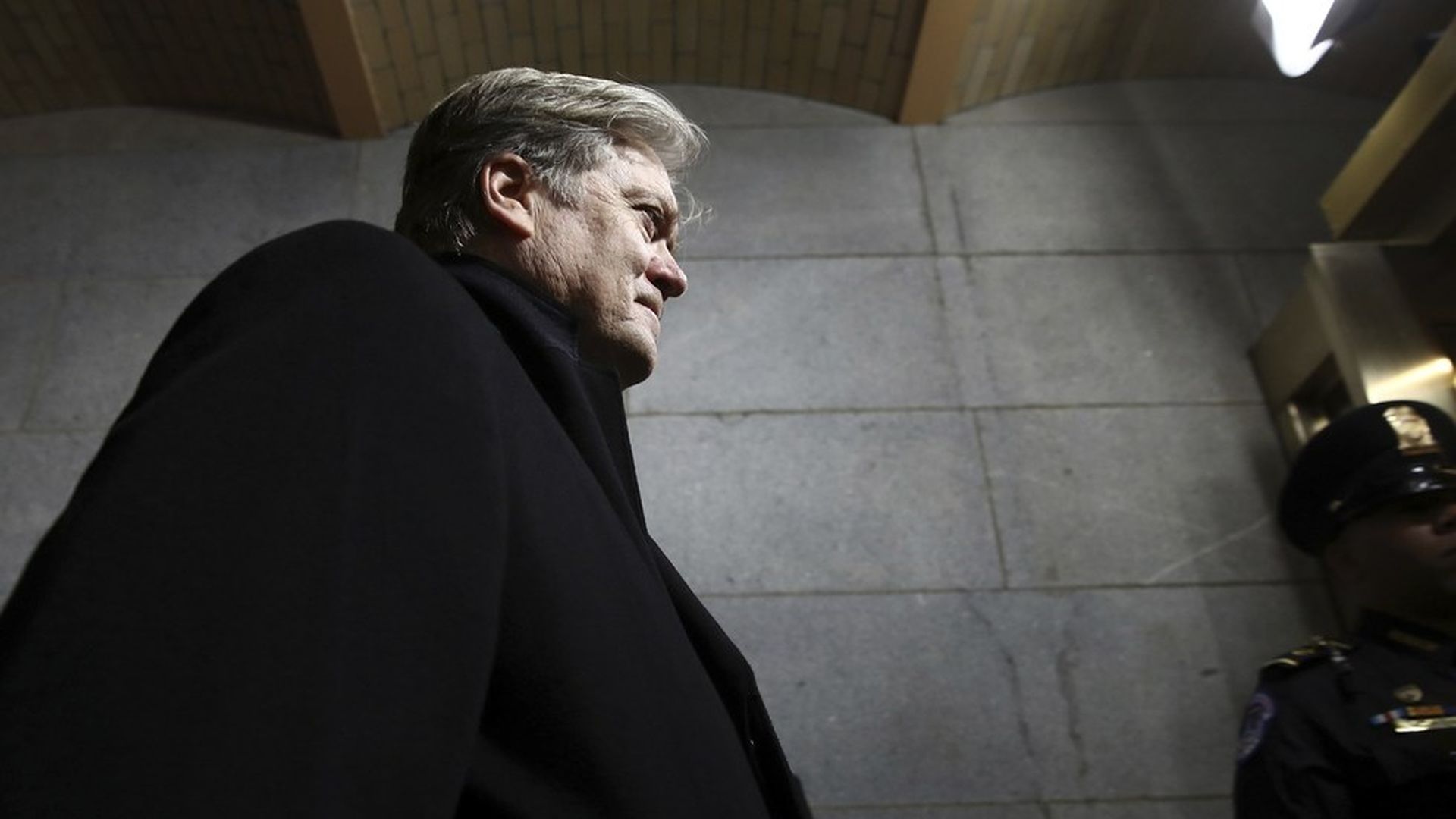 If you want to understand President Trump's wild, chaotic and controversial first days, study up on White House chief strategist Steve Bannon.
Bannon's fingerprints are all over the executive order banning entry from seven Muslim-majority nations. Just like they were all over other executive orders. Just like his ideas and words were sprinkled throughout Trump's inaugural address.
First, take 10 minutes and read this transcript of Bannon's remarks delivered by Skype to the Vatican in 2014 (first reported by BuzzFeed), as his view of nationalism was rising in Europe and here. You will hear many echoes of this speech in Trump's words and action during his first days in office.
Then consider this updated list of Bannon's power plays:
Trump yesterday added Bannon to the National Security Council's Principals' Committee, on par with the SecState and SecDef. Neither Karl Rove nor David Plouffe nor David Axelrod were on the Principals' Committee. This will give him enormous power over national security debates.
Bannon and his close friend and ally, policy chief Stephen Miller, were instrumental in crafting the refugee executive order, and limiting input from others.CNN reports: "Friday night, [the Department of Homeland Security] arrived at the legal interpretation that the executive order restrictions applying to seven countries — Iran, Iraq, Libya, Somalia, Syria, Sudan and Yemen — did not apply to people with lawful permanent residence, generally referred to as green card holders. The White House overruled that guidance overnight, according to officials familiar with the rollout. That order came from the President's inner circle, led by Stephen Miller and Steve Bannon. Their decision held that, on a case by case basis, DHS could allow green card holders to enter the US.
He packed the administration's economic team with officials who were friendly to, or at least open to, his nationalistic plans.
He really is the architect: During the transition, he dreamed up a governing plan that was acutely attuned to Trump's base, with a clever outreach to unions and minorities through an infrastructure-spending plan.
A small but telling detail: A portrait hanging in camera-shot of Trump in the Oval Office is of President Andrew Jackson, a Bannon favorite. It wasn't coincidence that Bannon hailed the Inaugural address as "very Jacksonian," and it's hard to imagine Trump himself is a student of the former president.
Here is an earlier running list we posted last week of Bannon/Miller rising clout:
They wrote the Inaugural speech and set in fast motion a series of moves to cement Trump as an America-first Nationalist.
They maneuvered to get more key allies inside the White House and positioned for top agency jobs.
They wrote many of the executive orders, sometimes with little input from others helping with the transition.
They egged on Trump to take a combative approach with the media, China, Mexico and critics.
And Bannon punctuated the week with a full-throated, Trump-pleasing bashing of the media.
Trump 101: What he means by America First
Go deeper