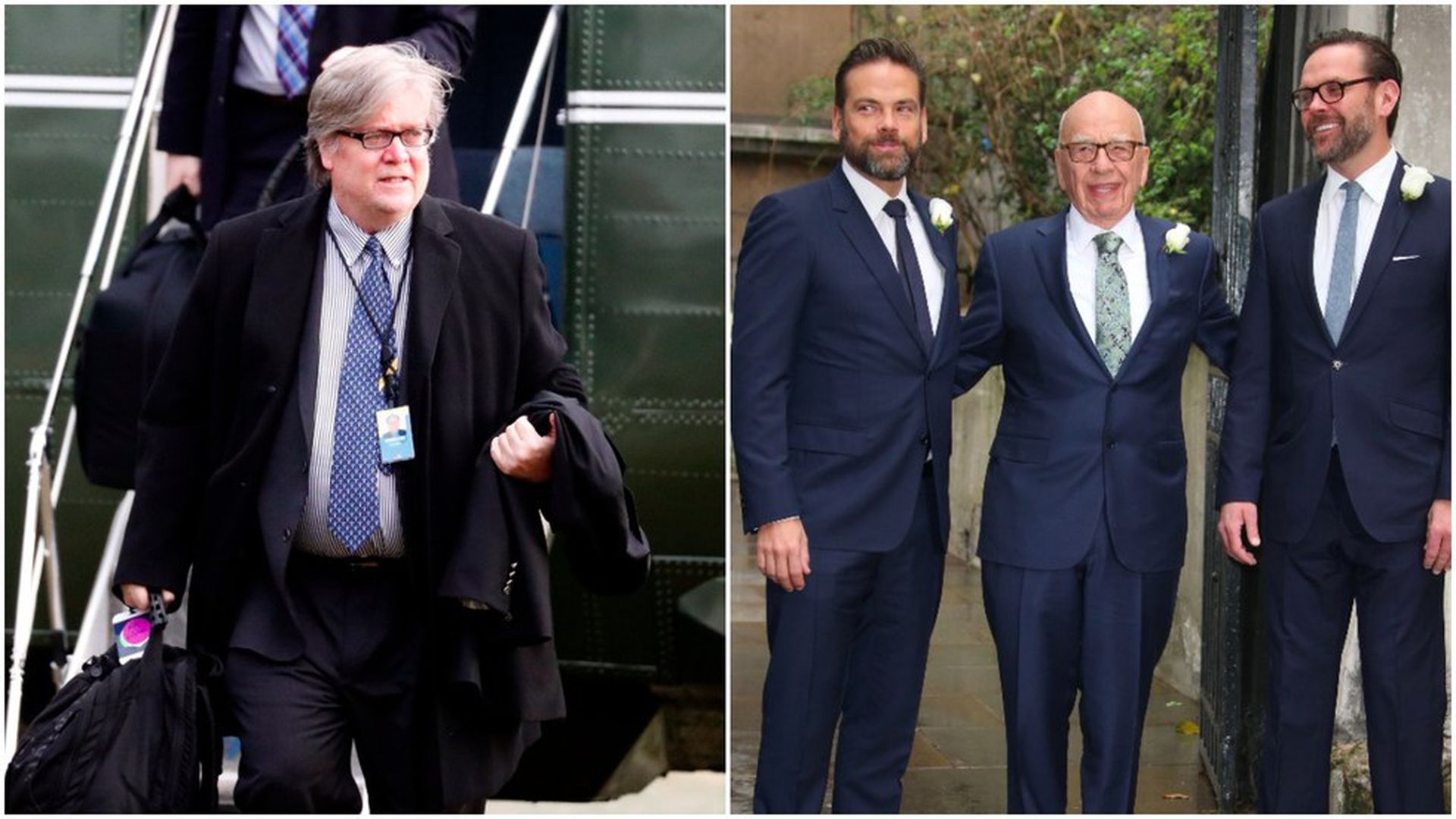 The coming war between Steve Bannon and the "globalists" inside the White House promises to be a public spectacle, and a continuing distraction for the Trump administration. But it's Bannon vs. the Murdoch sons that could really define conservatism — or at least conservative media — far beyond the Trump era.
We reported this weekend that Bannon, backed by the billionaire Mercers, has dreams of the Fox rival in the video/TV space. It will be unapologetically nationalist, and unapologetically at war with the Republican establishment, globalism and anyone who sides with either.
Oh, and Bannon has the added incentive of knowing Rupert Murdoch — executive chairman of 21st Century Fox, the parent of Fox News — pushed for his ouster.
Bannon vs. the sons — Lachlan and James, the next-generation leaders — will be even more intriguing. The sons tell anyone who will listen that they fancy themselves globalists who one day would like to steer Fox away from its hard-right roots and sexist, white-men's-club reputation and reality.
They are, by temperament and ideology, the anti-Bannons. As James Murdoch wrote to friends last week in an email condemning the "racist mob" in Charlottesville: "Diverse storytellers, and stories, can make a difference, and that diversity, around the world, is a crucial strength and an animating force in my business."
What to watch for:
Can Bannon pry away a Sean Hannity or Lou Dobbs, or lasso Bill O'Reilly?
Does Fox crank up the America First dimensions to preempt Bannon?
Can Bannon actually run a media company that transcends a small niche of the most nationalistic and pugilistic American conservatives? For all the hype, Breitbart is hardly a serious Fox rival right now.
Will Bannon form an alliance with Sinclair Broadcast Group, the nation's largest owner of television stations, with unabashedly conservative management and commentary?
P.S. From a great N.Y. Times tick-tock (Jeremy Peters and Maggie Haberman) on Bannon's final days:
"Bannon was notorious for maintaining his own, shadowy presence within the White House. ... He did not use a computer, preferring to have paper printed and handed to his assistant to stay outside the formal decision-making process."
"Bannon ... told [chief of staff John] Kelly that if Mr. Trump delivered a second, more contrite statement it would do him no good, with either the public or the Washington press corps ... 'They're going to say two things: It's too late and it's not enough.'"
Go deeper