Bannon praises U.S.-China relations in Hong Kong speech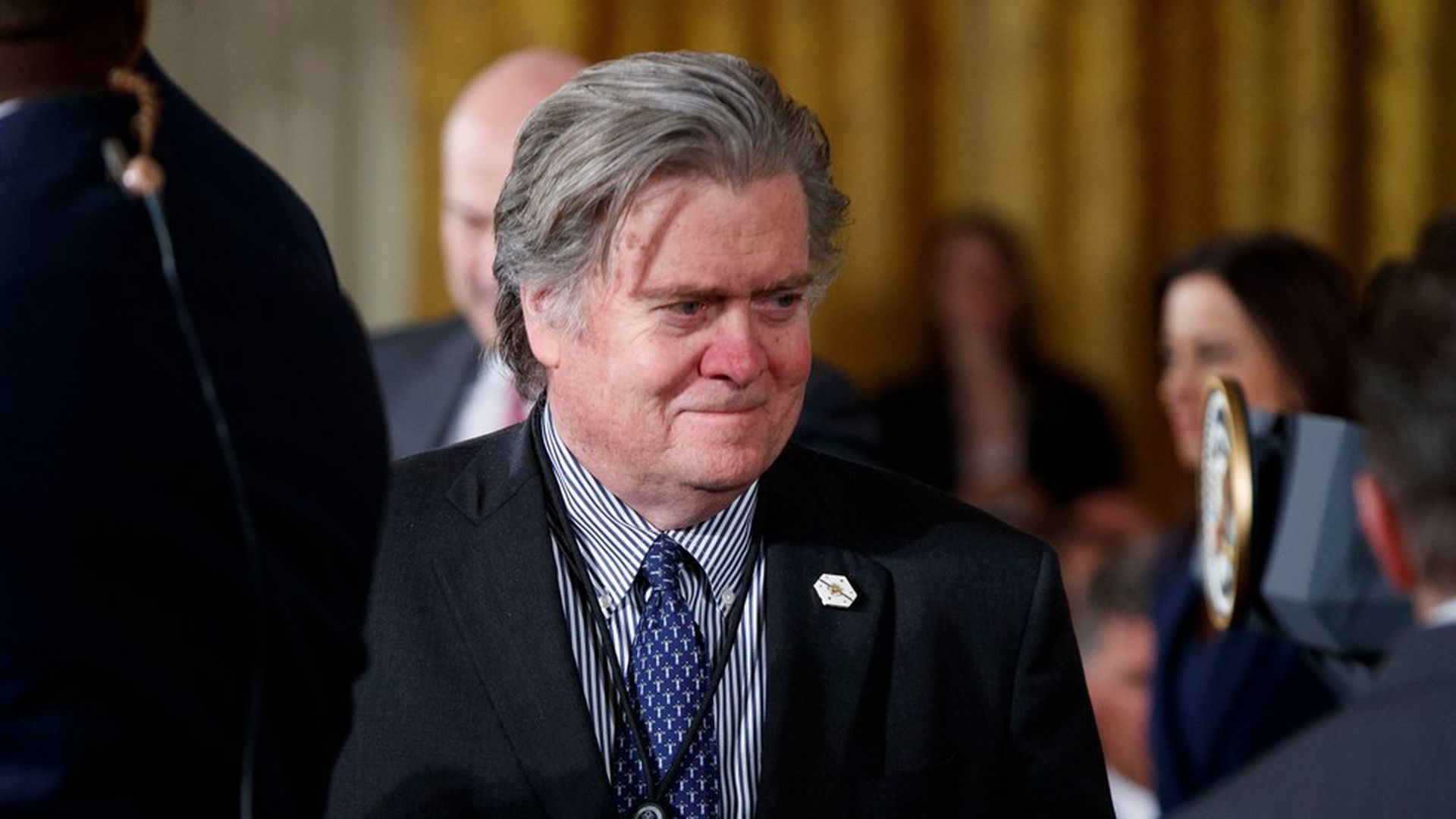 Steve Bannon delivered his first post-White House speech at an investor forum in Hong Kong today, hosted by CLSA, an overseas unit of Chinese brokerage firm Citic Securities Co. The talk focused on American economic nationalism, the populist revolt and Asia.
The press was barred form his speech, but Wei Du, a correspondent at Channel News Asia, snagged an inside seat. Du live tweeted Bannon's remarks, which she described as a "not so anti-China speech." The major takeaways:
Bannon said Trump will visit China in November, adding that there isn't a world leader Trump respects more than Chinese President Xi Jinping. Bannon later praised the "special alliance and affinity of these two countries (U.S.-China) dating back to WWII."
Why he left the WH: Bannon said Trump needed a wing man on the outside, and that he's focused on getting candidates for the 2018 midterms
He doesn't think tax reform will happen in the next few months, and expects it will take longer. He also said Paul Ryan's border adjustment tax would be fantastic, but has zero chance of passing.
He believes the clampdown on illegal immigrants led to mass self-deportation, and raised wages for African Americans and Hispanics in agriculture and construction.
He argued a big misunderstanding of America First is that it means American isolationism. Bannon said America will still engage with other countries on a bilateral basis and remain a Pacific power.
The Trans-Pacific Partnership (TPP) and Paris Accord embody the type of deals the U.S. will never be in again, for example, being one player among many others and bound by other countries.
Bannon said the U.S. and China can avoid a trade war, but they have to deal with the economic war against the U.S.
On Trump working with Democrats on the debt ceiling: Bannon said his recommendation is not to do that, but said Trump is smarter than him.
Plans for Breitbart: He wants to expand it globally, and mentioned India and Egypt where he sees similar nationalistic sentiments.
Go deeper