Baffled, brooding Trump searches for new approach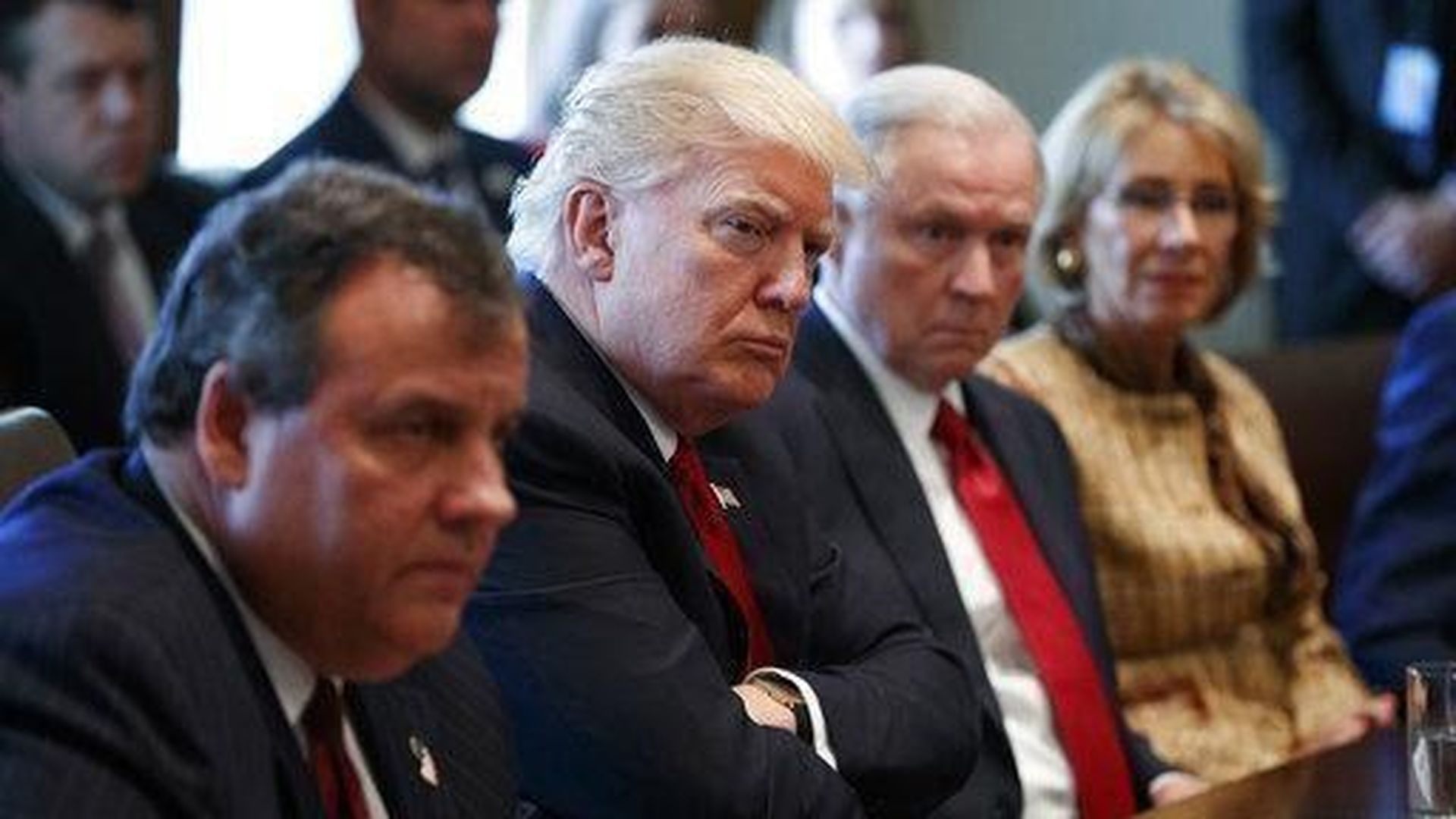 President Trump brought his chaos-and-loyalty theory of management into the White House, relying on competing factions, balanced by trusted family members, with himself perched atop as the gut-instinct decider. He now realizes this approach has flopped, and feels baffled and paralyzed by how to fix it, numerous friends and advisers tell us.
"Trump is thinking through his frustrations," said one Washington wise man close to the West Wing. "The team didn't put the windows in right."
The chaos dimension has created far more chaos than anticipated. Come nightfall, Trump is often on the phone with billionaire, decades-long friends, commiserating and critiquing his own staff. His most important advisers are often working the phone themselves, trashing colleagues and either spreading or beating down rumors of turmoil and imminent changes.
This has created a toxic culture of intense suspicion and insecurity. The drama is worse than what you read.
Behind the curtain: Axios' Jonathan Swan today sat in Reince Priebus' office with Steve Bannon, Jared Kushner, and Reince's deputy, Katie Walsh, who — fed up with the internal "Game of Thrones," and treated with suspicion by some prominent West Wing colleagues — is leaving to help launch Trump's outside political group, America First Policies.
The purpose of the meeting was to spin her departure — the officials said they needed an all-star player to get the group off the ground. But during the conversation one of the officials made a revealing comment. He views the Trump White House in terms that could be applied to the iterative process of designing software. It's a beta White House.
The senior official — the comment was "on background" — said the White House was operating on similar principles to the Trump campaign:
"We rode something until it didn't work any more," the official said. "We recognized it didn't work, we changed it, we adjusted it and then we kind of got better ... [T]his was much more entrepreneurial."
In the White House, he said, "we're going to keep adjusting until we get it right."
Translation: Buckle up. You should expect regular, sometimes violent, upheavals in this Trump White House.
Sound smart: In any organization, all habits — good and bad — trickle down. So no wonder you have so many young staffers spending so much time stirring mischief and trying to prove loyalty, often blindly.
Go deeper