Apple, IBM among tech companies challenging Trump's effort to revoke DACA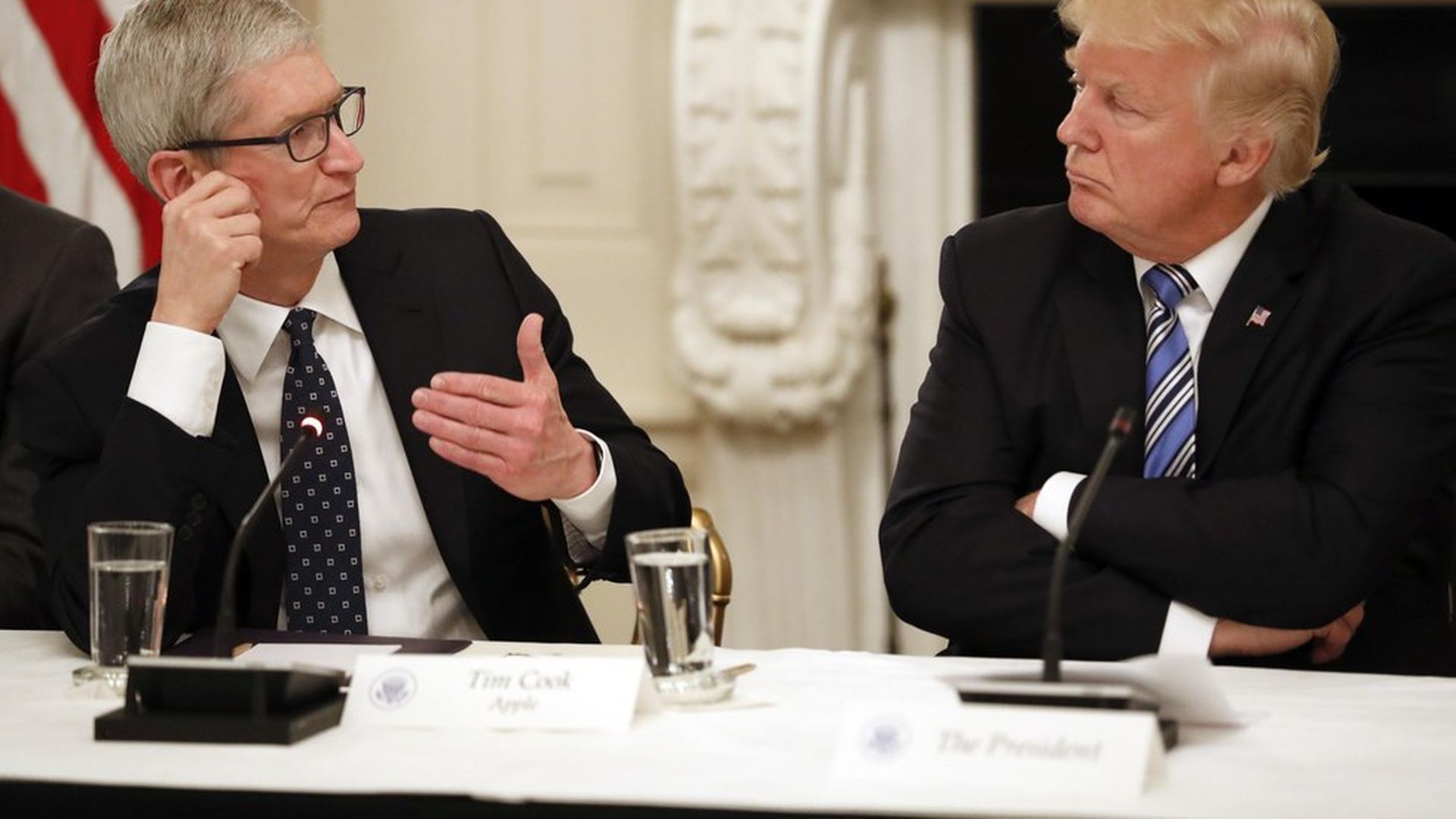 IBM, Google, Lyft, Microsoft, Salesforce and Twitter were among a number of big-name tech companies filing a brief Wednesday in support of a legal challenge to President Trump's effort to end the DACA, a program that protected from deportation those brought to the U.S. as young children. Apple filed its own brief in the case. The companies are supporting an effort by several state Attorneys General to get an injunction keeping the federal government from ending the program.
Why it matters: This issue is of particular importance to tech companies and their workforce and leaders have been especially outspoken on their commitment to seeing Dreamers-protected. Wednesday's move follows an earlier letter to Trump signed by dozens of tech company leaders as well as separate pushes from Microsoft, Apple, and IBM, among others to either get Trump to change course or convince Congress to take action.
Apple: In its own court filing, Apple VP of People Deirdre O'Brien said that the company employs more than 250 DACA holders in 28 states.
These talented and entrepreneurial people fill important and varied roles across the company, including in operations, research and development, administration, sales and marketing, and retail. Apple and its customers have benefitted greatly from their intelligence, ambition, creativity, resilience, and hard work. These employees are important contributors to Apple's unique culture. That unique culture enables employees throughout Apple to do the best work of their lives and excel at creating the most innovative products and providing the very best customer service.
IBM: IBM VP of government affairs Christopher Padilla said the company has more than 30 Dreamers working in a variety of roles, from software engineering to analytics and technical support.
"They contribute to our company and help to drive innovation and excellence at IBM. In fact, one of our Dreamers recently worked around-the-clock remote shifts to ensure continuity of IBM services when Hurricane Harvey devastated Houston," Padilla said. "BM is actively urging Congress to find a permanent legislative solution to enable Dreamers to stay in the United States. We have also urged the court in this case to find that DACA's revocation was unfounded. The program is due to begin phasing out in less than five months, and we are committed to providing as much stability and predictability as possible to DACA recipients who work at IBM."
Full List of companies signing the brief.
6Sense Insights, Inc.A Medium CorporationAdobe Systems IncorporatedAdRoll, Inc.Affirm, Inc.Airbnb, Inc.Alation, Inc.Ampush Media, Inc.Andela, Inc.Appboy, Inc.AppNexus, Inc.Asana, Inc.Atlassian Corp. PlcAzavea Inc.Bigtooth VenturesBox, Inc.Brightcove Inc.Brocade Communications Systems, Inc.CareZone Inc.CartoDB Inc.Casper Sleep Inc.Castlight Health, Inc.Cavium, Inc.Chegg, Inc.Chobani, LLCCivis Analytics, Inc.Citrix Systems, Inc.ClassPass Inc.Cloudera, Inc.Cloudflare Inc.CodecademyColor Genomics, Inc.Credit Karma, Inc.Disqus, Inc.DoorDash, Inc.Dropbox, Inc.eBay Inc.Edmodo, Inc.EquityZen Inc.Facebook, Inc.General Assembly Space, Inc.Glassdoor, Inc.Google Inc.Greenhouse Software, Inc.Hewlett Packard EnterpriseHomer Logistics, Inc.IBM CorporationIDEO LPImgur Inc.Indiegogo, Inc.KargoKnotelLam Research CorporationLevi Strauss & Co.LinkedIn CorporationLithium Technologies, LLCLyft, Inc.Lytro, Inc.MapboxMarin Software IncorporatedMedidata Solutions, Inc.Microsoft CorporationMolecule Software, Inc.MongoDB, Inc.Motivate International Inc.NETGEAR, Inc.NewsCred, Inc.NIO U.S.Oath Inc.Patreon, Inc.PayPal Holdings, Inc.Pinterest, Inc.Pixability, Inc.Postmates Inc.Quantcast Corp.RealNetworks, Inc.Reddit, Inc.Redfin Corporationsalesforce.com inc.Scopely, Inc.Shutterstock, Inc. Singularity UniversitySizmek, Inc.SpaceXSpokeo, Inc.Spotify USA Inc.Square, Inc.Squarespace, Inc.Strava, Inc.SurveyMonkey Inc.Tesla, Inc.The Copia InstituteThumbtackTripAdvisor, Inc.Tumblr, Inc.Turo Inc.Twilio Inc.Twitter Inc.Uber Technologies, Inc.Udacity Inc.Upwork Inc.Verizon Communications Inc.Via
Go deeper