Apple debuts new iMacs, iPads, previews iMac Pro, HomePod speaker and new software (Live updates)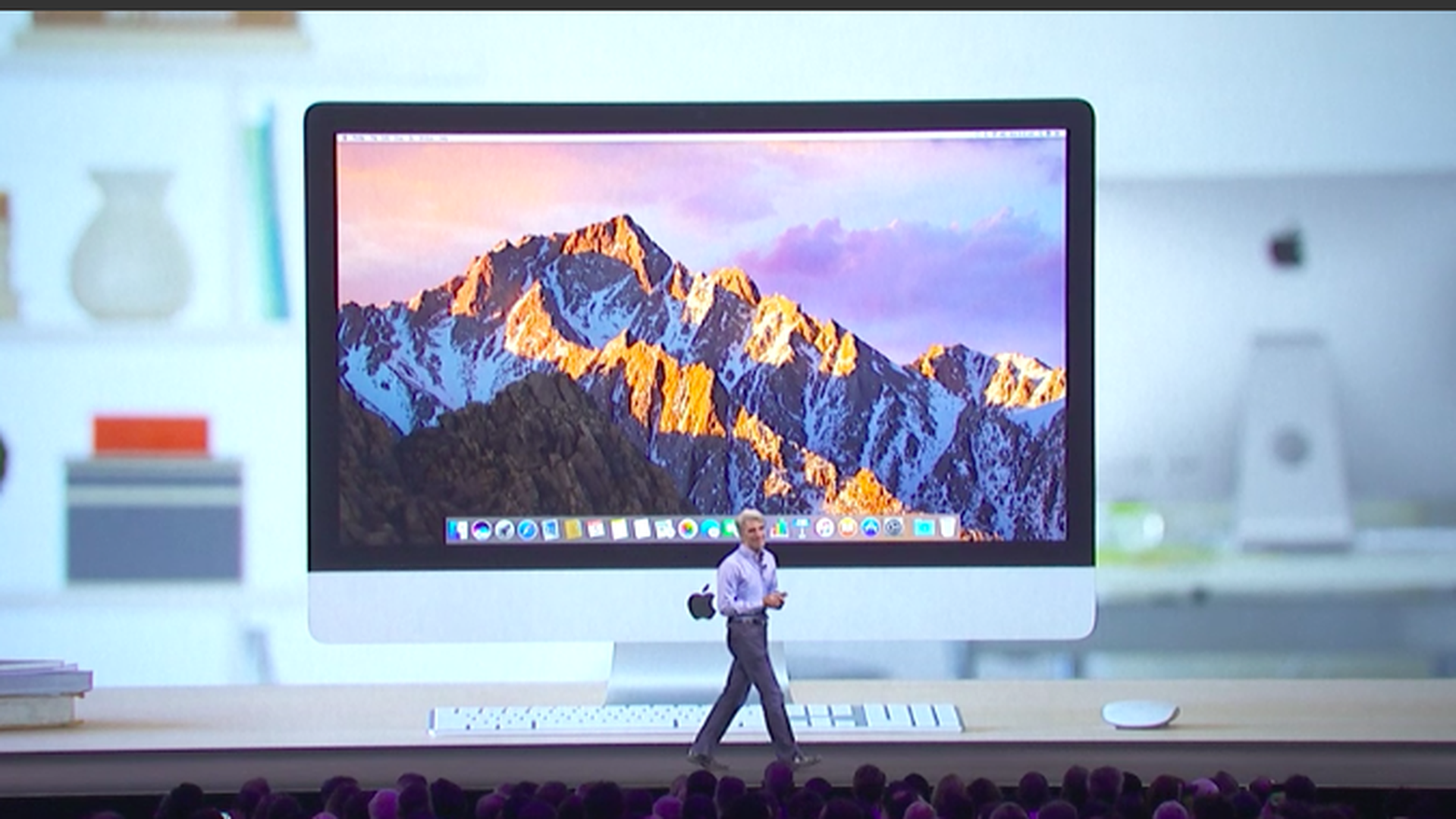 Apple's big annual developer conference usually serves as a prelude of what's to come, with Apple previewing the software that will power the fall's new iPhone and Mac updates. And Apple did that, previewing Mac OS High Sierra and iOS 11, due this fall.
This year, though, the company is debuting new devices at WWDC, including new iMacs (and a tease of a high-end $5,000 iMac Pro coming in December), new iPad Pro tablets as well as some under-the-hood enhancements to its notebook line.
It also is releasing a Siri-powered $349 home speaker, called HomePod, coming in December.
Beyond that, Apple also announced peer-to-peer payments using Apple Pay and some early, but important moves into augmented and virtual reality.
One More Thing: Michelle Obama is delivering a speech at WWDC on Tuesday.
For those that want more, here are all the key things that Apple announced in its two-hour-plus keynote:
Cook says Apple will have six big announcements and starts with TV, confirming that, as expected, Amazon is bringing Prime Video to Apple TV. Apple will have more on tvOS later this year.
Apple Watch: Apple's Kevin Lynch is showing WatchOS 4, an update to the Apple Watch software, including a Siri-powered watch face. Other faces include the Toy Story characters: Woody, Jessie and Buzz Lightyear.A new feature will let Apple Watch exchange data with gym machines, meaning that you can send heart rate to a treadmill from a watch, and it can get information such as the incline from the workout machines.Developer preview of watch OS 4 is available now and will be out for consumers as free update this fall.
Mac OS: Next version is mostly a refinement of current MacOS Sierra, called "High Sierra" (Apple has done this before -- i.e. when it went from Leopard to Snow Leopard)Among the features is update to Safari that lets users block autoplay video and those annoying ads that pitch you on the thing you bought once on every site you visit.Apple will work with partners like Shutterfly for new printing options from Photos app.A more modern file systemSupport for external graphics cardsVR support from Steam, Unity and Unreal ("You might just be seeing more from us later today on this topic," Craig Federighi teases.)High Sierra developer preview now, public beta later this month and consumer release in the fall as free update
iMacNew iMacs with brighter displays, Intel's latest "Kaby Lake" Core i7 processors and support for more memoryTwo Thunderbolt 3 ports in addition to standard USB ports, discrete graphics on 4K, 21.5-inch model, faster graphics on large modelshipping today, with 21.5-inch model starting at $1099, a 4K 21.5-inch model for $1299 and the 5K, 27-inch model starting at $1799Apple also gave a "sneak peek" at an even more high-end $4,999 iMac Pro due out in December. Will come in space gray color, have an 8-core Intel Xeon processor, with option for 18-core Intel chip and have "workstation power" including AMD's workstation-class Radeon Vega chip. (Apple had said it was going to offer more professional-grade iMac options earlier this year, when it announced it was revamping Mac Pro, but that new design won't be ready until next year.)
Screenshot by Axios
Mac Notebooksalso getting faster Intel chips, with 13-inch MacBook Pro starting at lower $1299 priceshipping today
iOS 11 Cook makes expected joke about Apple turning it up to 11iMessages will be stored in the cloud and be synchronized (so you can delete a message and have it really be gone). The other big deal is that your messages don't have to take up gigabytes of space on the phone.Person-to-person payments coming to Apple Pay, integrated into Messages as iMessage appMore developer options to tap into SiriCapturing photos and videos in new formats Apple says offer better quality and compressionDevelopers can take advantage of the depth information captured by the dual cameras on the iPhone 7 PlusIn Live Photos you can trim video or make a different frame the key photo (Google had this in their Motion Stills app). Can also do a bunch of other effects, like looping video and long-exposureIn Maps, indoor mapping for malls and airports, lane guidance and speed limit infoA "do not disturb while driving" option that hides many types of notifications. (You can click "I'm not driving" if you really want to use your phone) More machine learning-based features that developers can add to their apps, including computer vision abilitiesAs it has long hinted, Apple getting into augmented reality space, offering developers "ARKit" to make it easier for developers to add virtual objects to real imagesApple is redesigning its 9-year-old App Store with separate tabs for games and for other types of apps; Marketing SVP Phil Schiller notes 180 billion apps have been downloaded and notes $70 billion paid out to developers, 30 percent in last year alone.New Files app lets you get documents not just from device, but also third parties like Google, Microsoft and Box.Some cool options for scanning documents and annotating screenshots using iPad, Apple Pencil and iOS 11.Developer preview today, public beta later this month and shipping in final form this fall.
iPad New 10.5-inch iPad Pro model that fits in roughly the same package as current 9.7-inch model with more screen.Brighter displays for both new 10.5 inch model and for larger-screen iPad Pro, a new A10X processor Apple says offer 30% better performance. Also, support for HDR video, faster 120Hz refresh rate.Both models will start with 64GB of memory (double the previous iPad Pro models)The 10.5-inch model will start at $649 and the 12.9-inch model will start at $799. (additional memory and cellular connections available for additional money.)You can order the iPad Pros now and they will start shipping next week.
HomePod SpeakerDue out in December in the for $349, powered by Apple A8 processor, same used in some iPhones. "It's perhaps the biggest brain ever in a speaker," Schiller said. Naturally, it has Siri and ties into Apple Music. It can handle reminders, control HomeKit devices, deliver sports, news and traffic info.
"We want to reinvent home music," Cook said. Schiller disses competition, saying that others have good speakers, but no assistant, and those with a good assistant aren't great speakers. "None of them have quite nailed it yet," Schiller said.Apple also touts privacy, saying nothing gets sent to Apple until you say "Hey Siri"Will launch in US, UK and Australia this year; other countries next year.
We're covering the event live, so check back often for more updates...
Go deeper