Apple crushes expectations, sees record holiday quarter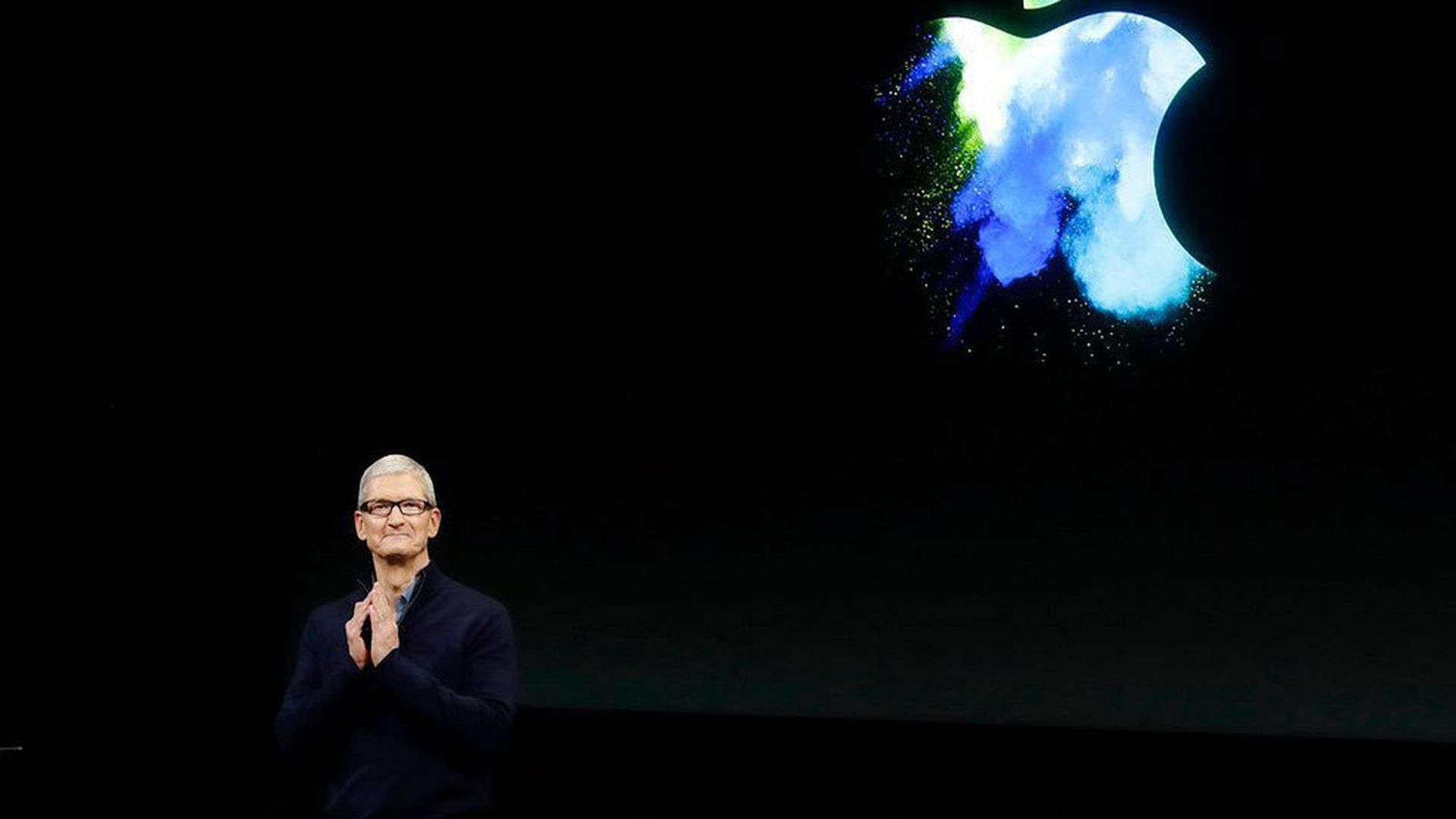 Apple on Thursday reported sales and earnings well ahead of projections and, importantly, also said holiday sales should be a record and ahead of many analysts' expectations. Its sales of 46.6 million iPhones last quarter came in about 500,000 units ahead of expectations.
Shares soared in after-hours trading to a new record, changing hands recently at $173.72, up $5.61, or more than 3%.
Why it matters: Going into the earnings report, there were concerns about both iPhone 8 demand and iPhone X supply. Thursday's report should go a long way toward answering those questions.
Sales were up in every region except Japan, where business was down from the prior year, though up sequentially. Notably, the company finally saw a much-needed turnaround in Greater China, where sales of $9.8 billion were up 22% from the prior quarter and 12% from a year ago. The company's business has been weak in China for some time, though the company had predicted improvement this quarter.
By the numbers:
Last quarter
Revenue: $52.6 billion (vs $51.2 billion estimated)
Per-share earnings $2.02 (vs. $1.87 estimated)
iPhones sold. 46.6 million (vs 46.1 million estimated)
iPads sold: 10.3 million (vs about 10 million expected)
Macs sold: 5.4 million (vs about 5 million expected)
Services revenue: $8.5 billion (up from $7.3 billion last quarter and $6.3 billion a year ago)
Current quarter forecast
Revenue: $84 billion to $87 billion (vs expectations of around $83 billion)
Highlights from the earnings conference call (in progress)
Apple Watch unit growth was more than 50% for the third consecutive quarter (though Apple didn't give specific numbers)
In Greater China, Apple saw unit growth and market share gains for iPhone, iPad and Mac, with Mac sales and services revenue in China at record levels.
Business in emerging markets outside China was up 40%, with sales in India double those of a year earlier.
Cook said Apple's wearables business (Apple Watch + AirPods, etc) would be a Fortune 400 company by itself. (No. 400 on the Fortune 500 list, Calpine, had revenue of $6.7 billion last year.)
Manufacturing of the iPhone X is going well, Cook said; However, he said he can't say when supply will match demand.
Cook wouldn't say how the iPhone 8 Plus sales compared to the standard model, but did say that it is off to the fastest start of any Plus model, which he said was a positive surprise.
Apple says its music business, which had been in decline, is once again growing thanks to Apple Music.
iCloud is growing at double digits and the services business overall is the size of a Fortune 100 business.
Go deeper