AI is getting a tryout in pro sports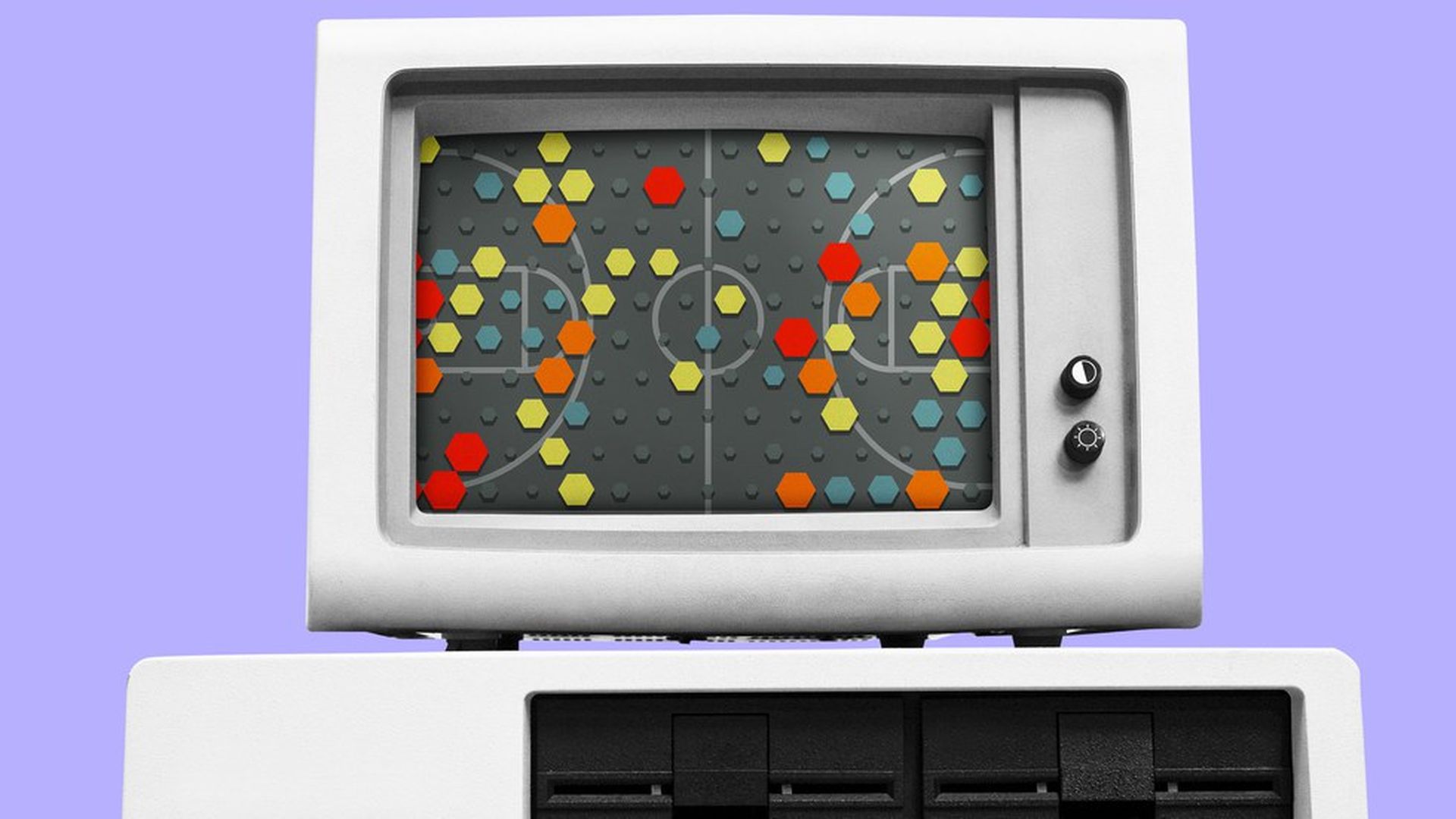 Billy Beane, the analytics-driven general manager of the budget-strapped Oakland A's, shook up sports and corporate boardrooms by melding overlooked, under-valued players into oddball yet cheap and winning teams. As depicted in the book Moneyball , Beane enshrined a new job category in serious sports — director of analytics. But there is one big thing that it never accomplished: win Beane a championship.
Enter artificial intelligence: Some pro-sports teams are exploring how machine learning, the leading form of AI, might help where Moneyball has fallen short.
Richard Zemel, an AI consultant for the Toronto Raptors, tells Axios that among things that could transform a season are forecasting an opposing team's next play, or signaling whether, if you swap out one player for another, "we go on to win the championship."
How it would work: For a picture of what we're talking about, I went to Rob Schumaker, a computer science professor at the University of Texas at Tyler and co-author of Sports Data Mining. Here is what he said:
"Machine learning could analyze all of the players on the court and where the ball is to compute the current play state and then, using historical data of similar play states, determine the probabilities of the next state, which could be where the ball moves next or what offensive play might be next. The reason why this works is that humans have biases and are never truly random. A player in a certain situation will do what has worked for them in the past, and the historical data can tell us this."
That is all theoretical, though, because, as of now, sports AI is in its infancy: Mark Silver, president of Synergy Sports Technology, a data and analytics firm for basketball teams, says that at the moment, live, in-game forecasting is something from a "fantasy world."
Not only has no one figured out how to predict plays or the future performance of players, but they also don't know how they would apply the knowledge if they obtained it. "You couldn't communicate the information fast enough" to players on the court, he said.
But data — the fuel of machine learning — is becoming much, much richer: Silver's company and SportVU, a competing firm, both provide microscopic coverage of every game — up to 100 shots of every player, every second, in addition to where the ball is, and what's happened overall.
This data is helping AI specialists like the Raptors' Zemel, a professor at the University of Toronto and research director at the Vector Institute, an AI center. Zemel says the Raptors' sports analytics team "has good intuition," but that "I am trying to automate it using machine learning." Zemel spelled out his approach in a paper he co-authored last year.
At this point, AI can help with psychological profiles: Teams may scout hundreds of players, and spend days visiting the homes of those they are taking seriously. As part of of the recruitment, they conduct psychometric tests such as Myers-Briggs to vet mental strength, a key determinant of elite athletic performance.
But Jonathan Kreindler, founder of Receptiviti, a Toronto-based AI startup, said AI can deliver better results than standard psychometrics. Kreindler said his team hands a potential recruit an iPad, and asks three to five open-ended questions in order to derive about 300 words of speech. That is sufficient for the AI to work, he said. "Now I can decide if I want to go visit them at home and so on," he told Axios.
Go deeper