A tiny company got a $300 million contract to rebuild Puerto Rico's grid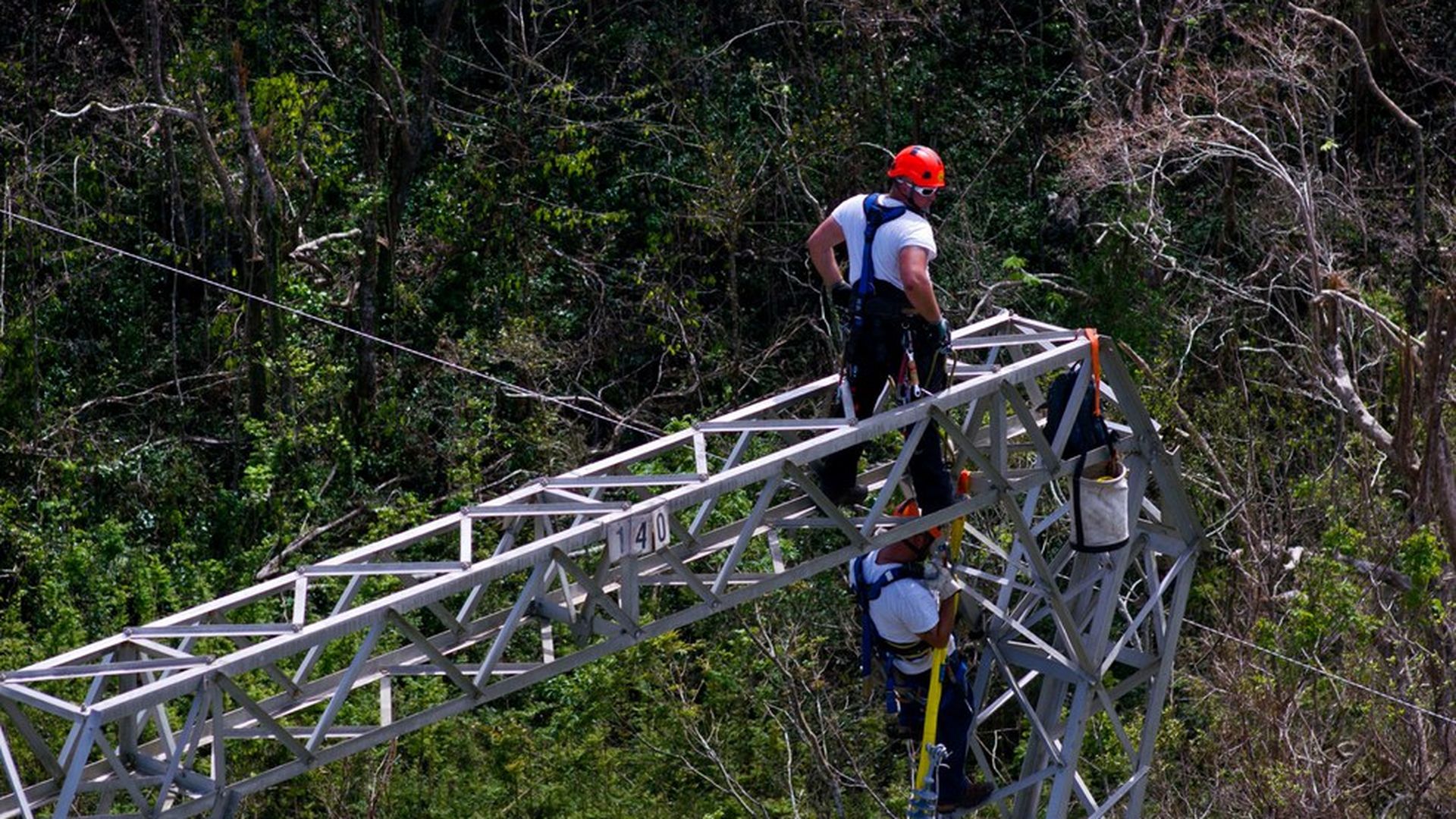 Whitefish Energy, a tiny Montana company, has been granted a massive $300 million contract by Puerto Rico's main electric utility to help rebuild the island's electrical grid after Hurricane Maria's devastation, per The Washington Post.
Why this matters: The Post called the hiring of a small for-profit company like Whitefish "unusual" and said it's drawing scrutiny from Congress. Whitefish had only two full-time employees on the day Maria hit Puerto Rico but claimed it is prepared to meet the challenges of the contract by hiring short-term workers at a rapid pace.
Whitefish's largest prior federal contract gave the company $1.3 million to replace 4.8 miles of transmission line in Arizona. For comparison, Puerto Rico has 2,400 miles of critically important transmission lines — and tens of thousands of miles of distribution lines to consumers across the island.
What usually happens after large-scale disasters is utility companies activate "mutual aid" agreements which require other utility companies to assist in restoring services. That's how utilities in Florida and Texas got back online after Hurricanes Irma and Harvey. Puerto Rico's electric utility, the Puerto Rico Electric Power Authority, filed for bankruptcy earlier this year, raising further questions on why it would choose to issue such an expensive contract when other established procedures exist.
A spokesman for Whitefish told a Washington state paper that the company is uniquely experienced in working with rugged, mountainous areas like Puerto Rico where helicopters and 100-foot ladders will be used.
Worth noting: Whitefish is based in Whitefish, Montana, Interior Secretary Ryan Zinke's hometown. Zinke is at least somewhat acquainted with Whitefish's CEO, though Zinke's office told the Post that's due to Whitefish being a place where "everybody knows everybody." Both Whitefish and Zinke's office denied that the Zinke connection had anything to do with Whitefish landing the Puerto Rico deal.
Go deeper