15 surprising facts about Steve Bannon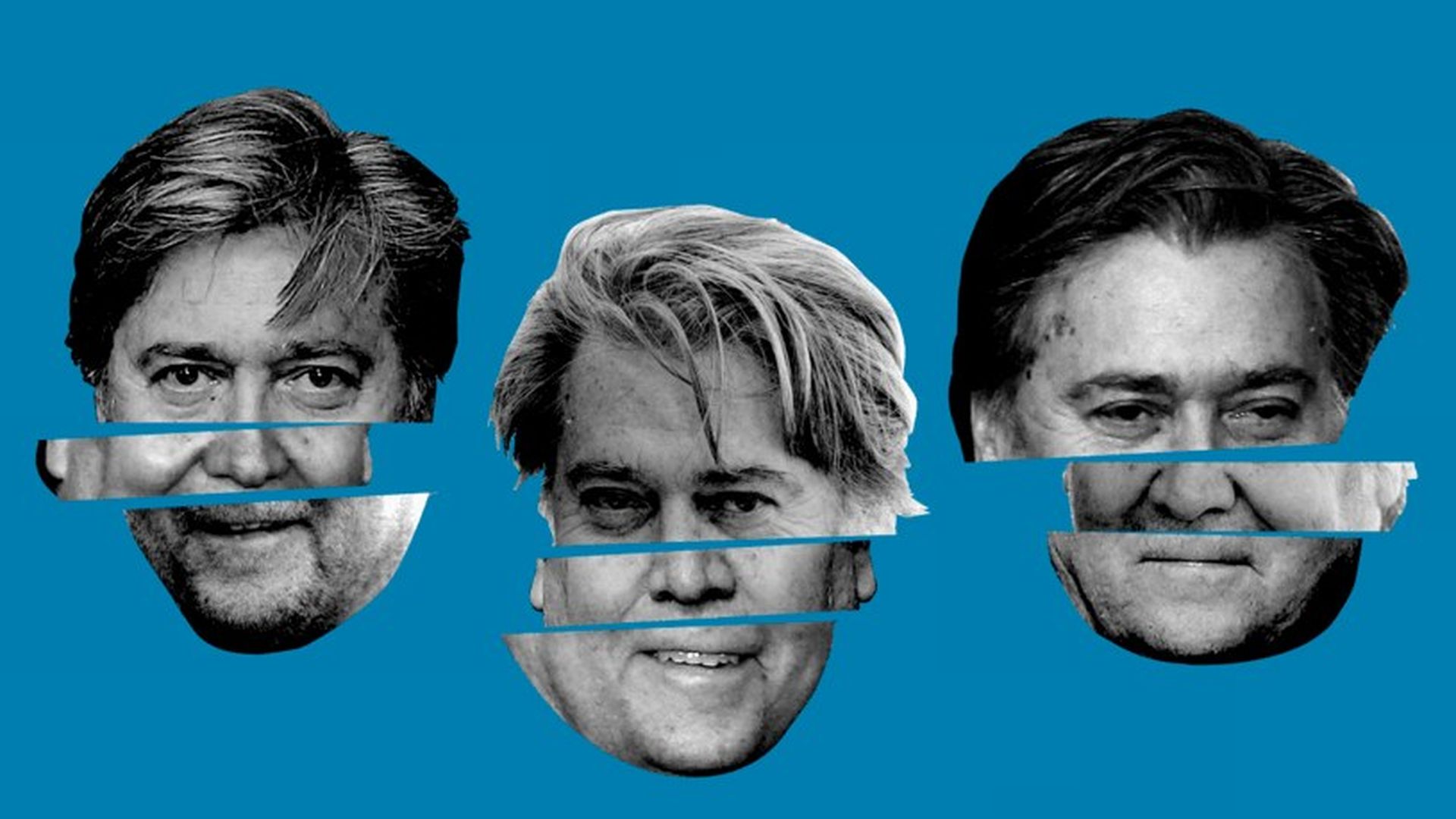 The only person grabbing headlines as often as Trump these days is Steve Bannon, who quietly advised Trump during the campaign and now serves as the White House Chief Strategist.
While some of the many accusations and theories about him may be true, there's more to the story. Unlike SNL's comedic depiction of him as a soulless skeleton, Bannon's long-formed, nuanced and highly controversial beliefs make him a far more complex character. Here's some surprising facts about Steve Bannon...
He grew up Democrat: His Catholic family from Norfolk, VA were Democrats. Bannon told Bloomberg Businessweek in 2015, "I wasn't political until I got into the service and saw how badly Jimmy Carter f---ed things up. I became a huge Reagan admirer."
2016 wasn't his first time running (and winning) a populist campaign: In his junior year at Virginia Tech (1975), Bannon ran for student body president against a student government veteran and favored winner. His fliers accused his opponents of only running on "Platitudes, Promises and Slogans," according to WaPo. He and his female running mate (radical at the time) won by more than 60% of the vote.
His old military friends say: Although he served in battle groups stationed in the Arabian Sea and the Persian Gulf and went on to work at the Pentagon, "He said he joined the Navy so it would look good on his résumé because he wanted to go into politics someday," Mr. Mickle, a retired defense contractor, told the NYT.
He was a ball hog: While on the ship, Bannon played basketball, but preferred to handle the ball himself instead of passing to his teammates, which earned him the nickname "Coast-to-Coast," a shipmate told the NYT.
He's obsessed with military history: Jonathan Swan of Axios says Bannon loves to talk about military history and is close to hawks like John Bolton. Bannon also loves to read history books, according to WaPo.
Why he worked on Wall Street in the mid to late 80s:
"Goldman Sachs represented excellence and meritocracy. It didn't matter where you came from, it didn't matter what school you went to, what your religion was or what was your ethnicity. It just mattered how hard you worked, how smart you were, and how good a banker you were for your clients.
It was really like joining the Jesuits. This seems antiquated today, it was before the financialization, it was before all these quants and mathematicians really came to Wall Street." — Steve Bannon in an interview for the French documentary, "Goldman Sachs: The Bank That Runs The World."
He got rich on Seinfeld: Bannon left Goldman Sachs to start his own investment bank. He struck gold when he invested in the then-obscure show, Seinfeld.
Meanwhile, he worked on Biosphere 2: He was hired by a rich investor in Texas to help keep costs low on the space exploration experiment in the Arizona desert. It was an experiment on human's abilities to survive in closed ecosystems. A scientist who was there told the Washington Post that Bannon once drove up to the site in a limo accompanied by law enforcement and a court order, giving him total control of the program.
After Goldman and before Breitbart: Bannon was a Hollywood film producer for roughly 10 years. He's made several right-wing films, including a documentary on Sarah Palin, and, just last year, a documentary starring Duck Dynasty's Si Robertson.
He wrote a rap musical before Hamilton: His Hollywood writing partner, Julia Jones, told the Daily Beast that Bannon once wrote a hip-hop musical set during the L.A. riots, based on a more obscure Shakespearian play, Coriolanus.
His obsession with Ronald Reagan brought him to Breitbart: It was while working on a documentary on Ronald Reagan that Bannon first met Andrew Breitbart.
He's friends with both political parties: Jonathan Swan says that at Breitbart, Bannon would talk positively about Bernie Sanders and Elizabeth Warren. He's open to alliances with the far left if it suits his disruptive agenda.
And hates both parties: At the same time, Bannon thinks the two-party system is fundamentally corrupt. Bannon has said in an interview that he wants to "destroy the state."
His daughter went to West Point: Although at first he was enthused, when he visited the campus, he was disgusted by the lack of elites represented, according to NYT, because it's the elite who pass policies that sent young Americans to war.
Is he a white supremacist? His friends, including Julia Jones, an African-American former Goldman Sachs coworker and friend and his brother, Mike Bannon, all told the NYT it wasn't true. Steve Bannon himself has said:
"I'm not a white nationalist, I'm a nationalist. I'm an economic nationalist."
Go deeper