10 big broken promises of past presidents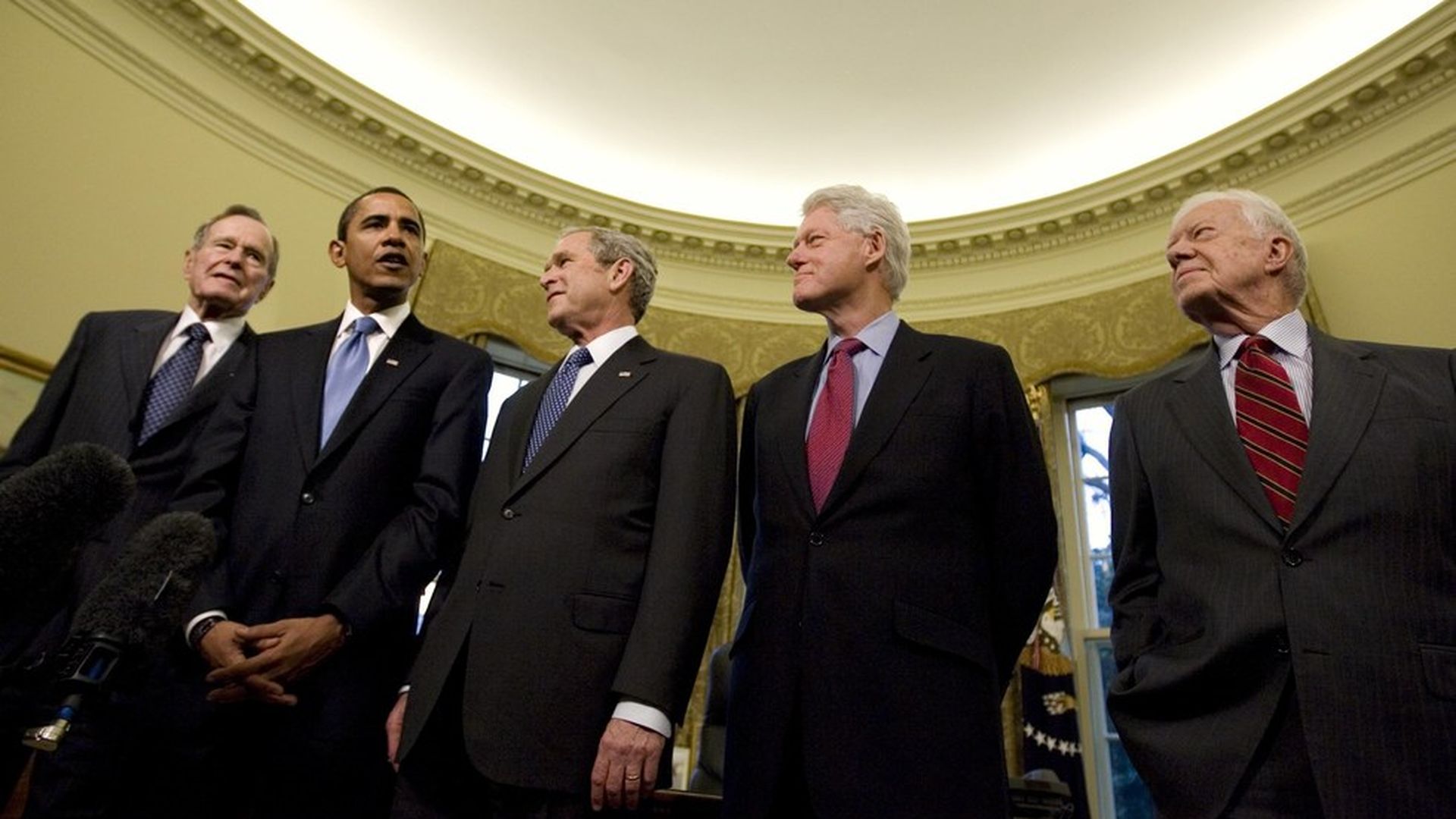 Trump touted his fulfilled promises during a Pennsylvania rally on Saturday night, and the media responded by pointing out his still-unkept promises — repealing Obamacare, renegotiating NAFTA, building the wall, etc. But it's important to remember that many U.S. presidents have a long history of making daring promises to win an election, but not always following through.
Why it matters: Trump has only been in the White House a little more than 100 days. Despite his confidence and often-repeated big promises, fulfilling all of them in that time frame is a big ask. And if he does end up breaking some of his campaign promises, he won't be the first POTUS to do so. Promises are used to win elections, and sometimes are actually best unfulfilled.
Woodrow Wilson won re-election in 1916 with the slogan "He kept us out of war," only to enter World War I a year later.
Lyndon B. Johnson promised in 1964, "We are not about to send American boys 9- or 10-thousand miles away from home to do what Asian boys ought to be doing for themselves." During his presidency, the U.S. entered the Vietnam War and Johnson did not seek reelection.
Richard Nixon in 1968 claimed to "have a secret plan to end the war" and promised to find a way to "peace with honor" in Vietnam, but American troops were not withdrawn until 1973 — a little more than a year before Nixon resigned.
Gerald Ford was the only president to never be elected, so he never made any campaign promises to keep or break. He gets a pass.
Jimmy Carter campaigned on solving the energy crisis, but his speeches about conservation and attempts to add solar panels to the roof of the White House weren't good enough. He was unable to get support for a gas tax, and the energy problem only worsened during his presidency, according to The Atlantic.
Ronald Reagan promised to make a constitutional amendment allowing school prayer during his campaign, and although he proposed the amendment in 1982, it never went anywhere.
George H. W. Bush famously promised in 1988: "Read my lips: No new taxes," only to sign a bill raising taxes during his first and only term.
Bill Clinton campaigned on a renovation of the health care system before he took office in 1993. Although he attempted health care reform — "Hillarycare" — it ended in failure.
George W. Bush promised to "change the tone" in D.C., privatize social security and reduce government spending — none of which he succeeded with.
Barack Obama: Politifact tracked 533 of Obama's promises, and found that 48% of them he managed to keep while 24% of them he broke.
Go deeper