Trump steps into Disney-Fox fray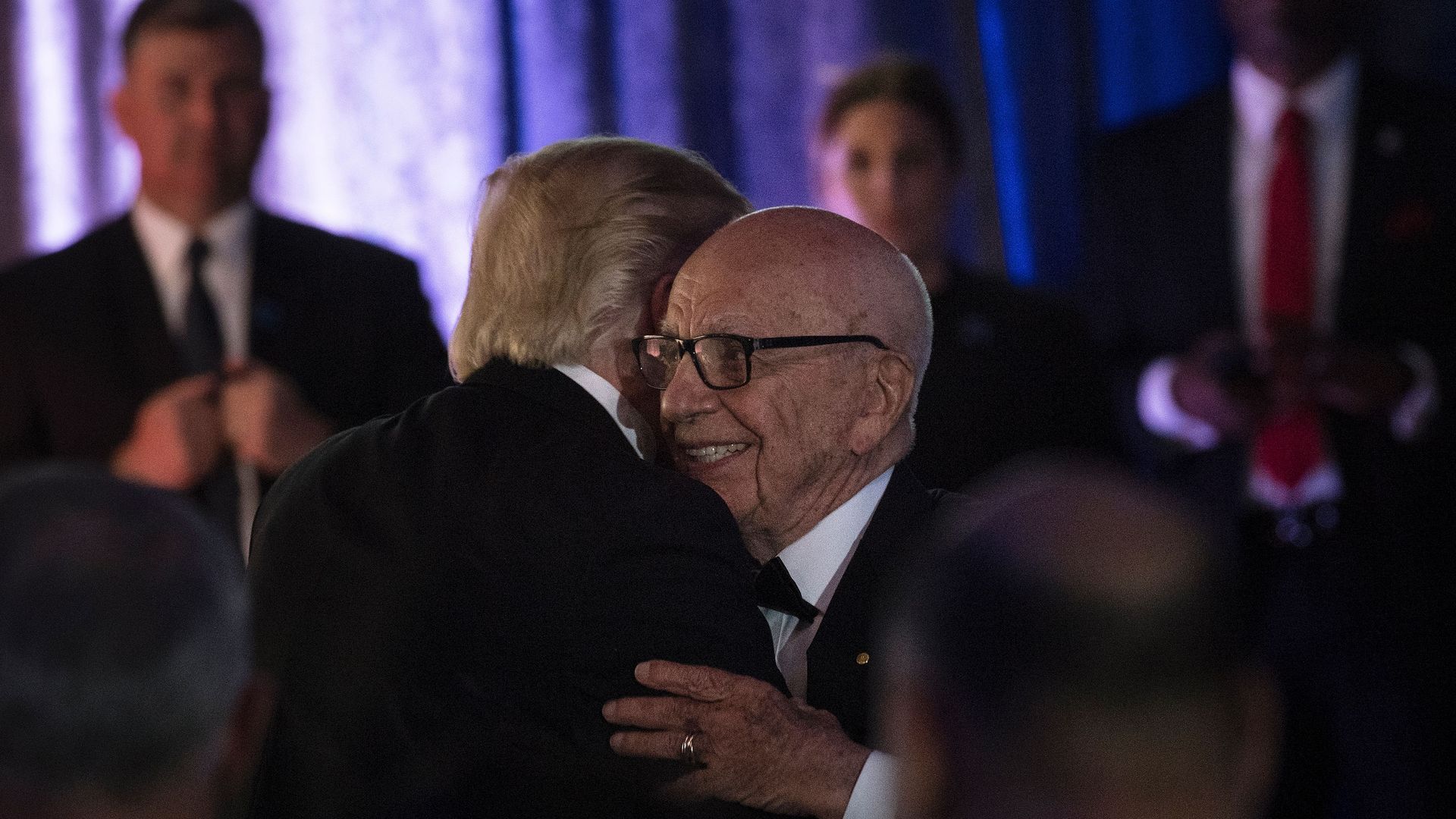 President Trump on Wednesday spoke with 21st Century Fox CEO Rupert Murdoch about an agreement whereby Fox will sell most of its entertainment assets to The Walt Disney Co. for $52.4 billion.
Why it matters: Trump and Murdoch are old pals, but this conversation could raise accusations of political favoritism when it comes to regulatory approvals. Not only for Disney/Fox, but also for AT&T's attempted takeover of Time Warner.
White House Press Secretary Sarah Sanders did not explicitly say that Trump supports the Disney-Fox deal, but did say that he believes it "could be a great thing for jobs."
Reality check: Disney said in an investor call today that it expects to achieve $2 billion in "cost synergies" by 2021, which often is corporate-speak for layoffs.
If Trump does favor the deal, that would be in contrast to his feelings about AT&T's $85 billion deal for Time Warner, which he opposes.
One big difference between the two is that Time Warner owns a cable news network that Trump believes is too critical (CNN), while 21st Century Fox owns one that he favors (Fox News). There is no evidence that Trump's anitpathy toward CNN caused the Justice Department's objections, but AT&T reportedly plans to investigate the matter. The call to Murdoch could be used to buttress such a theory, particularly if the Justice Department permits Disney/Fox to proceed.
Trump spoke with Murdoch ahead of Disney deal to make sure Murdoch wasn't selling Fox News, person briefed on the call said— Gabriel Sherman (@gabrielsherman) December 14, 2017
Another major difference between the two transactions is that Disney/Fox is largely being viewed as a "horizontal" merger, in which a company buys up a rival. It's the sort of thing that has traditionally been of most concern to anti-trust regulators, due to concerns about too much power being concentrated in too few companies — something Trump worries about with AT&T/Time Warner, even though it's viewed as more of a "vertical" merger.
White House economic advisor Peter Navarro said during the campaign that Trump would "break up the new media conglomerate oligopolies."
If the Justice Department supports a horizontal merger like Disney/Fox while opposing a vertical one like AT&T/Time Warner, there could again be questions raised about what was said during today's phone call between Trump and Murdoch.
Go deeper