Deputy AG: "I'm not aware of any impropriety" within Russia special counsel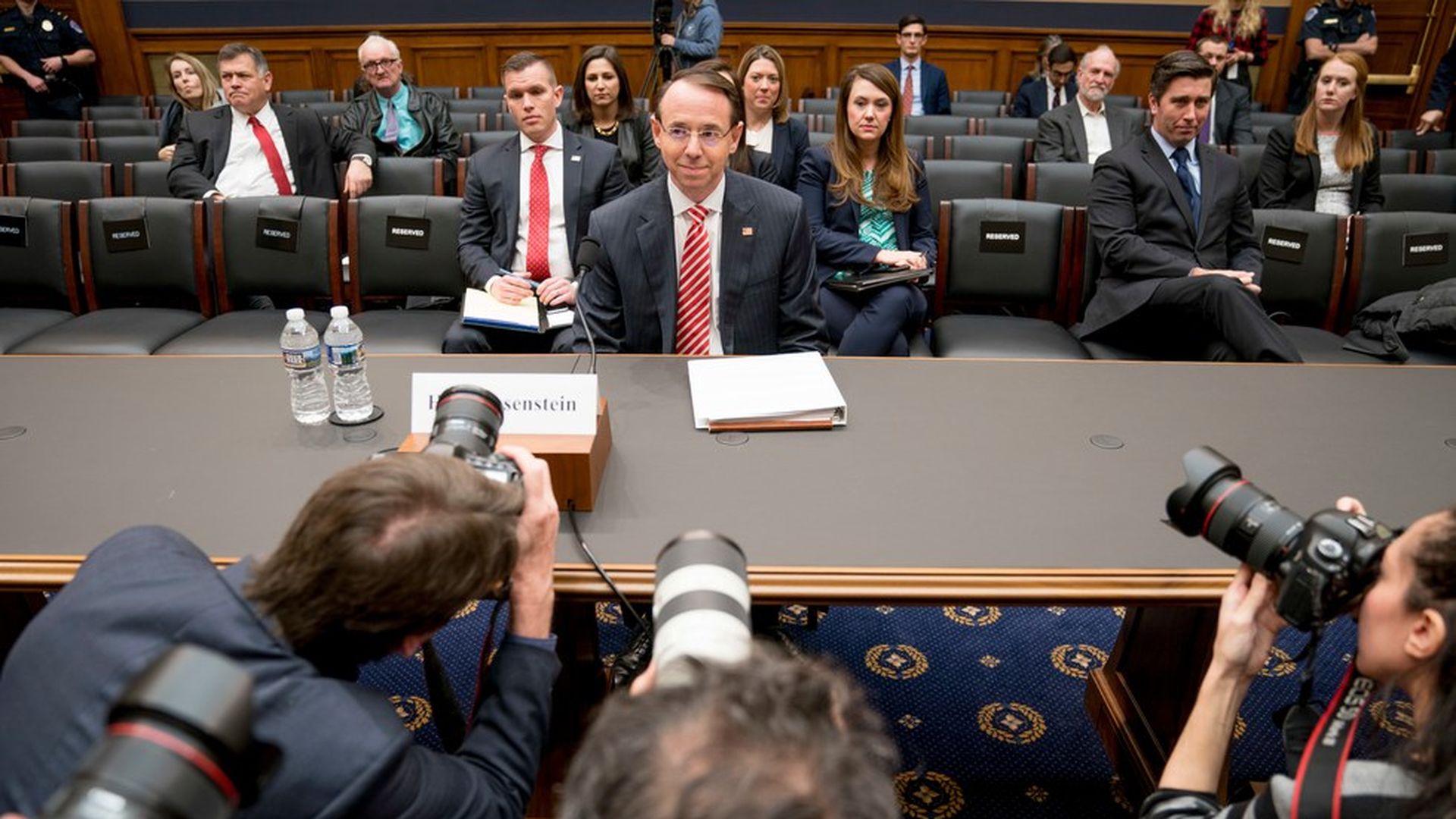 Deputy Attorney General Rod Rosenstein told the House Judiciary Committee Wednesday that he does not believe members of the special counsel or FBI involved in the Russia investigation give off the appearance of impropriety for having donated to Hillary Clinton and Barack Obama.
Where things got heated: GOP members on the committee argued that several FBI agents investigating Russian collusion are biased, as seen through the anti-Trump texts sent by Peter Strzok. Rosenstein responded by stating that the DOJ recognizes they have employees with political opinions, and work to ensure they "are not in any way a factor in how they conduct themselves in office."
Backlash from Committee members: Multiple panel members slammed Rosenstein's response, arguing that the text messages show clear bias among investigators against Trump, which they feel will impact the Russia probe. Note that Mueller fired Strzok after learning of the text exchange.
Go deeper: Trump's lawyers want a second special counsel appointed to investigate the DOJ and FBI.
More from Rosenstein's testimony:
Rosenstein says he doesn't believe Special Counsel Robert Mueller or his team are operating outside of the scope of the Russia investigation.
He doesn't believe there is "good cause" to fire Mueller: I know what he's doing. If I thought he was doing something inappropriate I would take action."
Rosenstein said he doesn't regret hiring Mueller: "I believe based on his reputation, his service, his patriotism, and his experience with the department and with the FBI, I believe he was an ideal choice for this task."
Flashback: This hearing is reminiscent of Rosenstein's June testimony, when he stated that he is the only person who could fire Mueller — not even Trump. He also said there was "no secret plan" to remove Mueller, or at least, "no secret plan that involves me."
Go deeper