Working dogs: People buy when canines are selling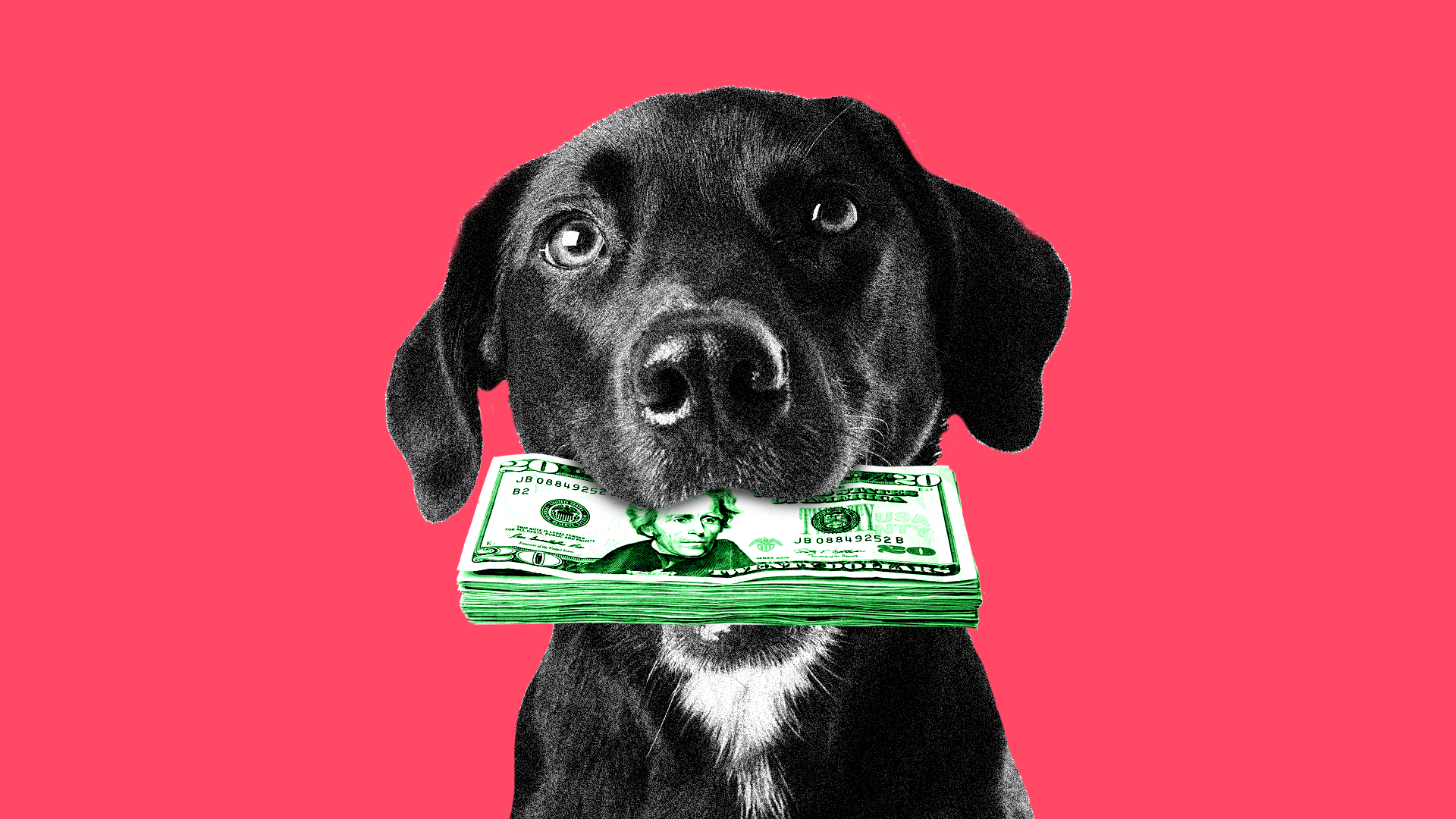 For several years, dogs have been among the biggest stars on Instagram, with hundreds of thousands of followers and enormous advertising deals. The reason? Many Instagram users trust dogs more than human models.
Why it matters: In an age where brands and platforms are radically rethinking how ads are produced and delivered to consumers, "animal influencers," as the ad industry calls them, produce sponsored content that people actually choose to follow and engage with. "People are going to get ads — whether it's banner ads, whether it's influencer ads," Loni Edwards, founder of The Dog Agency, tells Axios. "But they want to see them in a way that's going to make them smile."
The business: In 2015, Edwards, a Harvard Law graduate, left the corporate law world behind when she founded The Dog Agency, which manages pet influencers.
The Dog Agency has about 100 clients — dogs, cats, pigs, hedgehogs. The majority have hundreds of thousands of followers.
You might have heard of Harlow and Sage (1.6 million Instagram followers), The Dogist (2.9 million), and Tuna (1.9 million).
Edwards cites an "incredibly powerful" campaign that she did for Urban Decay, a makeup brand, involving numerous pet influencers. "It was about how Urban Decay doesn't test on animals, and it's about putting that message next to these pets that people already have a strong connection to," she said. Urban Decay did not respond to an email.
And there are ways to expand: The Dog Agency has its own pet content site called Pet Insider, and last month sponsored "PetCon," a weekend pet-focused convention in New York based around some of the agency's most famous animal influencers.
Why it connects: While animal influencers first came to prominence promoting pet-friendly products like Barkbox, a monthly dog-focused subscription service, the most prominent influencers today tend to work closely with human models. One approach is to embed an ad from a known human personality within a photo of an animal who consumers have already chosen to follow, and thereby get people not only to view the ad, but like and comment on it as well.
Animal influencers get more attention than human bloggers, Edwards said. Clients see the results. "By partnering with [animal influencers]," she said, "they're really resonating with their consumers on a deeper level."
One of the stars: Elle Drouin is owner of Mochi, a 3-year-old maltipoo who just cracked 100,000 Instagram followers. She said it's not uncommon for a single Instagram post to earn $1,000 (around $100 for every 10,000 followers). "Mochi definitely earns more then her keep," she told Axios. "She pays for herself and then some."
Mochi's recent deals include campaigns for Ralph Lauren, The Ritz-Carlton, Amex, Google, and Disney. The Ritz-Carlton deal scored Mochi and Drouin a swanky vacation to Aruba.
Drouin works, too: Drouin estimates that she works three to five hours a week on Mochi's brand. "I was sitting in my office," she said, "and I realized that I had spent two hours responding to emails for my dog."
Go deeper