Cassini finds Saturn's rings change the planet's atmosphere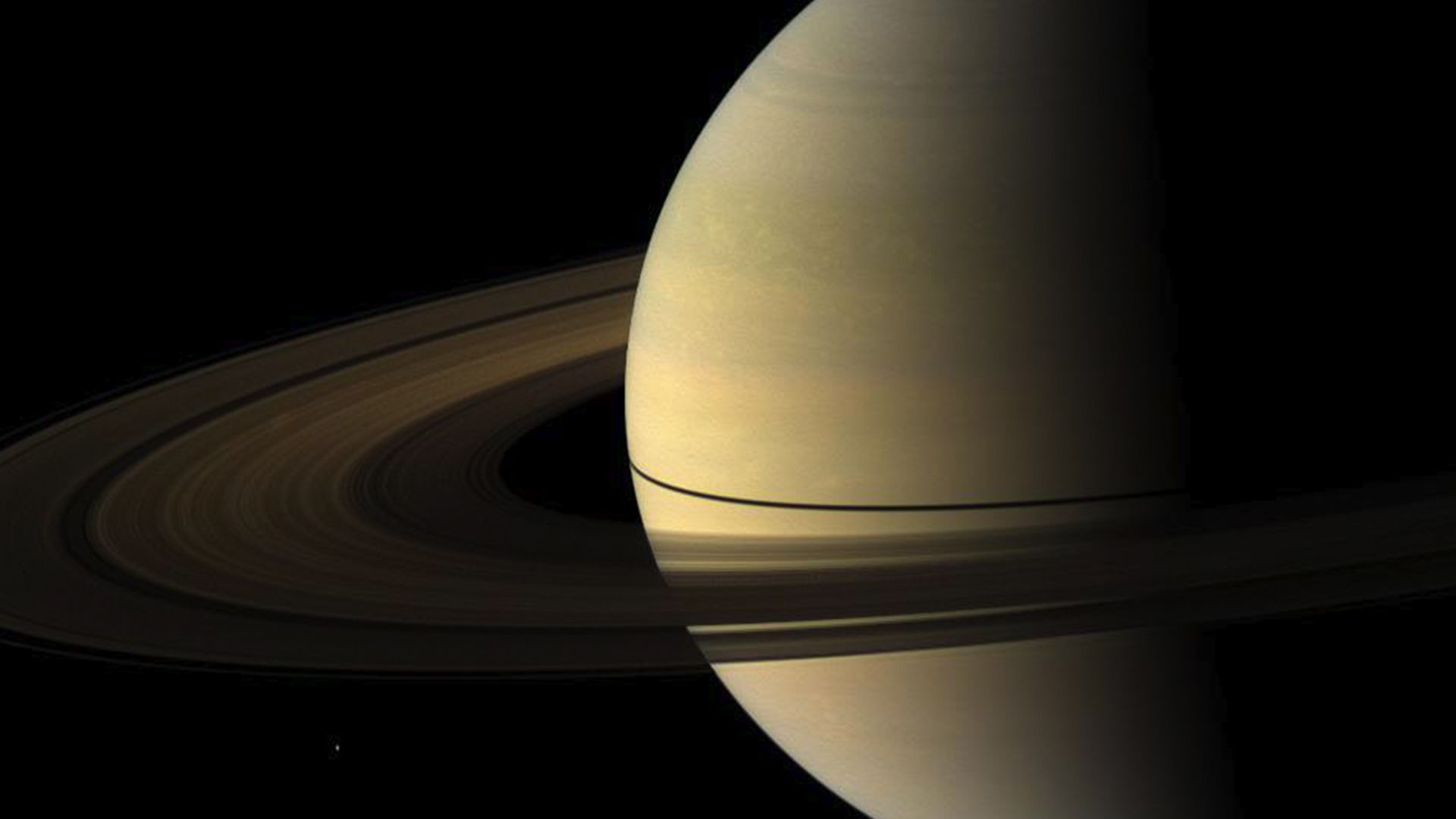 Shadows from Saturn's rings can affect the planet's atmosphere, according to an analysis of data collected by the Cassini-Hyugens spacecraft during its final dives into the gaseous planet's upper atmosphere earlier this year. The work was presented yesterday at the American Geophysical Union conference and will be published this week in the journal Science.
Why it matters: These are the first direct measurements of Saturn's ionsophere as opposed to remote sensing observations, study author William Kurth from the University of Iowa tells Axios. Much of our knowledge of other planets is based on that about Earth, with modifications to account for what we know to be different. By sampling the ionosphere of Saturn, Kurth says researchers can begin to check these modified theories. "An important outcome, though, is that the improved theories incorporating things we learn at other planets, should help us understand our own planet better than we do."
Sound smart: The ionosphere is an upper layer of a planet's atmosphere that is electrically charged by the Sun's ultraviolet radiation. Saturn's extends from 300 km - 5,000 km above its surface. (Earth also has one. Ditto Jupiter. It is where auroras occur. )
How it works: Ultraviolet radiation from the sun can separate an electron from an atom of hydrogen or helium, charging the ionosphere. Parts of the ionosphere in the shadow of Saturn's A- and B-rings have a lower density of free electrons than other regions, suggesting the rings may be blocking the Sun's UV radiation.
Yes, but: The shadows account for some of the variations Cassini measured, but not all, the researchers said. One possibility is ice particles from the rings may interact with electrons in the ionosphere in certain places during a so-called "ring rain." Another is winds may be blowing the particles or the UV radiation from the Sun itself may vary.
What's next: The researchers analyzed data collected from just one of Cassini's probes and from the first 11 of its 22 dives so there is more to be studied.
"This [Cassini] data set will eventually provide a deep understanding of the ionosphere and its interaction with the rings. These analyses will continue not only this year, but for decades to come," says Kurth. "New questions will come from these studies and provide the basis for possible return missions to the Saturnian system."
Go deeper