The best and worst of times for media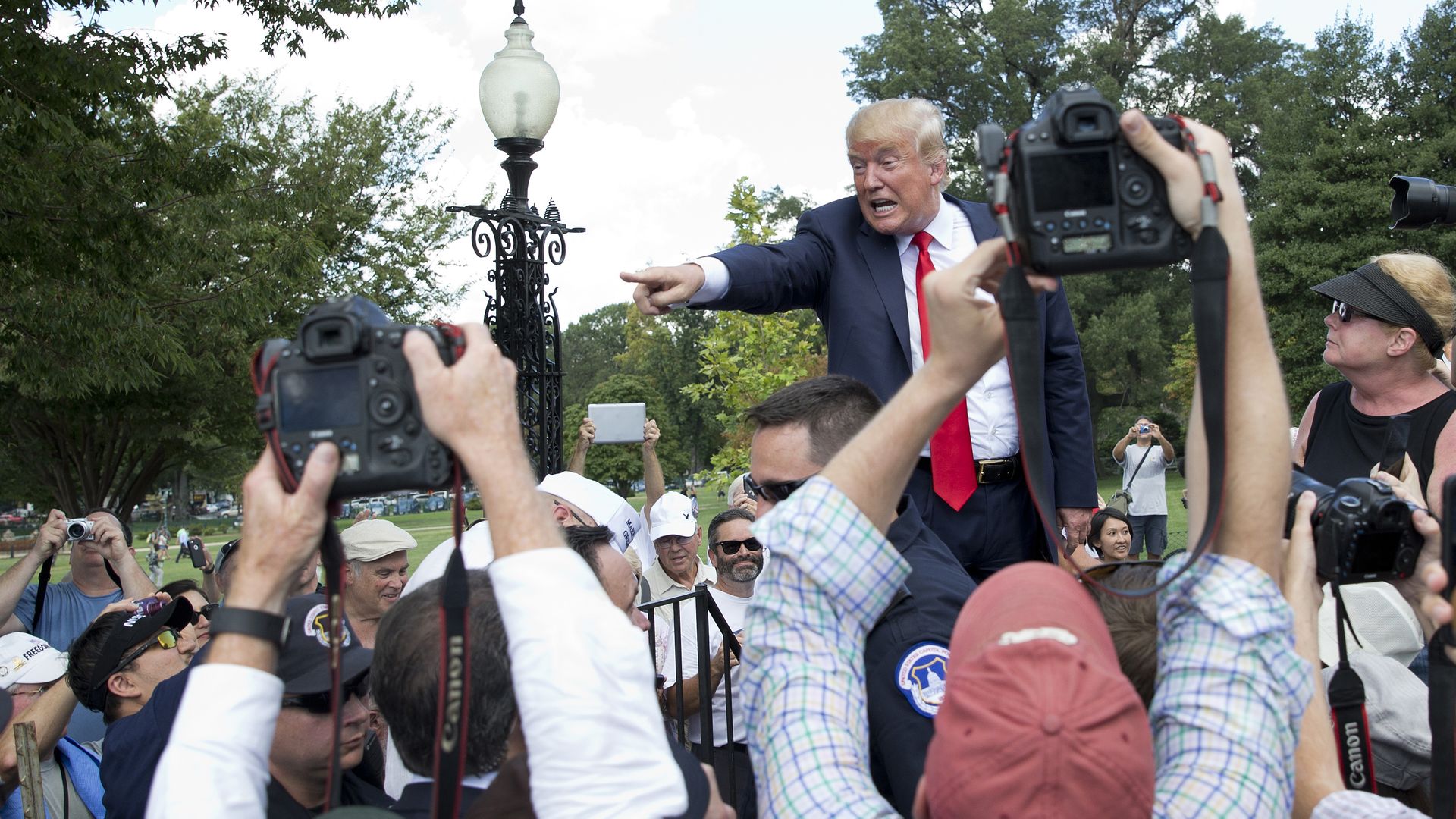 Three media screw-ups in eight days on one investigation. The bad week for big news has President Trump feeling that he has moved the "fake news" argument from the fringe to the conservative mainstream, according to close Trump associates.
Why it matters: The mistakes — ABC's Brian Ross on Michael Flynn's plea, financial outlets on a Mueller subpoena of bank records, and CNN on an email about WikiLeaks — give Trump fodder for one of his favorite, and most damaging, tropes.
His argument isn't broadly true: Most reporters work hard to be fair and accurate. And national outlets have risen to this historic era with unprecedented resources and consequential journalism.
But, but, but: The foil helps Trump keep his rock-solid base, despite his broad unpopularity.
Based on past performance, look for POTUS to amp up his mocking.
A source close to the White House told me: "He just hammers something into submission, whatever it may be. ... With the media, he just wears it down, wears it down, then somebody slips and makes a mistake."
"Putting aside the impact on the long-term health of the important role that the media plays, it's starting to really work."
Republican support for the special counsel could be a collateral casualty in the credibility wars:
Sen. Lindsey Graham (R-S.C.), who has often needled Trump, tweeted Friday: "I will be challenging Rs and Ds on Senate Judiciary Committee to support a Special Counsel to investigate ALL THINGS 2016 — not just Trump and Russia."
More Graham: "It's long past time for a Special Counsel to investigate Clinton email scandal, Uranium One, role of Fusion GPS, and FBI and DOJ bias during 2016 campaign."
Key Republicans even think the yearbook-inscription revelation by a Roy Moore accuser helped the party's disgraced Alabama Senate candidate seal the deal.
All these threads let conservatives feel vindicated in their belief that the system is rigged against them (even though they control the whole government).
In a wild Twitter exchange last evening, Trump jumped on Washington Post political reporter Dave Weigel -- a favorite on journo-twitter -- for a sneering tweet about the crowd size at Friday night's Pensacola rally.
Weigel — who had deleted the tweet, of a partly empty arena that was packed by show time — responded: "Sure thing: I apologize. ... Very fair to call me out."
Trump didn't accept: "@daveweigel of the Washington Post just admitted that his picture was a FAKE (fraud?) showing an almost empty arena last night for my speech in Pensacola when, in fact, he knew the arena was packed (as shown also on T.V.). FAKE NEWS, he should be fired."
Adam Serwer of The Atlantic was among those who pointed outthat a head of state "publicly calling for a journalist to be fired is a textbook threat to freedom of speech."
CNN's Brian Stelter noted: "By including Dave Weigel's @ handle, the president's statement is inviting followers to gang up on a reporter."
Be smart: This is a battle of epic proportions. We have a president waging a relentless war against all media, minus Fox News and pro-Trump organs. The vast majority of one of our two political parties agrees with him and increasingly sees media as an enemy of the state.
Only strong, responsible, accurate, non-hyperbolic journalism can withstand the assault. Make no mistake: This was a terrible week for the cause.
Go deeper