Schumer previews the next AI forum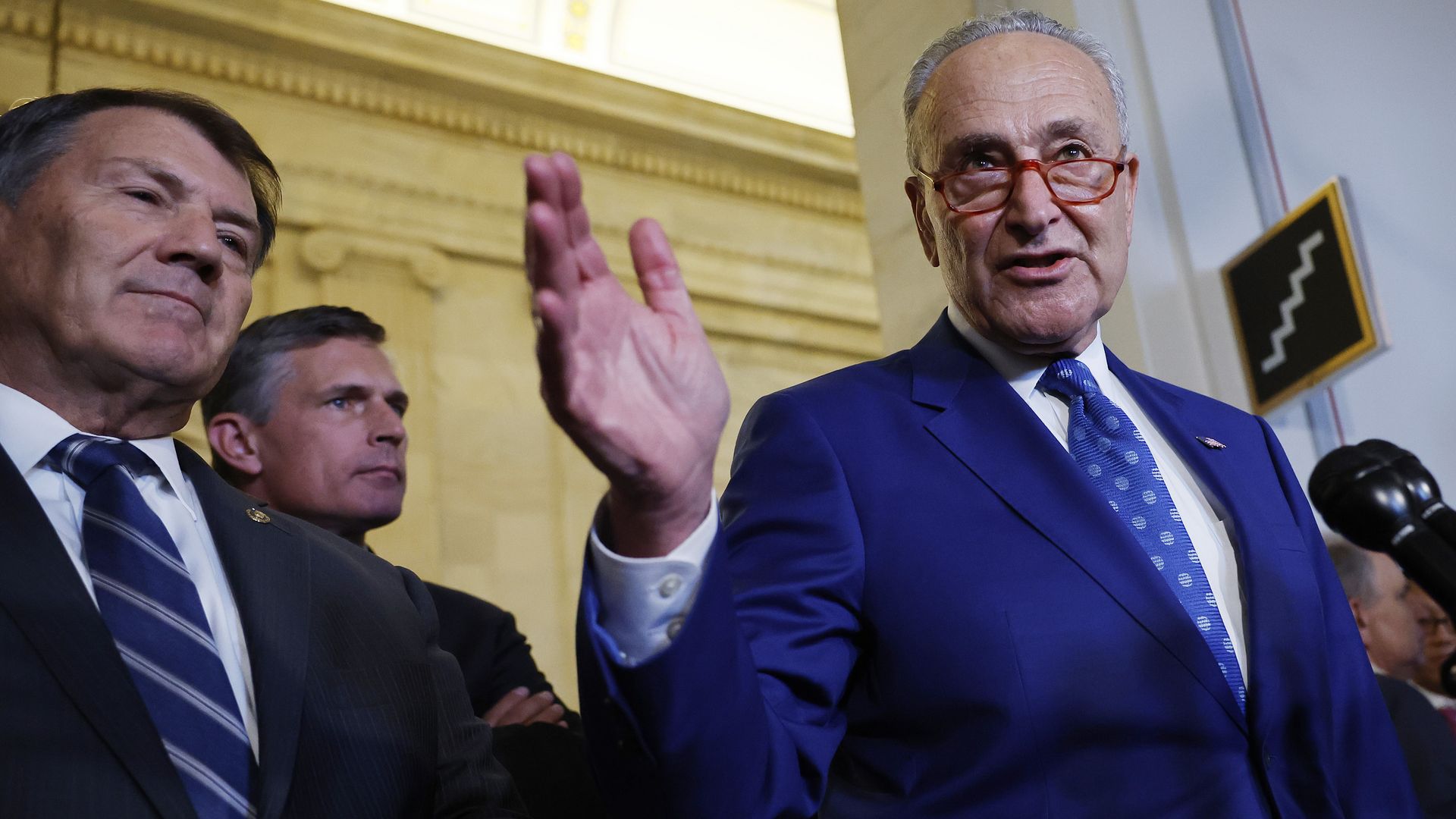 The next Senate AI forum will focus on how the government can encourage innovation to mitigate AI risks and unleash its potential, Senate Majority Leader Chuck Schumer told Axios in an interview following a day meeting with top tech CEOs.
Catch up fast: Schumer's first AI insight forum featured tech heavy hitters and more than 60 senators from both sides of the aisle.
The consensus among companies, labor groups and advocates alike is that the government must regulate AI — but how to do it is still a big question mark.
State of play: Schumer — with the help of Sens. Todd Young, Mike Rounds and Martin Heinrich — will continue his bipartisan forums throughout the fall while legislative work ramps up at the committee level.
Schumer said that senators and guests in the next forum will tackle this question: "How does government encourage innovation on both the transformational aspects as well as the sustainable aspects, one dealing with maximizing the benefit, the other dealing with minimizing risk?"
Future forums will include smaller companies, Schumer said, something critics have said is necessary to ensure that not just big companies' views are represented.
How it works: Schumer said he called each of the 22 people invited to the forum — from Elon Musk to Randi Weingarten — and urged them to attend.
He told AI critics they would get ample time to ask questions "and they were quite happy."
"This is one of the most difficult issues Congress can ever deal with, it's so complicated, even [former Google CEO] Eric Schmidt said he doesn't understand the algorithms," said Schumer.
Yes, but: Congress has failed to regulate tech when it comes to privacy, antitrust, content moderation or children's safety.
Schumer said the "big difference" this time is that companies know there needs to be government regulation, but he's aware it might be a fight.
"I'm sure some of the details we come up with, companies won't like."
"[The CEOs] did not seem to mind that some very tough questions were asked of them, and they answered them."
Of note: Schumer says he has not forgotten about protecting kids online. Axios reported earlier this year that he is interested in getting a package of bills on kids' online safety passed.
That "will be part of the discussion, we're making good progress on that... we're working on it, we believe we need to get that done."
Meanwhile, Schumer said Congress is in sync with the White House and that House Speaker Kevin McCarthy is interested in getting something done on AI as well.
What's next: As the 2024 elections near, senators are interested in getting something done on deepfakes in election ads.
"We talked about election law and the need to do something fairly immediate, before the election," Schumer told reporters earlier in the day.
"There's the issue of actually having deep fakes where people really believe that some candidate is saying something. We talked about watermarking, so you would know AI is used. There are a lot of things that have to be done. But that one has a quicker timetable maybe than some of the others and it's very important to do."
Schumer told Axios he envisions AI following the same model as the CHIPS and Science Act, where legislation will be pursued in a bipartisan way and committees rely on scientific and technical information from the forums.
Go deeper