Scoop: Schumer wants votes on kids' online protections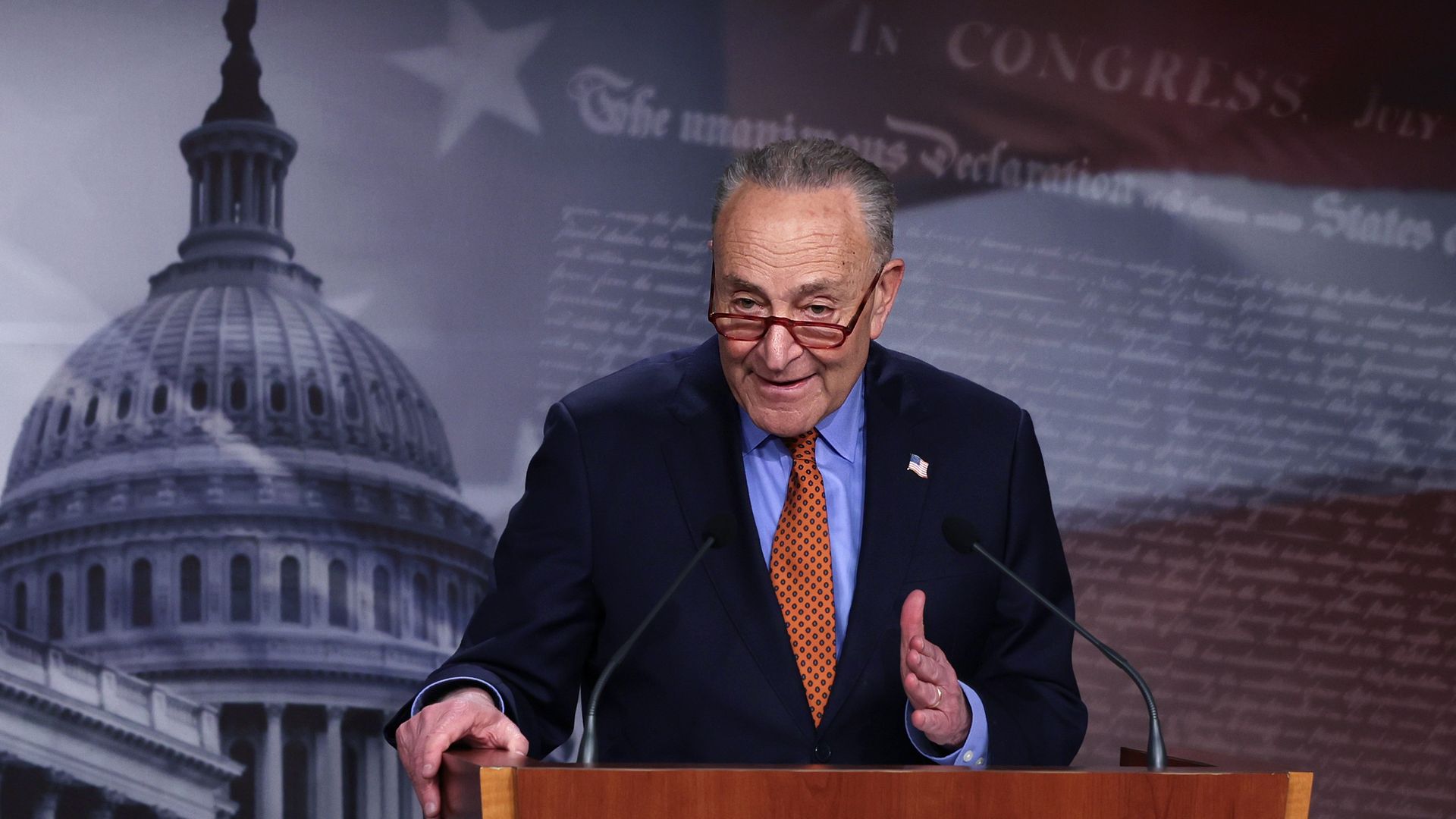 Senate Majority Leader Chuck Schumer is looking to bring several bills focused on kids' online safety to the floor in the coming months, sources tell Axios.
Why it matters: As states move forward with their own bills, senators are feeling the pressure from parents and advocacy groups concerned about the mental health and wellbeing of children online.
Schumer has expressed interest in a "kids' online privacy and safety" week, sources told Axios.
What they're saying: "This is something that's very important and we're looking at how we can get it done in a bipartisan way," Schumer told Axios in statement.
The details: Bills that could get a floor vote include, but are not limited to:
Sen. Ed Markey's COPPA 2.0 would prohibit internet companies from collecting the personal information of users who are 13 to 15 years old without their consent.
Sen. Lindsay Graham's EARN IT Act would limit the liability protections of companies like Meta and Twitter when it comes to allegations of child sexual exploitation law violations.
Legislation to curb online child sexual exploitation, such as Sen. Dick Durbin's STOP CSAM Act of 2023.
Sens. Richard Blumenthal and Marsha Blackburn are expected to keep pushing for their KOSA bill, which puts new obligations on tech platforms for younger users. It has the support of a prolific campaign of mothers who have lost children, blaming challenges they saw on social media or bullying, but has faced pushback from civil liberties groups.
How it works: If lawmakers wanted to do this in the next work period, during the four weeks from April 17 to May 19, they'd have to re-introduce certain bills and committee leaders — likely Judiciary and Commerce — would have to hold markups before a vote on the floor. That's not a lot of time.
The House is also another beast. Rep. Cathy McMorris Rogers, who leads the House Commerce Committee, wants to leave her own mark on kids' online safety issues and may want to push forward bills that differ from the Senate's approach.
One tech industry insider told Axios COPPA 2.0 is seen as an easier lift than KOSA, because it updates a law already in existence and doesn't dabble in content moderation.
Of note: The language in these bills could be changed before they're reintroduced.
Go deeper