Cicilline exit interview: The antitrust champion on leaving Congress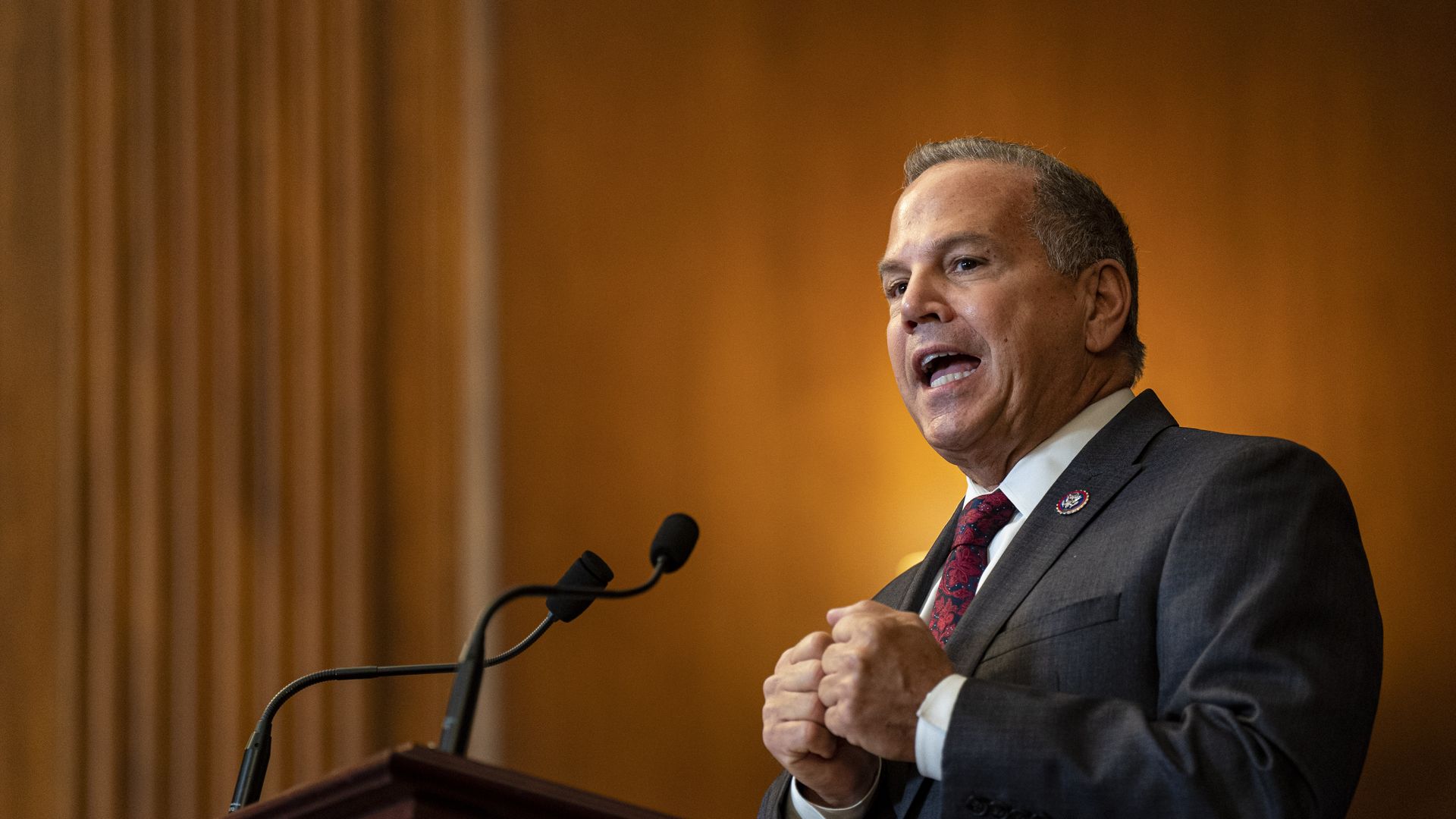 Axios sat down with Rep. David Cicilline in his Rayburn office to discuss all things tech as the Rhode Island Democrat prepares to leave Congress on May 31.
Amid bare walls where Rhode Island art once hung and a lone "Antitrust Summer" baseball hat sits on a shelf, Cicilline, accessorizing with black cowboy boots and an Apple Watch, reflected on lessons learned as chair of the Judiciary Committee's antitrust panel.
The conversation has been edited and condensed for clarity.
What's the biggest lesson learned during your time leading the antitrust subcommittee?
That antitrust enforcement and policy is central to us fixing the economy in this country and ensuring we have an economy that works for everyone. The challenge we face is while everyone was asleep at the switch, there has been so much consolidation that there's just so much work ahead.
Mostly, the antitrust bills have yet to make it over the finish line. Do you have any regrets about how anything went down?
We knew this would be complicated and hard, and that's why we launched an investigation.... Our [subsequent] report has been cited all over the world, and we passed five bipartisan pieces of legislation out of committee.
One of the things we underestimated was how difficult it would be to get all of our colleagues up to speed on this stuff.... We went member by member, either me or [Rep. Ken Buck, formerly Cicilline's Republican counterpart on the subcommittee] or one of our staff and offered briefings to everyone.
The tech companies benefited from the fact that this is complicated, and they were constantly sharing information which was just not correct.
There's been more talk about AI and children's privacy online than antitrust lately. Is there still momentum?
I would not say they're separate things. If you have more competition, you have other platforms that would be offering you greater levels of security, privacy, etc. But it's not the sole solution. We should also have a privacy statute that provides remedies, we should have special protections for children.
And with AI, we need to have a whole new system for figuring out how we used this technology and how we create guardrails.
Senate Majority Leader Chuck Schumer said he was going to bring the antitrust bills to the floor for a vote last summer. That didn't happen. What happened there?
I don't know what really happened there. We had the votes to pass our bills in the House. The Senate had the votes.
I never received an explanation, and no one ever explained why it didn't happen. I acknowledge I don't exactly know the way the Senate operates, and their calendars.
But there's no good reason to me for why it didn't happen. It was really disappointing, but it's not going away.... There will eventually be political consequences if people don't do this.
What's next for the House when it comes to antitrust? Rep. Jim Jordan and Speaker Kevin McCarthy have not been supportive of the effort.
I think it's been very clear that Kevin McCarthy and the Republican leadership have been doing the bidding of Big Tech. So that will be hard.
Who will succeed you as ranking Democrat on the antitrust subcommittee?
I don't think what happens when I leave will be the end of the story, because I think everybody's looking at the subcommittee thinking we're not going to do anything, even people who are excited about antitrust. When [Democrats] go back into the majority, some obvious champions of antitrust will be interested (names Reps. Joe Neguse, Pramila Jayapal, Hakeem Jeffries, Lucy McBath).
I'm making certain that the bills that I have will be handed off to one of those champions so there will be continuity.
Who was the best company to work with?
Apple.... I don't know that it's the best company to work with, but it was the company I found most honestly reflective about their business practices.... Tim Cook and Apple.
The worst by far was Facebook, I guess it's Meta now. But Google and Amazon are a close quick second and third.
Why was Meta the worst?
There was so much evidence of the company being aware of the really horrific consequences of their behavior and their complete unwillingness to change.
What are your favorite apps and tech tools?
I have Apple products. I have an Amazon account, as much as I hate Amazon. I don't use Facebook, though I guess our office does. I own a Tesla, which is freaking me out, but I've owned it for two years before [Elon Musk] went really crazy.
I hate Elon Musk, but I love my Tesla. I'm a little like, what do I do now?
What will you miss most about Congress?
My colleagues.... When the announcement was made I was leaving, I got the most beautiful calls and texts. Especially during the Trump years, they were like war buddies, you know? I worked with people I consider personal heroes, and I'll miss that a lot.
Go deeper