Skepticism grows over AI in political ads ahead of 2024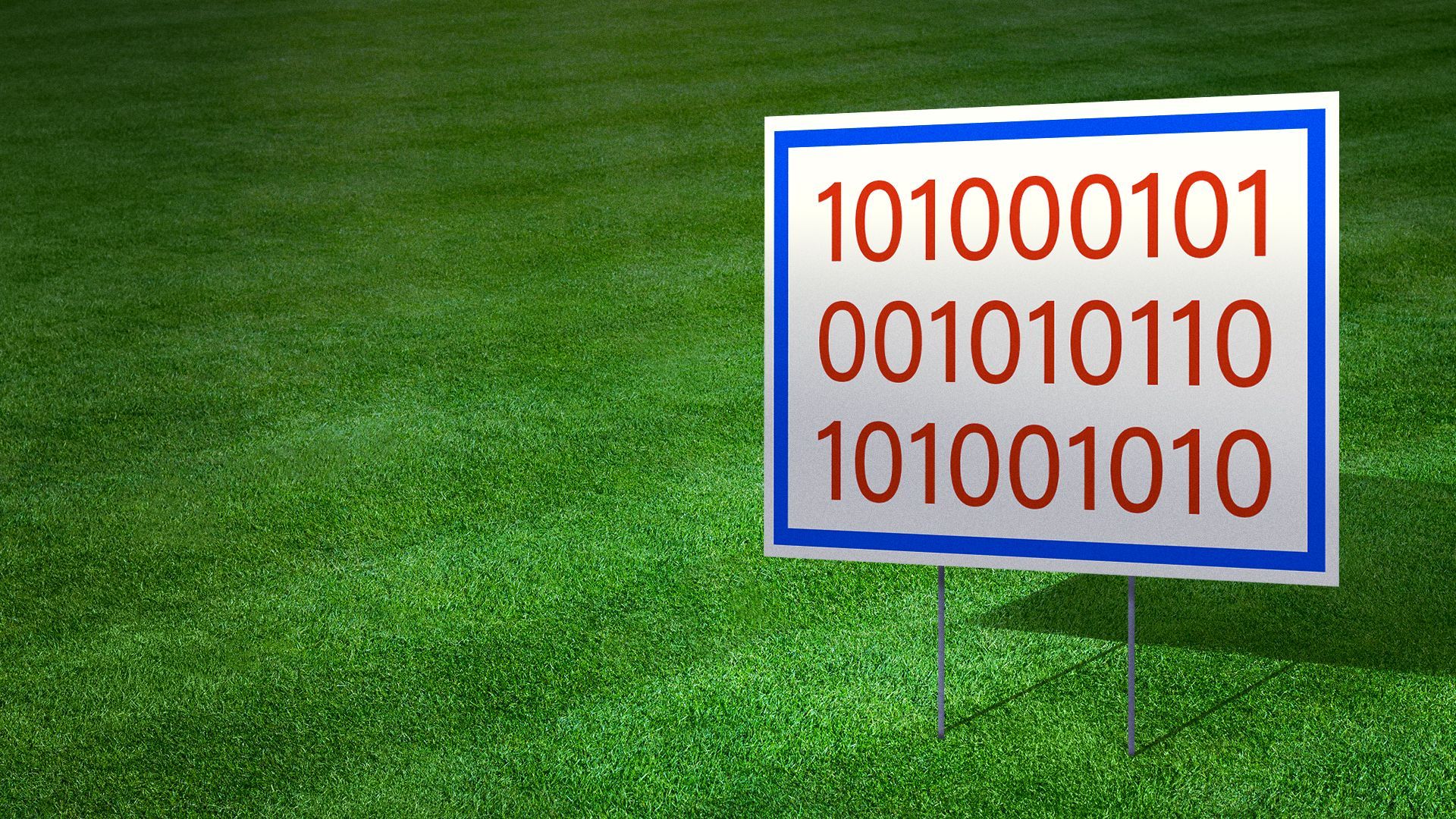 Some U.S. and European politicians are hesitating to use artificial intelligence in political ads even as others have begun tapping into the technology.
Why it matters: It's unclear how rapidly evolving AI will affect voter behavior — and guardrails are unlikely to be in place in time for next year's elections, especially in the U.S., which historically lags Europe in tech regulation.
In 2024, voters will go to the polls in the EU and U.S. (and probably the U.K. and Canada too) for the first time in the same year since 2004.
State of play: Rep. Yvette Clarke this week introduced a bill that would require politicians to disclose when they use AI in political ads.
The New York Democrat has no co-sponsors but is working to build support in both chambers.
A draft EU AI Act does not currently include specific language on political ads but places requirements on "high risk" AI use cases affecting human rights, which could lead to election campaigns being subject to transparency requirements.
The act is likely to come into force only in 2025, after the next European Parliament elections in May 2024. Eva Maydell, who led interparty negotiations on the act, told Axios she hadn't thought about whether to use AI in her own campaign.
One idea in France is to ban AI-generated or altered videos and photos six months before an election, Politico reported last week.
In the U.K., science and technology minister Chloe Smith noted in remarks before the House of Commons this week that the country has fully developed electoral laws that already account for false statements by candidates.
Be smart: Politicians talk a big game about the tech they want to regulate. Yet when it comes to elections, they can be more lax (think targeted ads and email campaigns).
What they're saying: Axios asked senators who are in the most competitive races next year whether they would use AI in ads to win.
Several said they had not thought of it before, and some Republicans claimed not to have seen the RNC's recent video against Biden's re-election bid that used deepfakes.
Sen. Bob Casey: "I think voters are smarter about campaigns and policy than they ever were before because there is a lot of information and they have to pay attention to a lot of detail. So in the end, if someone is going to try to mislead them with that technology, I think it would probably backfire. I don't see why anyone would use it in a campaign."
Sen. Joe Manchin: "I'm trying to worry about keeping the country from facing an attack from AI and you're worried about politics and AI?"
Sen. Jon Tester: "To try to distort my opponent's record? No. It would be totally dishonest with the American voter."
Sen. Ted Cruz: "If it were an effective ad and it conveyed a message I believed, I'd have the same approach if an artist in the creative department comes up with an idea for an ad. If it's a good ad, sure, I'll air it. But of course no one should engage in dishonesty or deception."
Sen. Sherrod Brown said he hasn't thought about it for his campaign, but blasted the RNC's use: "It's what the RNC specializes in: character assassination and making stuff up, working with Fox to do that, no surprise there at all."
Meanwhile, in Europe: "We will not use AI for the elections, not in President Metsola's personal campaign in Malta, and also not in the general European Parliament voter awareness campaign," said Jüri Laas, a spokesperson for European Parliament President Roberta Metsola, a center-right conservative.
Brando Benifei, an Italian social Democrat, told Axios: "I don't underestimate what AI ads can bring: AI can help us creatively. But I will not sacrifice transparency or use AI to manipulate the public in any way."
German liberal Svenja Hahn MEP said transparency is essential for democracy to keep working through a flood of AI: "In the end the person putting out the content will be responsible for it, no matter if it was created by a person or by AI."
Go deeper