RESTRICT Act hits speed bumps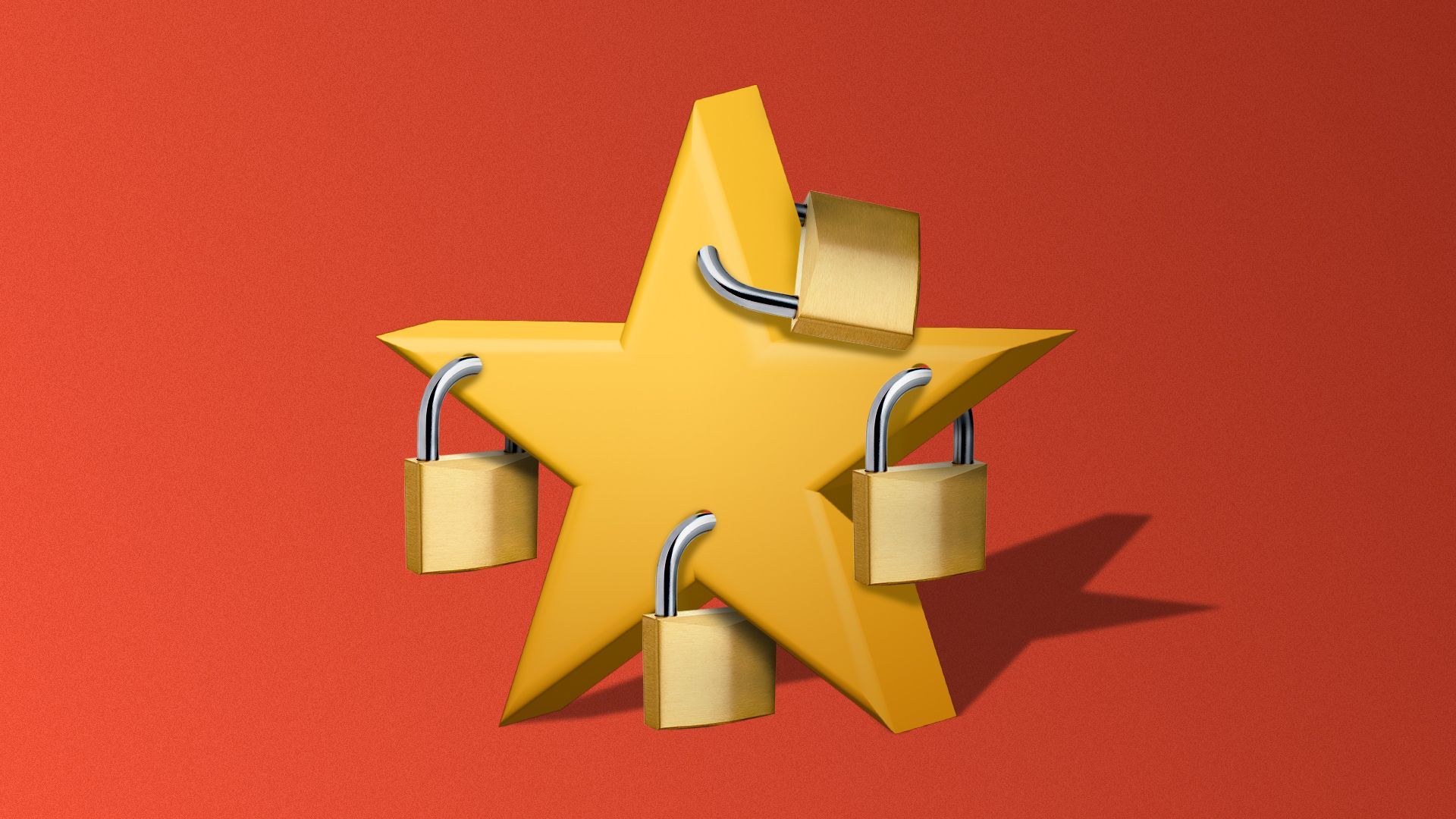 The sponsors of a sweeping bipartisan bill that could be used to crack down on TikTok and other foreign-produced tech have been busy responding to company concerns ahead of any markup, sources tell Axios.
Why it matters: The RESTRICT Act's broad support in the Senate, its White House backing, and language to withstand legal challenges make it the leading proposal to weed out TikTok and other companies deemed national security threats.
Co-sponsors Sens. Mark Warner and John Thune are fielding industry concerns about the scope and potential unintended consequences of the bill, which would empower federal agencies, with the Commerce Department at the helm, to prohibit certain U.S. tech product or service transactions, including those concerning drones and gaming apps, for example, with foreign adversaries.
A Warner aide told Axios they are continuing conversations but not committing to any textual changes to the current bill.
Industry is not a monolith, sources said, noting that some companies think additions should be made, while others think it's too broad in certain areas like telecoms equipment, for example.
Some House members are not sold on RESTRICT because they say its scope is too broad and it simultaneously is not explicit enough on TikTok.
What they're saying: "We think it would have an impact on a broad range of U.S. companies, and I think there's a fear among trade associations when there's a sentiment on the Hill that you should be tough on China," one industry source told Axios.
"People are very concerned about the implications, but it's also a matter of using finite resources and political capital."
Andy Yen, CEO of encrypted messaging, VPN, file and calendar service Proton, said he's in favor of banning TikTok but that RESTRICT is too wide in scope and firmer language is needed to ensure that people using VPNs aren't caught in its grasp.
He said Proton has been meeting with Warner's office. "We don't have a firm commitment on any changes, but I think the fact that they're having these meetings shows that they want to make the best possible bill," Yen told Axios.
"I'm fairly optimistic ... that we'll see maybe another version with some language that helps to minimize the risk of unintended effects," he said.
Concerns flagged to Axios by industry sources include:
The bill says covered entities include those subject to the jurisdiction of a foreign adversary, which can implicate U.S. companies with operations in China. Several sources said this could be a drafting error and should be an easy fix.
The bill has an element of retroactivity insofar as it applies to current, past or potential future transactions.
Retaliation from China is possible (one source pointed to Beijing's investigation of Micron).
An extensive list of covered products and services (that are only the starting point because they are labeled "priority" areas)could result in a plethora of components sourced in China by U.S. companies being subject to review and potentially a ban.
The other side: Aides to Warner and co-sponsor Thune said they are welcoming suggestions to improve the bill but pushed back against some of the concerns raised so far.
"There's been a lot of misinformation about this overwhelmingly bipartisan legislation — a misinformation campaign that seems to be more rooted in fear of our growing momentum than it is in the actual substance of the bill," Thune said in a statement.
The bill narrowly addresses gaps in existing laws to address foreign tech (IEEPA and CFIUS), aides said.
The bill gives Congress clear authority to overrule administration decisions regarding adversarial nations, they added.
"We don't believe that the bill, as written, supports those concerns, but we're of course open to taking a look at any additions that could provide additional reassurance so that we can get this bill passed into law," Warner spokesperson Rachel Cohen told Axios.
What's next: Any markup would be up t0 Senate Commerce Committee chair Maria Cantwell to schedule, which hasn't happened yet. Thune's office told Axios they'd "welcome" a markup.
Cantwell has a full plate, with pressure for a vote on kids' privacy legislation, concerns about AI, and FAA reauthorization.
A Warner aide said they're continuing to talk to the Biden administration about how to allay any concerns. The National Security Council has said it supports the bill.
The Biden administration continues to support the RESTRICT Act, especially key elements including divestment authority and the strengthening of an ICTS executive order, per a U.S. official.
The official said they're aware of some concerns that industry players have flagged and that although there's been a wide range of claims about the bill, the government is open to changes and the legislation is important to get done.
Go deeper