Why Roark makes the most logical buyer of Subway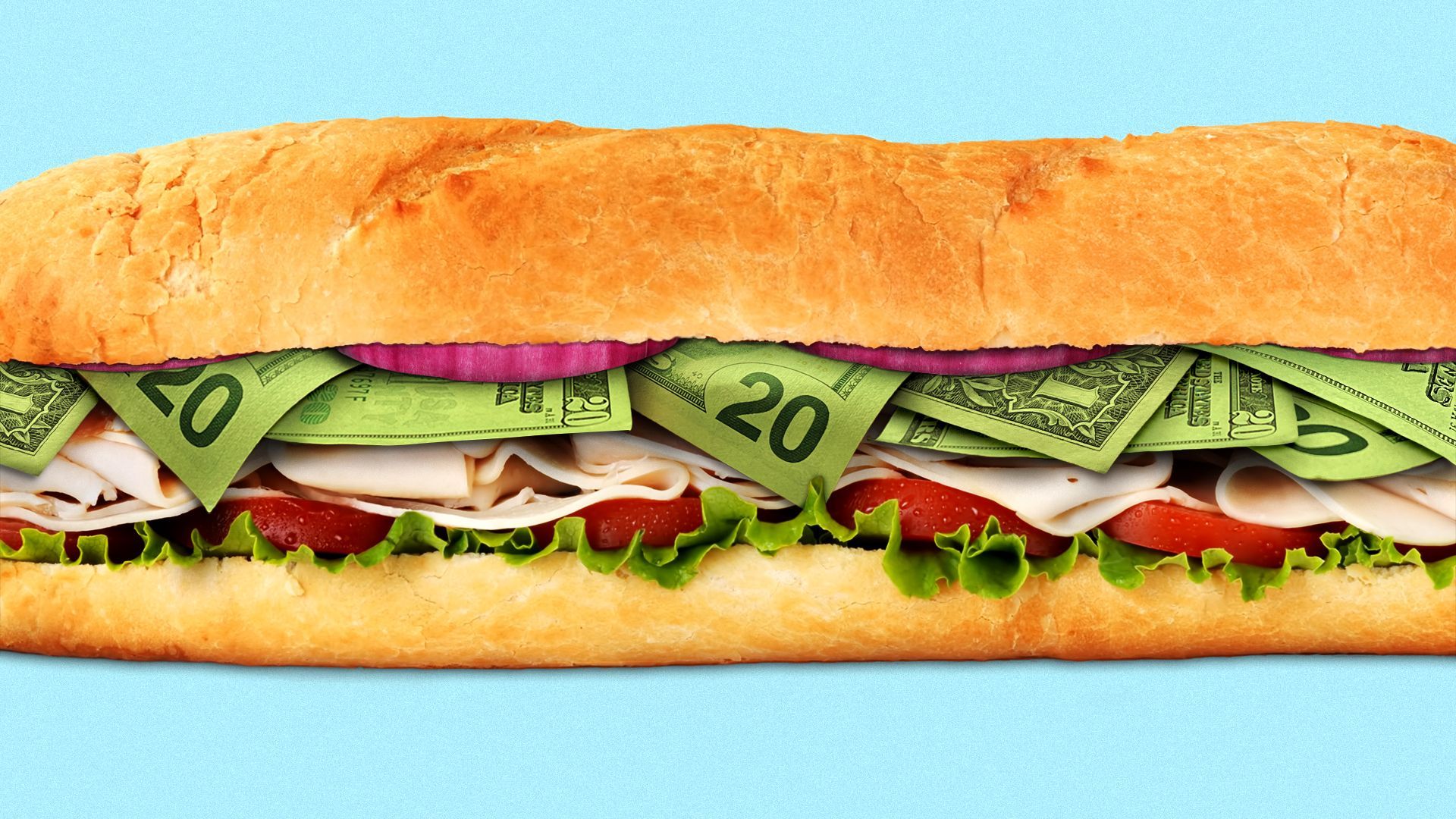 While Subway's founding family hasn't yet picked a buyer, leading bidder Roark Capital's extensive restaurant portfolio could make the PE firm the most viable acquirer.
Why it matters: An acquisition of the sandwich chain would solidify Roark's position as one of the largest restaurant owners in the world.
It already controls fast-food chains Dunkin', Arby's, Sonic Drive-In, Baskin-Robbins, Jimmy John's and Buffalo Wild Wings.
Driving the news: The Wall Street Journal reported Monday that Roark was poised to acquire Subway for $9.6 billion.
Yes, but: The JPMorgan-led sale process is still down to two bidders, Axios confirmed Monday — Roark on one side and TDR Capital and Sycamore Partners on the other.
Bloomberg reported Tuesday that TDR and Sycamore brought in Goldman Sachs Group's asset management arm and an unnamed sovereign wealth fund, in a last-ditch effort to win the auction.
Between the lines: Although a PE firm, Roark can behave like a strategic acquirer given its holdings, giving it an advantage over the rival group.
The sponsor could elect to merge Subway with its restaurant holding company Inspire Brands — as it did with Dunkin' — or at least, share resources between the two and realize synergies.
That potential for an increase in cash flow could support more debt and a higher valuation, as well as boost returns.
Roark's track record also makes it a more attractive borrower.
Catch up fast: An acquisition of Subway would be the latest in a series of Roark deals that have transformed the fast-food industry over the last decade.
Inspire Brands is a holding company formerly known as Arby's Restaurant Group.
That company inked a $2.9 billion deal to acquire Buffalo Wild Wings in 2017 and bought Sonic for $2.3 billion a year later.
It added Jimmy John's to its growing portfolio in 2019 for an undisclosed amount, though the chain was reported to have $2.1 billion in sales at the time.
The acquisition of Dunkin' and Baskin-Robbins in 2020 for $11.3 billion more than doubled Inspire's systemwide sales at that time.
Zoom in: An acquisition of Subway could mirror that of Dunkin'.
When Inspire acquired Dunkin', the coffee chain was weathering the pandemic under former McDonald's executive David Hoffman, who was focused on improving franchisee profitability.
Under CEO John Chidsey, who previously helmed Burger King, Subway has been in turnaround mode, consolidating franchisees into larger operating groups, Axios previously reported.
Subway's franchise model, which eschews owning locations in exchange for an asset-light model that prizes royalties over operating revenue, is in line with Roark's past investments.
Be smart: Unlike Dunkin', which still has U.S. regions where it has no stores, Subway has fully saturated the market.
By the numbers: Subway had nearly $17.5 billion in global systemwide sales in 2022, per Franchise Times.
Roark's Inspire had about $31 billion in global systemwide sales last year, according to its website.
The bottom line: Acquiring Subway would put Roark's holdings ahead of Burger King-parent Restaurant Brands International and Starbucks — but behind McDonald's and KFC-parent Yum Brands.
Go deeper