Shein attempts makeover under a barrage of criticism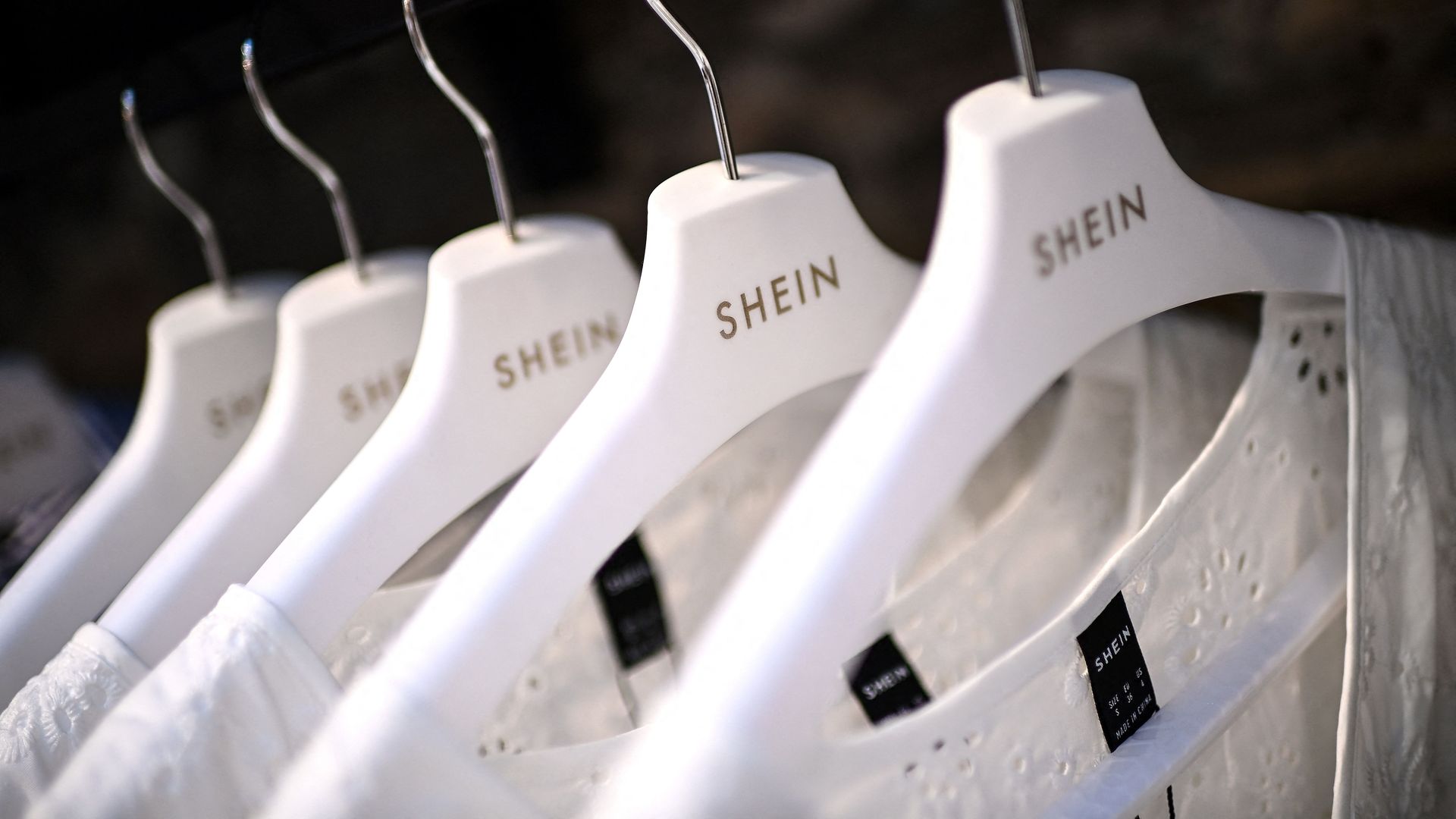 Fast-fashion giant Shein is attempting to revamp its public image — and the view of an industry that has been heavily criticized for its environmental and labor practices.
Why it matters: The timing of Shein's IPO and the company's longevity may depend on its ability to reduce headline risk and shift the tide.
The big picture: Shein is one part of a larger industry that contributed 7.73% of the 146.1 million tons of waste that made it into U.S. landfills in 2018, according to the most recent data compiled by the EPA.
Plus, the textile industry yields less landfill waste than other categories, such as food (24.14%), plastics (18.46%), paper and paperboard, metals and wood.
Flashback: The fast-fashion concept was originated by apparel brand Zara, founded in 1975 and owned by Spain-based fashion conglomerate Inditex.
Zoom out: Despite environmental and labor concerns, fast fashion's trendy styles and low prices appeal to younger generations with less expendable income.
Zoom in: Shein is rapidly taking apparel market share, growing 50% year over year to achieve $23 billion in global revenue in 2022 while generating $800 million in net profit.
Driving the news: Singapore-based Shein has served as a poster child for bad actors in fast fashion as of late, with forced labor allegations levied at it alongside criticism that it encourages consumerism and skirts import tariffs.
The company's most recent attempt at an image makeover — a brand influencer trip to its Guangzhou, China, factory, filmed on TikTok — faced backlash, with critics questioning the authenticity of the commentary.
What they're saying: Shein's global head of strategy, Peter Pernot-Day, pushes back on labeling the brand as fast fashion, which he describes as copying luxury designers via a high-waste production model.
With its designs, the e-commerce brand is not reacting to runways, but to what customers are telling Shein they want, he says.
"We're looking to correct public misperceptions of brand," he adds.
How it works: The company attributes its growth to its model of making small batches of between of 100 and 200 garments of specific designs that are A/B tested, Pernot-Day says.
If a design proves popular, the company will continue to produce it, so it's not a scarcity play akin to either luxury or competitor Zara, he says.
Unsold inventory is reduced to less than 2% of all garments produced by Shein, leading to less waste, according to the Boston Consulting Group.
Yes, but: Shein is both cheaper and small batch — historically an "impossible" problem to solve without abusing something in the supply chain, Forrester retail analyst Sucharita Kodali tells Axios.
Of note: Outside of Oritain, which certifies the cotton used by Shein in its garments, it does not have additional third-party certification for the sourcing of manufacturing or materials.
The company says about 2% of the cotton fibers tested that end up in its supply chain are from unapproved sources, including from the Xinjiang region in China, an area noted for forced labor practices.
If the cotton is detected, Shein takes several steps including immediately suspending production, halting shipments, and removing the product listings, according to the company.
The company says it audits the factories it sources garments from for the presence of relocated Uyghur workers, an oppressed minority group in China.
Reality check: It's been almost 10 years since China stopped publishing intra-country shipping data, and that lack of transparency makes it difficult to verify Shein's claims, notes Kearney partner Brian Ehrig.
What's next: Shein recently launched an integrated global marketplace for third-party sellers, Pernot-Day says.
While most of the company's production is concentrated in China's Guangdong province, some has already been moved to Brazil and Turkey, with facilities planned for Mexico, he says.
Shein's aims to have a localized manufacturing and distribution hub for each market and to have all of its clothing production be circular by 2050, Pernot-Day says.
Be smart: Shein's timeline trails companies such as Adidas, which have plans to be sustainable by a much earlier date, Ehrig says.
State of play: The latest fast-fashion entrant to make headlines — and a fierce competitor to Shein — is e-commerce marketplace Temu.
Shein's $23 billion in revenue would place it among the largest producers of apparel in the world, alongside LVMH, Nike, Adidas, Richemont and Kering.
Among fast-fashion players, Inditex currently ranks the largest, while Shein and H&M are in second and third, with Uniqlo's parent Fast Retailing in fourth.
Go deeper