Chobani CEO says IPO remains option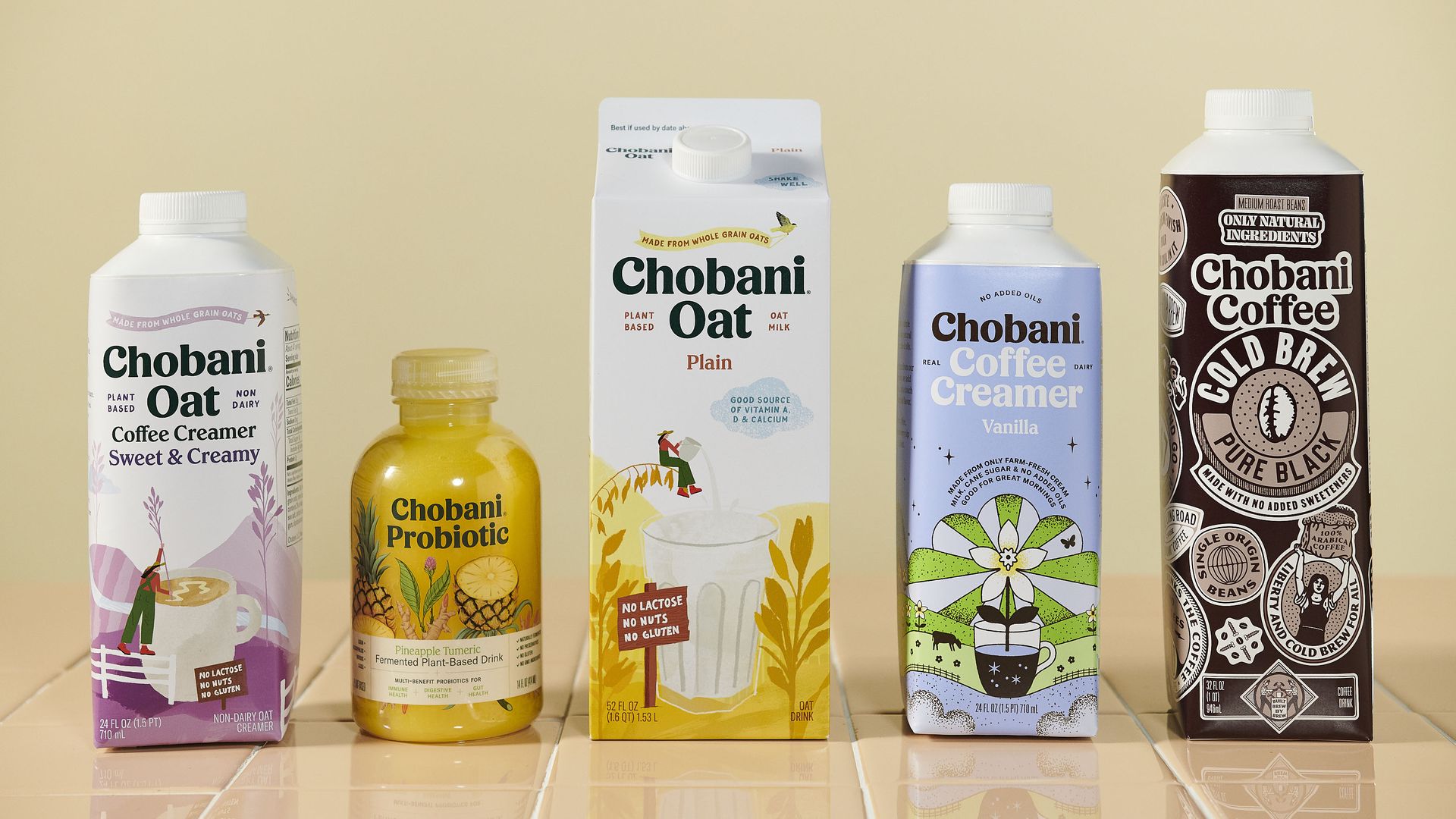 Yogurt maker Chobani still sees a public offering in its future, CEO Hamdi Ulukaya tells Axios during a sit-down interview at its New York City offices.
Why it matters: Should Chobani file, it would be one of the most highly anticipated and largest public offerings by a CPG company in years.
Catch up fast: Chobani confidentially filed for an IPO in 2021 but then pulled it more than a year later as the market slowed to a 32-year low.
Instead, Ulukaya says, Chobani worked to scale and claim more shelf space, achieve a best-in-class fulfillment rate, expand its product portfolio, and improve its financial standing.
Details: Ulukaya declined to elaborate on the timing for a potential IPO, though he ruled out an exit to a financial sponsor or strategic, noting the company is past that stage.
Chobani does not intend to be an acquirer, as there are plenty of opportunities to expand the brand in the dairy case in the coming years, Ulukaya says.
The big picture: A number of companies in retail and retail tech — such as Rokt, Lovevery and Hungryroot — are preparing to go public or be IPO ready when the markets reopen.
That may be at the end of this year or early 2024.
Mathias Schilling, a co-founder of VC firm Headline (an investor in GoPuff and Farfetch), posits the IPO market may open up 12 months from now.
The global public markets are beginning to show signs of life, with Alibaba's grocery chain Freshippo reportedly preparing for a Hong Kong offering.
By the numbers: Chobani's net sales in fiscal 2020 were about $1.4 billion, according to an S-1 filed by the company, and are now in excess of $2 billion this year, Ulukaya says.
Leverage declined from 7.6x adjusted EBITDA at the end of 2021 to 6.5x as of the end of 2022, rating agency Moody's said last week, when it revised its outlook from stable to positive.
Last year the company's revenue grew 27% and adjusted EBITDA grew 24%.
"The strong earnings growth reflects benefits from pricing that was taken to mitigate the impact of higher costs," Moody's wrote.
Zoom in: Leverage is expected to decrease to 4.5x by the end of this year, per Moody's.
Cash flow is expected to improve from negative $43 million last year to $50 million in the black this year.
Investments in creamer, oat milk, and water infrastructure for its Idaho plant as well as higher costs resulted in negative cash flow, the rating agency said.
Ulukaya notes Chobani has invested more than $500 million into infrastructure.
The latest: Chobani is focused on growing its core yogurt business (it recently launched new flavors for its Zero Sugar line), creamers and oat milk, Ulukaya says.
With the successful launch of coffee creamers and oat milk — both of which grew double digits — the company has shown it can enter new categories based on the strength of its brand, he says.
Yogurt still makes up 81% of Chobani's revenue, per Moody's.
The bottom line: "My ambition is to build tomorrow's best food maker," with an emphasis on ESG, healthier food and improved labor practices, Ulukaya says.
Go deeper