Freshpet sale could be complicated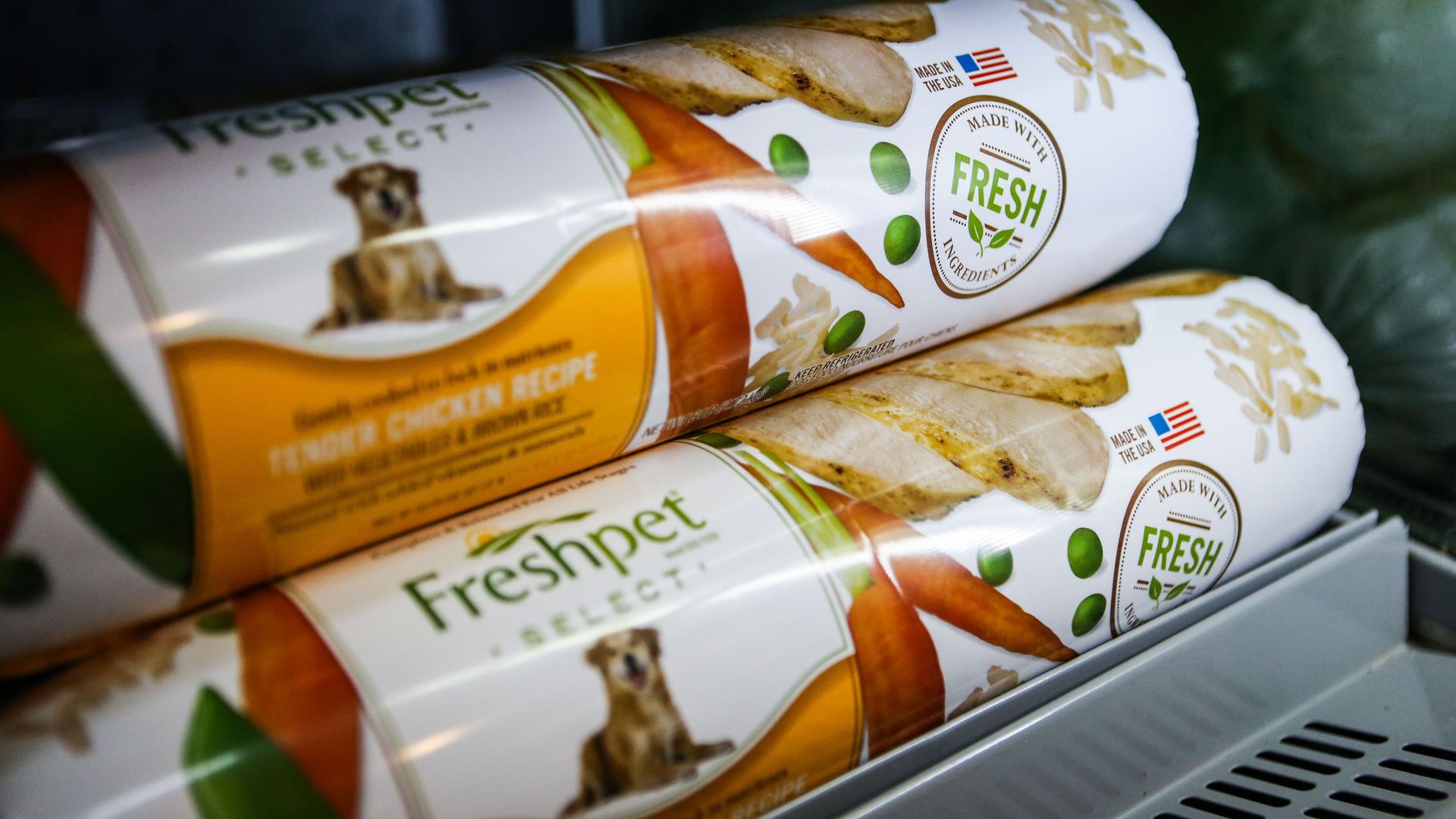 Freshpet, the publicly traded maker of refrigerated fresh pet food, has been under pressure from investor Jana Partners to sell itself, but the company will have to improve profits first.
Why it matters: M&A activity in the pet category has been strong in recent years, while investors increasingly view the segment as a sustainable bet, but the sector isn't immune to margin pressures.
Mars, for example, has added a number of pet food brands to its shopping cart over the past decade, most recently acquiring Nom Nom for $1 billion last year.
By the numbers: Freshpet's sales are accelerating, growing 43% in Q4 to almost $170 million and 40% during fiscal 2022 to nearly $600 million.
Yes, but: That growth has come at the expense of profits.
Freshpet reported a net loss of almost $60 million for 2022 compared to a net loss of nearly $30 million in 2021.
Adjusted EBITDA shrunk to about $20 million last year from $35 million in 2021.
What's next: Freshpet outlined a plan to improve its profitability at the Consumer Analyst Group of New York (CAGNY) conference last month, but would-be acquirers need to be convinced it is achievable.
The company projects that sales this year will increase to $750 million and that adjusted EBITDA will surpass $50 million.
Between the lines: While CPG conglomerates have added a number of pet food brands to their portfolios, they are also sensitive to the impact such acquisitions have on margins and profits.
J.M. Smucker struck a deal to sell its dog food business to Post Holdings for $1.2 billion.
At CAGNY, however, the company acknowledged the higher growth potential and margins of the pet treats and cat food segments it remains invested in.
Margins aren't just on the minds of the top brass at J.M. Smucker. Nestlé's CFO, François-Xavier Roger, questioned the economics of human-grade pet food at that conference as well.
Be smart: Expect Freshpet and Jana to engage in some behind the scene discussions as they figure out next steps.
Near-term, Jana wants some board seats.
Freshpet likely wants to buy itself some time to show it can boost cash flow.
Long term, a sale is likely in the cards, especially if the activist target can prove it can be additive to an acquirer's top and bottom lines.
Of note: The company said at CAGNY that it was contemplating raising capital via debt. Yesterday it announced it is proposing $350 million in convertible notes.
Freshpet declined to comment while Jana Partners did not respond to a request for comment.
Go deeper