Liquid Death gets Gen Z to drink healthier beverages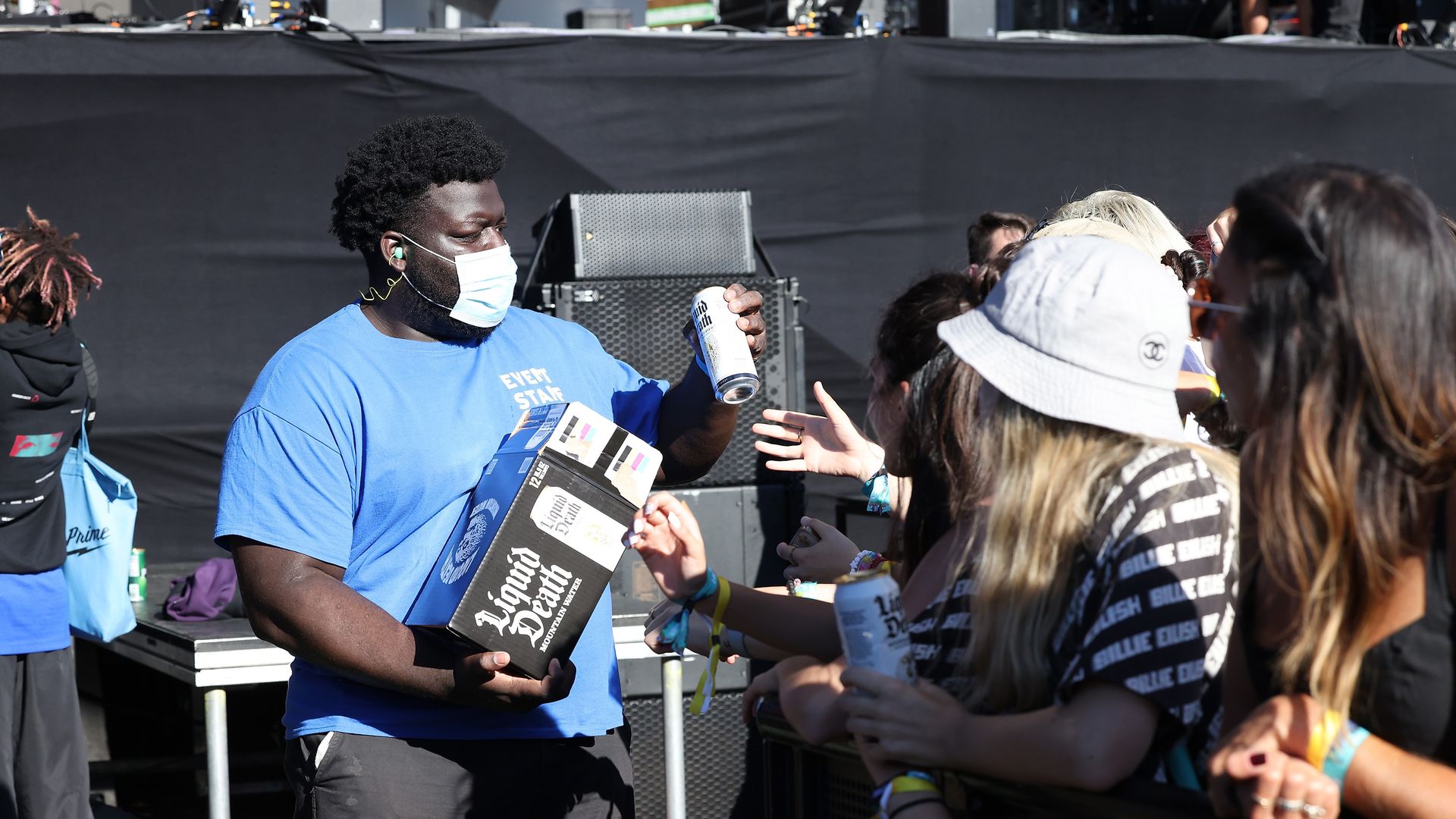 Liquid Death is a case study in the power of marketing and branding, transforming a product as simple as water in a can into a business with $130 million in scanned retail sales, according to its CFO Nicholas Manolelis.
Between the lines: As the better-for-you category matures, health benefits and tastiness aren't the only ingredients for brand success — unconventional marketing can help create an edge in the otherwise crowded category.
Of note: Manolelis spoke to Axios from the sidelines of the Natural Products Expo West annual trade show being held last week in Anaheim, California.
Details: The company's tagline "Death to plastic," and its replacement of bottles with aluminum cans, aims to target Gen Z's alignment with sustainable consumption consumer behaviors.
For Liquid Death, canned water was just the beginning, introducing sparkling water, sparkling flavored water, and now flavored teas, Manolelis says.
Tea was a way for the company to create another healthy alternative, with a micro-dose of caffeine and low sugar content, to alcohol and remain accretive for the company, he says.
It's about making health and sustainability more fun, with partnerships with events business Live Nation and rock band Metallica and its world tour, he adds.
By the numbers: Manolelis declined to comment on the company's financial performance beyond scanned retail sales — which is an indicator, not the equivalent, of revenue.
In 2021 the company generated $45 million in retail sales, per previous reports.
The company, which raised a $70 million Series D round last fall at a $700 million valuation, is adequately capitalized, though it's always opportunistic when it comes to raising money, Manolelis says.
The intrigue: Liquid Death will not be entering the alcohol or energy drink categories, sticking to its healthy premise, Manolelis says.
The bottom line: It's not enough these days to embrace the latest food trends and taste good, the brand name needs to be crave-able too.
Go deeper