Hostess could be tasty target for Mondelez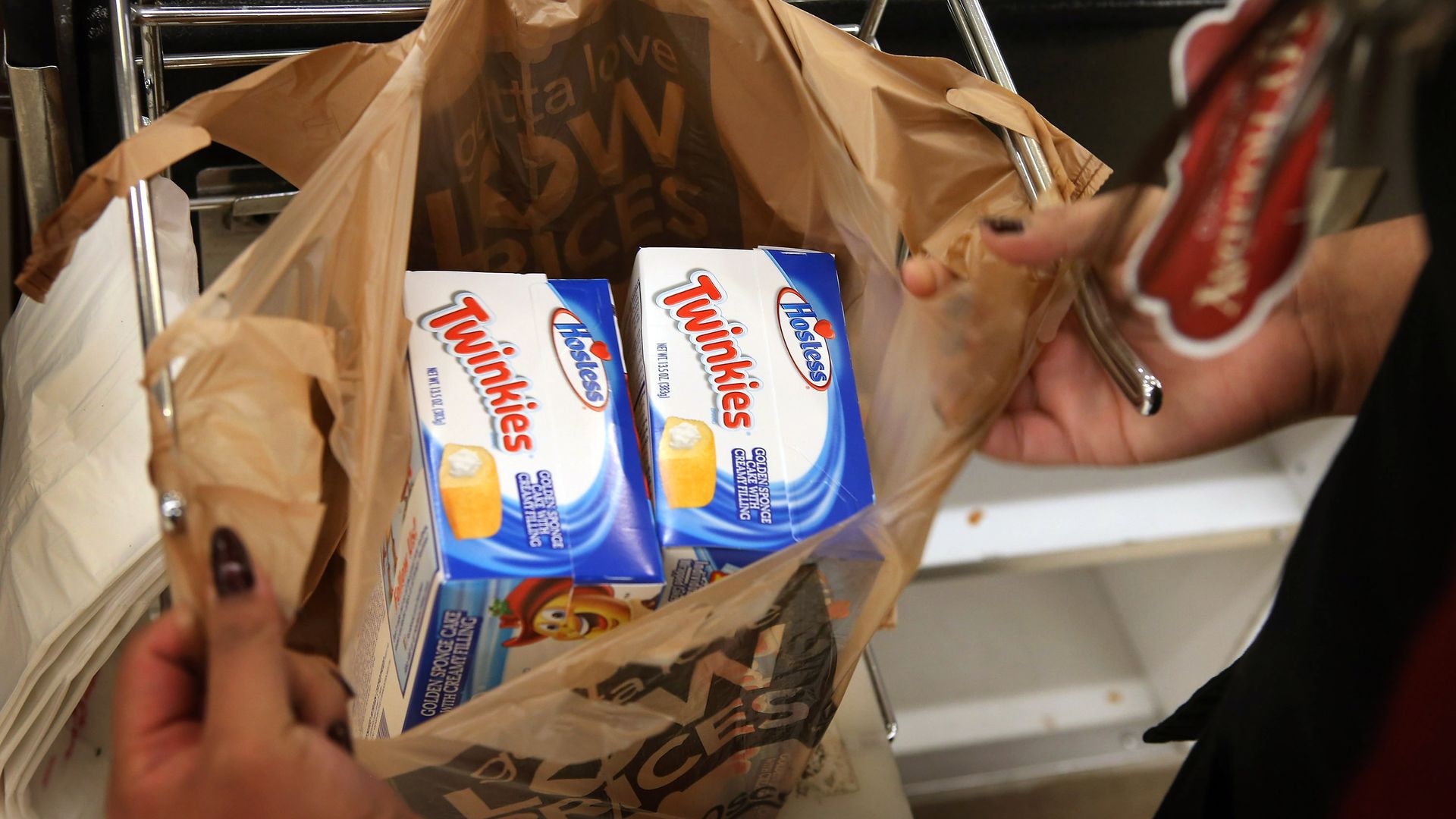 In its CAGNY presentation Wednesday, Mondelez said "growth-accretive" acquisitions will be key to its strategy and cited cakes and pastries in particular as attractive food segments.
Why it matters: Given the company's size, and interest in snack cakes, Hostess stands out as an attractive candidate, and its CEO spoke to Axios Wednesday.
State of play: Hostess is one of the few companies large enough to have an impact on a company with a market cap of about $90 billion and net revenue of approximately $31 billion for the year ended Dec. 31.
McKee Foods, the parent of Little Debbie and Drake's snack cakes, also makes sense as a target but is family owned.
Flowers Foods is another maker of snack cakes under the Tastykake brand, but the business largely comprises lines like bread brands Wonder and Dave's Killer Bread, which may be less attractive to Mondelez.
💭 Our thought bubble: Given Mondelez's size and interest in snack cakes, there may be no better target than Hostess Brands, which presented on Wednesday.
What they're saying: Hostess CEO Andrew Callahan tells Axios that Mondelez's interest in snack cakes is a validation of its own strategy.
And if investors don't trust the confidence that Hostess' executive team has in the future of their own business, maybe they will believe Mondelez, he adds.
If Hostess were to agree to a sale to Mondelez, it would only be for a robust premium that reflects the company's future prospects, Callahan says.
"McKee Foods is a third-generation family-owned company that strives to remain family owned as long as it exists," a spokesperson for the company said, on the other hand.
Mondelez did not respond to a request for comment.
Catch up fast: Mondelez acquired Clif Bar last year for $2.9 billion and is hungry for more.
By the numbers: Chicago-based Mondelez, which has an investment grade credit rating, had about $1.9 billion in cash and about $20 billion in long-term debt as of Dec. 31, according to an SEC filing.
Its EBITDA, meanwhile, was more than $6 billion, also for the year ended Dec. 31, according to PitchBook.
Meanwhile, Hostess has an enterprise value of around $4.2 billion, with a market cap of nearly $3.3 billion, cash of nearly $100 million, and long-term debt and lease obligations of almost $1 billion.
Even a lofty 33% premium to its current market cap would equate to an enterprise value of roughly $5.3 billion, well within Mondelez's financial reach.
However, Lenexa, Kansas-based Hostess had adjusted EBITDA just under $300 million in 2022, according to an SEC filing, and projects that number will fall within the $300 million to $315 million range this year.
Note that the company grew revenue at a 14.2% clip in Q4, beating analysts' estimates.
Go deeper