1 big meal: Cleary Gottlieb partner Jim Langston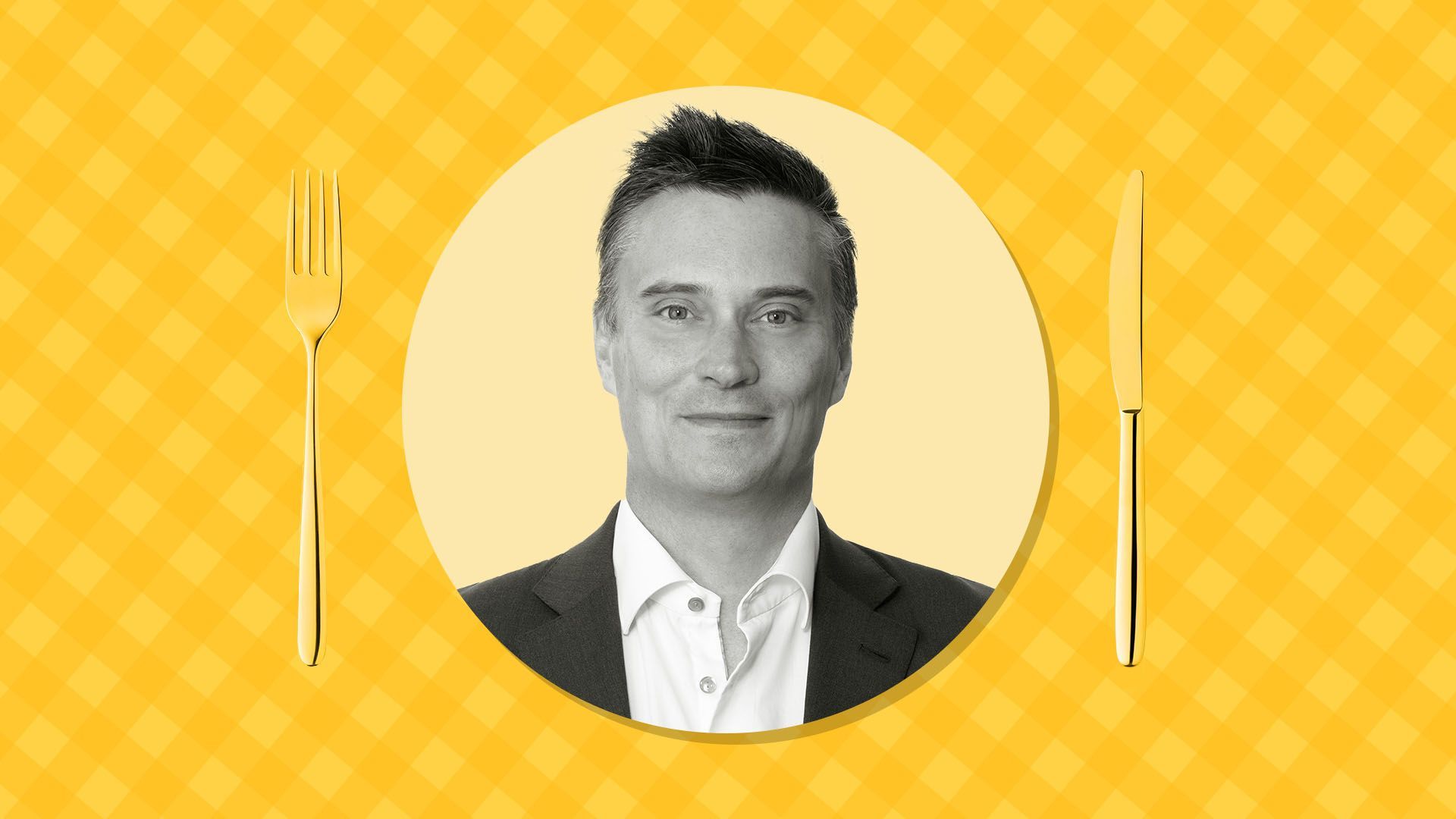 Cleary Gottlieb partner Jim Langston says he is confident M&A is "beyond the green shoots phase" and more deals will come later this year. He dined with Kerry last month as part of our "1 big meal" interview series.
Why he matters: Langston joined Cleary in 2011 and became a partner in 2015. His firm works on public and private M&A, including hostile takeovers and contested deals. Media clients include Sony and T-Mobile.
🇫🇷 Why we chose the restaurant: La Marchande in the Financial District. Langston says he hadn't been here yet but was told his European coworkers love this spot.
🐟 What we ate: He drank an iced tea and ate Grilled King Salmon. I drank tap water and ate Grilled Chicken Paillard.
Now that we're halfway through 2023, how would you describe the state of M&A in media?
There's been a lot of focus in profitability, bringing down costs, so that's most of those companies' focus most recently and less on big M&A. I think [that] will make them stronger and make them more attractive targets to some companies or private equity buyers once they get past that cycle and feel like they're on sounder ground.
Are you concerned about the FTC's renewed focus on antitrust?
There are a lot of ways to get deals done in the environment. You have to be proactive. You have to have a strategy. You have to have the courage of your conviction to be willing to see the deal through to completion. The FTC, the DOJ, they're just racking up loss after loss.
What do you think about the new M&A guidelines from the DOJ and the FTC?
We wrote an article about it. It is a radical reshaping, but how much impact it'll have at the end of the day, we'll see.
Why has there been so much activity in the telecom sector? (Cleary advised T-Mobile on its acquisition of Mint Mobile parent company Ka'ena Corporation.)
It's a sector that's in the midst of a transformation. There's one company that really disrupted that industry. You have the two legacy, incumbent carriers that were under a lot of pressure, very high debt loads, and require a lot of investment to build out their networks.
At the same time, the cable companies are getting into their business as well because of cord-cutting and their core business model being under pressure. I think you see a lot of blurring the lines between the cable companies and the telecom companies.
What other sectors are buyers interested in?
Everyone is talking about or wants to talk about AI. How that is going to transform not only the tech sector but every other sector and how the regulatory environment responds to that generational disruption and the companies that win and lose in that battle, organically and from an M&A perspective, I think is really fascinating.
That dovetails into industrials. Every industrials company wants to be a tech company or wants to have a higher margin, higher multiple element. We've seen a lot of industrials companies reshape their portfolio, divest non-core assets and use the proceeds to redeploy more tech-like assets.
🚦1 fun fact: Langston is from Winterville, North Carolina, which he described as a small town with 1.5 stop lights.
Go deeper