1 big meal: CoVenture partner Brian Harwitt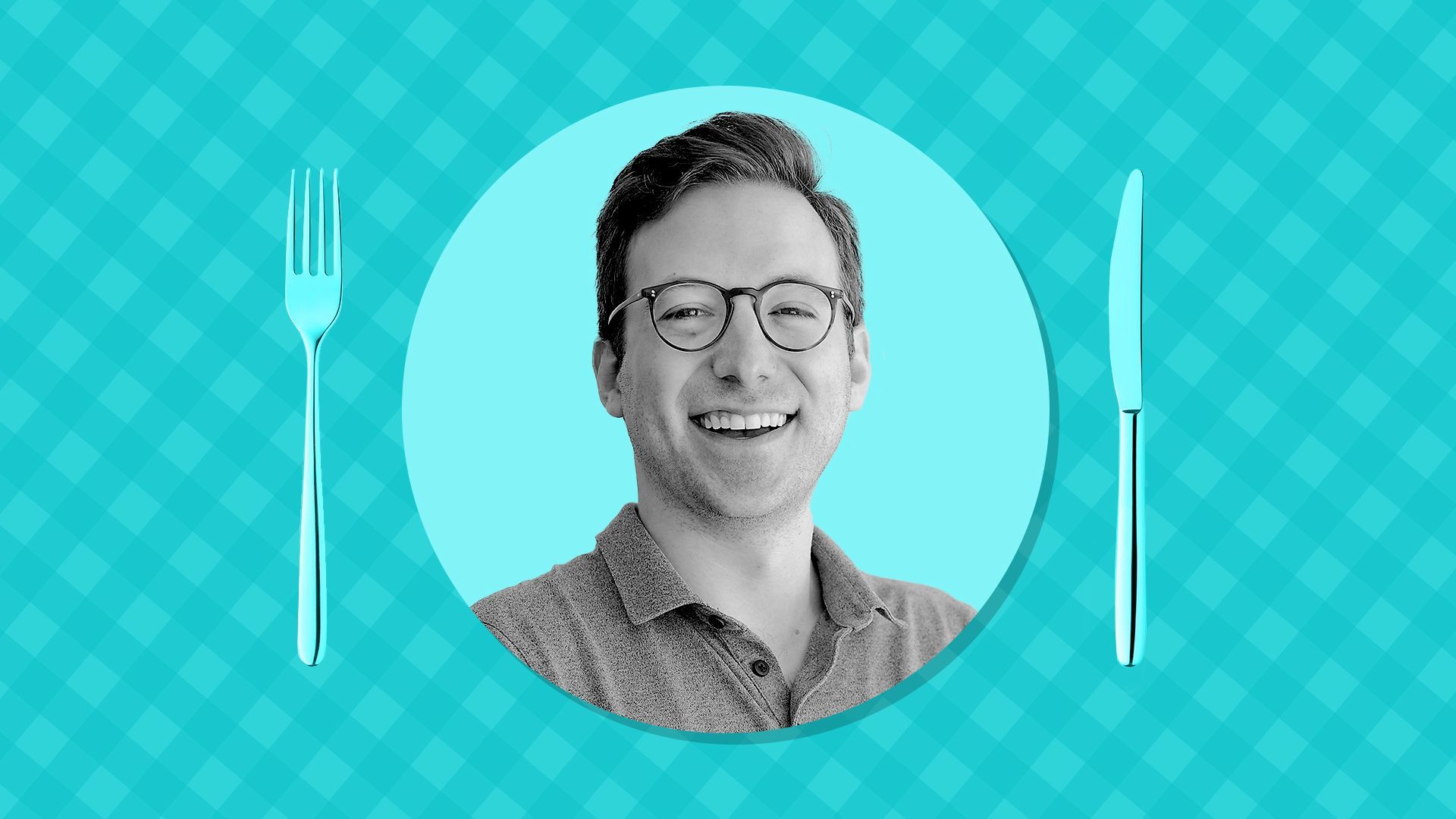 CoVenture partner Brian Harwitt says he immersed himself in the creator economy when his best friend and his brother's girlfriend both blew up on TikTok during the pandemic. He dined with Kerry this month as part of our "1 big meal" interview series.
Why he matters: Harwitt joined CoVenture, which provides debt financing to tech startups, in 2016 as its first employee. He met and interned with founder Ali Hamed in college and worked a stint at Guggenheim Partners.
❤️ Why we chose the restaurant: Russ & Daughters Cafe on the Lower East Side. Harwitt says his dad loves Jewish delis, so this is a "mandatory visit" when his family visits from Los Angeles. "It's the only place that makes better latkes than my mom," he adds.
🥯 What we ate: He drank a cucumber soda, and I had a coffee soda. We shared latkes with crème fraîche and salmon roe, the Holland herring fillet and the chocolate babka French toast. He ate a Classic board (smoked salmon and cream cheese) with a toasted everything bagel. I had matzo ball soup.
My colleague Tim Baysinger's VidCon dispatch said creator economy executives and investors were not worried about the downturn in funding. Do you agree?
During the pandemic ... a lot of money started going into companies that were facilitating and transacting in the long tail. The challenge of the long tail is they don't make a lot of money, and there's high-level burnout. ... It became really challenging to differentiate and be a successful business.
You have these moonshots, really big ambitious projects that were burning a lot of money, expecting capital markets to be open and equity to be flowing for a long period of time. It got shut all of a sudden, and that's where all these layoffs come. It's not because necessarily businesses were struggling.
There are platforms that are still incredibly valuable to creators. I think it's a matter that the creator economy is growing so fast that people were investing assuming it was going to have two years and be a massive thing. No, it's growing 20%, 30% year over year. In five, 10 years, it's going to be massive.
What's working in the creator economy?
Companies that can create predictable monetization [for creators] and companies that are more hands-on with creators, working with the highest-end creators that are high revenue per creator.
It's hard as a business to be profitable and serve customers that don't make good money when you factor in the labor. So, how do you profitably service smaller creators, and how do you sell to larger creators?
Is the current deal landscape actually good for you?
It's good in the sense that we can show we're very genuine about our thesis. ... The challenging thing is a lot of our investments are earlier stage and we're reliant on later-stage investment funds ... to back the companies we're backing.
You have to build a lot of conviction that there's going to continue to be equity capital around the table in order to make, from our side, the debt investment because you want to have the companies continue to grow and scale ... especially in asset-heavy businesses.
What's next for the creator economy?
We're starting to see a more steady state environment. I'm really obsessed with creators being media companies and the needs of the media company versus an individual creator changing. I think that's a huge tide shift.
🌎 1 fun fact: During early COVID, Harwitt and friends got into playing Settlers of Catan online. They ended up going from hobbyists to tournament winners, with Harwitt earning the New York title and his friend becoming the national champion and then second in the world.
Go deeper