1 big meal: North Six president Oliver Hicks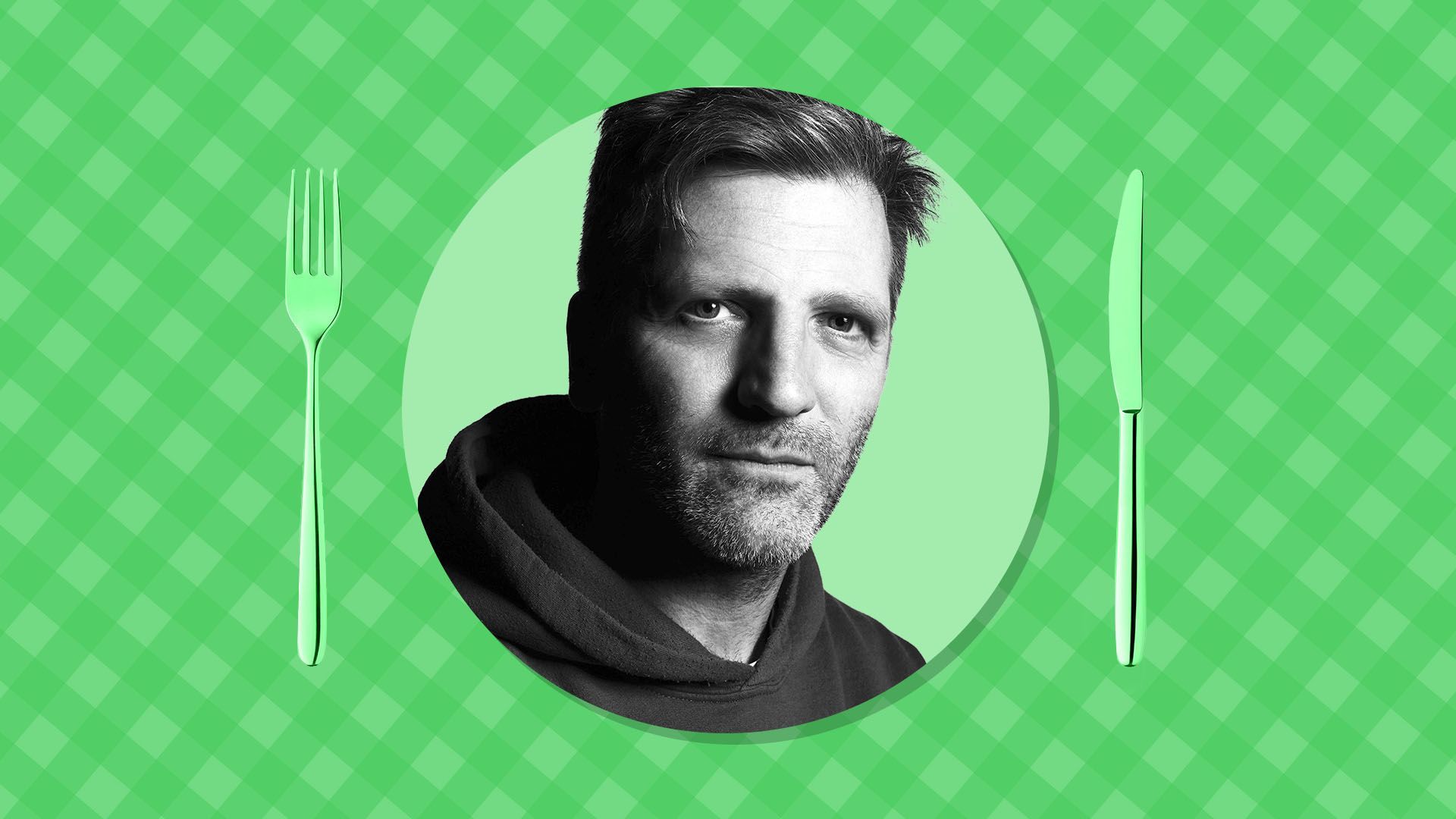 Recently returned from Rencontres d'Arles, the annual summer photography festival in Arles, France, North Six president Oliver Hicks seemed full of inspiration. He dined with Kerry this month as part of our "1 big meal" interview series.
Why he matters: In 2001, Hicks founded a production agency, North Six, from his Williamsburg apartment on N. 6th St. He now runs offices in 10 major fashion hubs and works with brands and agencies on film, print, experiential and influencer marketing.
Together Group, a collection of agencies within luxury and lifestyle, acquired North Six in May. Hicks is on the board.
🤫 Why we chose the restaurant: Morandi in West Village. This Italian restaurant is located between Hicks' home and office. He said lunch can be packed but breakfast is "quiet" and the "perfect spot for a conversation."
🍵 What we ate: He drank a hot mint tea and a Pellegrino and ate yogurt alla greca (Greek yogurt with honey, granola and raspberries). I had the crostini di avocado (avocado toast with tomato jam and radish, hold the egg).
After more than 20 years of being independent, why get acquired now?
They reached out [about 18 months ago]. At first, I was reticent as I'm very comfortable and happy with where I'm going with my company. But the more time I spent with them and understood their mission and their goals ... I realized this was something that was actually very much aligned in how I think and what I'm doing.
They're trying to build a network of luxury, founder-led agencies. This is not about consolidation. This is not about merger. This ... is really driven around the idea of supporting each other so we can work collaboratively but also independently of each other.
What are they providing? Are you looking to grow another office?
We are really looking into the Middle East. We're looking into Asia. Those are two markets that we will be opening in the next few years.
It's also building our capabilities. A large percentage of my business has been based around content creation. ... [I also] have experiential and influencer marketing, which are smaller parts, so that means that there's huge potential.
When I Google your agency's name, the first thing that comes up is Balenciaga. I know the lawsuit was dropped, but what was your reaction to that and the overall criticism of the campaign?
I don't really want to talk about it. I'd like to move forward and not look back.
As a production company, my focus has been always on the execution of creative that is delivered to me. We're not part of that creative process, especially with a brand that has in-house creative. At the time when it happened, it was shocking. But I think we came out of it in a strong and positive way.
How has your industry changed?
The budgets are bigger, but the demands are much, much more. We're probably shooting three or four campaigns all at once over one or two days of shooting rather than one campaign over four days. We're thinking about the behind-the-scenes, the lookbook, the TikTok campaign, the hero campaign, the interview.
🎶 1 fun fact: To help pay for a master's in archaeology, he worked for The Beatles' Apple Corps Limited in London.
As an intern, he delivered versions of the "Free As A Bird" video and episodes of the band's documentary series to its living members. He didn't finish his degree and instead got a job at ABC and a passion for travel.
Go deeper on our "1 big meal" series:
Go deeper