California pulls $54M Walgreens contract over abortion pill decision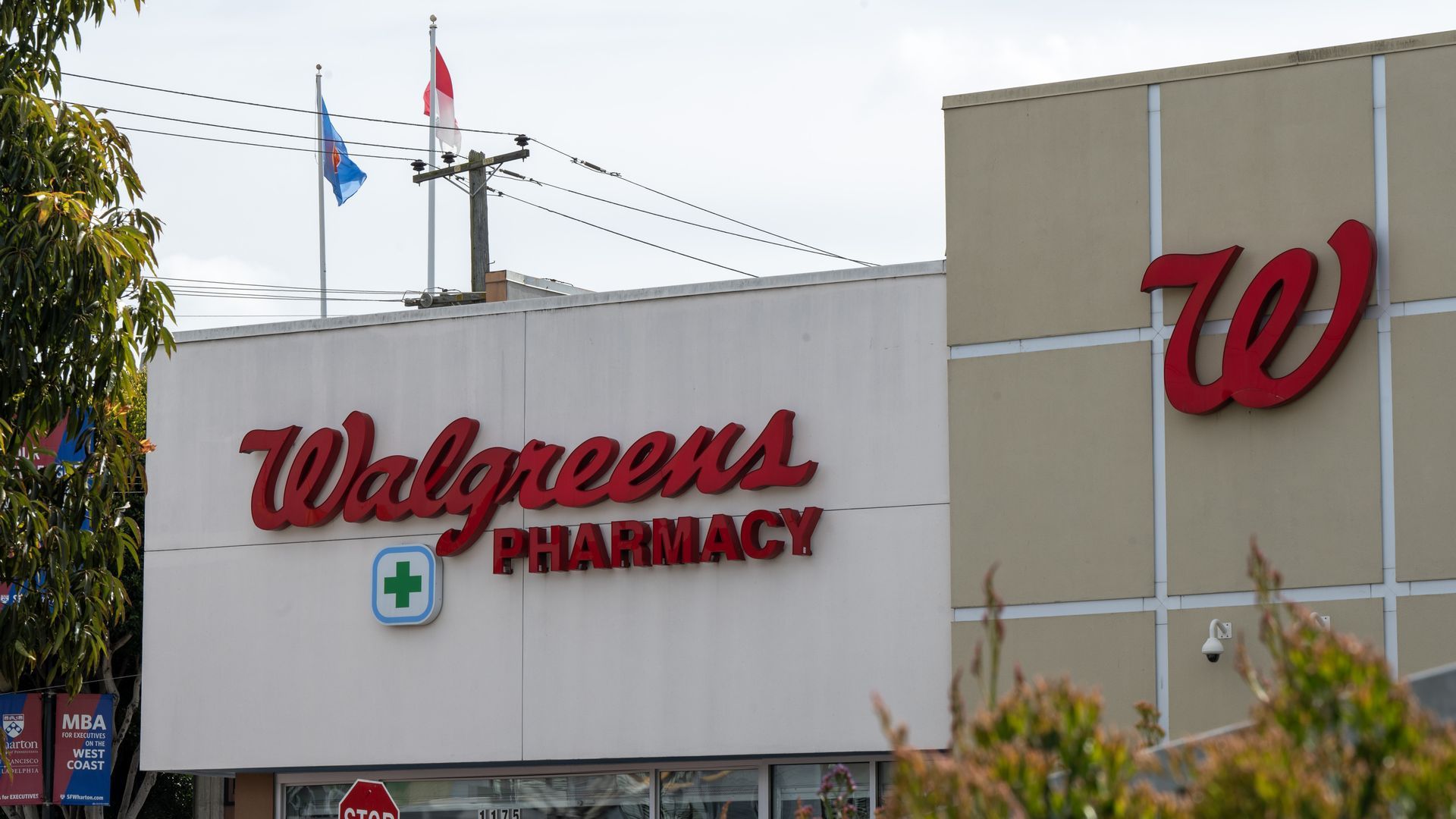 California will not renew a $54 million contract with Walgreens over the chain's decision to not dispense abortion pills in some states where abortion remains legal, Gov. Gavin Newsom's (D) office announced on Wednesday.
Why it matters: In the wake of the Dobbs decision, health care entrepreneurs and investors alike are increasingly focused on providing reproductive care, particularly abortion care.
What's happening: On Monday, Newsom tweeted that California was "done" with Walgreens. At the time, it was unclear what business with the company the state was ending.
Brandon Richards, a spokesperson for Newsom's office, told Axios on Monday that "California is reviewing all relationships between Walgreens and the state" — it's possible that other actions could follow.
Newsom said in an interview with Politico that this is the first step in an "exhaustive review" of all state ties with the pharmacy giant.
The move was the fastest action the state could take as it evaluates its business with Walgreens "because the contract is due very shortly to expire," a Newsom spokesperson said this morning.
State of play: Following the Supreme Court's decision last year to reverse Roe v. Wade, more employers are seeking to offer abortion and reproductive care.
What they're saying: "We are deeply disappointed by the decision by the state of California not to renew our longstanding contract due to false and misleading information," Walgreens spokesperson Marty Maloney told Axios.
"Walgreens is facing the same circumstances as all retail pharmacies, and no other retail pharmacies have said that they would approach this situation differently, so it's unclear where this contract would now be moved," he said.
"Our position has always been that, once we are certified by the FDA, Walgreens plans to dispense mifepristone in any jurisdiction where it is legally permissible to do so, including the state of California," Maloney said.
"We will dispense this medication consistent with federal and state laws. Providing legally approved medications to patients is what pharmacies do, and is rooted in our commitment to the communities in which we operate."
Zoom in: The contract between California Department of General Services and Walgreens lets the state "procure specialty pharmacy prescription drugs, primarily used" by California's correctional health care system, according to Newsom's office's press release.
Catch up fast: In January, Walgreens confirmed to Axios its plans to begin dispensing mifepristone after the FDA passed regulation allowing retail pharmacies to do so.
The pharmacy giant seemed to reverse course this month following a letter from Republican attorneys general saying Walgreens could face legal consequences for distributing the drug,
Walgreens responded to the Republican AGs' letter "indicating we will not dispense mifepristone in their respective states," company spokesperson Fraser Engerman confirmed to Axios last week.
After days of backlash for this decision, Walgreens said in a statement that it "plans to dispense mifepristone in any jurisdiction where it is legally permissible to do so."
Yes, but: Some of the Republican-led states where abortion remains legal that warned Walgreens against dispensing mifepristone include Alaska, Iowa, Montana and Kansas.
Maloney declined to comment to Axios for this report on Walgreens dispensing plans for these four states.
What we're watching: Whether CVS or other retail pharmacy peers respond to the move from Walgreens.
Of note: A spokesperson for Missouri's attorney general, who led the GOP AGs coalition in sending letters to Walgreens and CVS, told Axios on Tuesday that its office had not received any response from CVS on its dispensing plans.
CVS did not respond to a request for comment.
The bottom line: If pharmacy incumbents definitively limit access to medication abortion, expect to see nimble digital pharmacies and virtual care providers act in their stead.
Editor's note: This story has been updated with a comment from Walgreens, which was emailed Wednesday evening but missed before publication.
Go deeper