How the DEA's proposed rules could impact addiction startups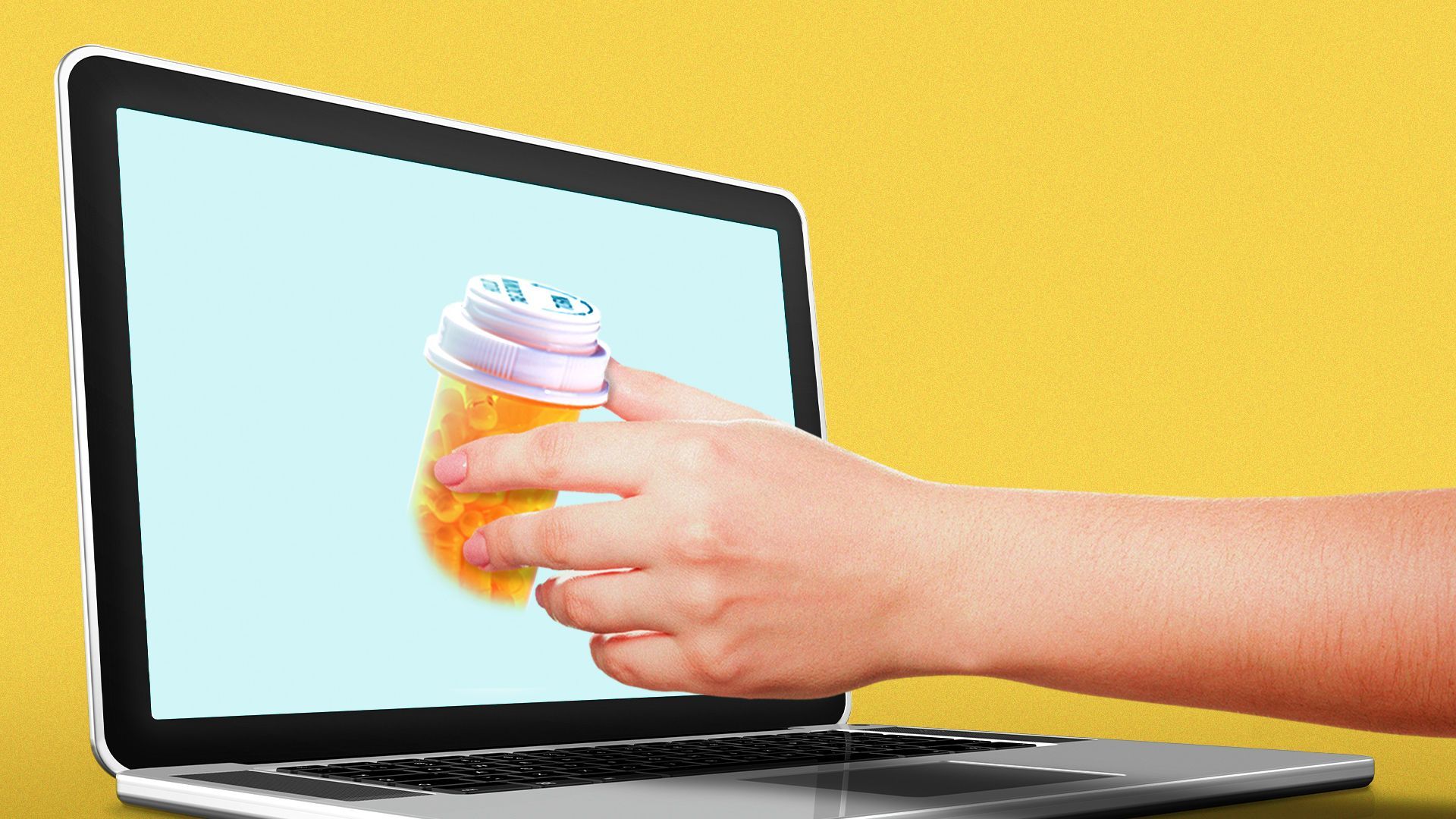 A pending federal clampdown on telehealth-based controlled substance prescribing is roiling the behavioral health community, startup executives and academics tell Axios.
Why it matters: Telemental health experts and executives say the proposed rules put their patients with opioid use disorder (OUD) at risk of relapse and even death.
Catch up quick: The Drug Enforcement Administration last month moved to require that, when the public health emergency ends in May, doctors see patients in person before prescribing controlled medications including Adderall and opioids.
The rules would also limit access to the OUD medication buprenorphine, for which patients could get only a 30-day supply before an in-person exam is required.
It's the agency's latest move to curb virtual overprescribing of controlled substances. DEA administrator Anne Milgram said in a statement that the rules would widen access "while ensuring the safety of patients."
Between the lines: Although less restrictive than pre-pandemic rules, the requirements are the opposite of what more than 50 organizations — including the American Psychiatric Association and the American Telemedicine Association — asked the DEA and HHS to do last year.
The rules also did not acknowledge a long-awaited special registration process for remote prescribing of controlled substances that Congress wrote into the Ryan Haight Act of 2008, said Krista Drobac, executive director of telehealth lobbying group Alliance for Connected Care.
Flashback: Addiction groups and the Biden administration hailed pandemic-era policies permitting telehealth dispensing of pain pills and opioid use treatments including buprenorphine as a temporary win against a worsening crisis.
An August NIH report concluded that people with OUD who received telehealth services had a lower risk of overdosing and found that the pandemic-era expansions in buprenorphine access helped people continue their treatment.
Also, unintentional overdose deaths involving buprenorphine did not rise as a result of those prescribing flexibilities, per a January study in JAMA Network Open.
"There's really no empirical support for what they're trying to do," Leo Beletsky, a law professor at Northeastern University focused on substance use and addiction, tells Axios. "The fallout is going to be measured in lives lost."
What they're saying: Ankit Gupta, the CEO of online OUD treatment provider Bicycle Health, tells Axios the window in which someone with OUD is motivated to seek treatment can be brief, making telehealth a critical avenue for accessing medications that can help.
"Patients often prefer telehealth because of stigma and the lack of availability of providers," Gupta says. "Mandating that patients go in person for any touchpoint will reduce access to care. Forget about the amount of time it takes to get an appointment."
"This is going to cause more overdoses."
By the numbers: Gupta says when a patient is booked for an appointment within 48 hours, attendance is around the 90th percentile. When it is delayed by as much as one additional day, attendance drops into the 50th percentile.
Of note: Difficulties including obtaining child care and accessing transportation can make in-person requirements "an extremely high hurdle" for people with OUD, says David Deyhimy, an Orange County, Calif.-based addiction treatment center medical director.
"Many people with OUD are on Medicaid, and many of these people are in remote areas where it'll be impossible to get an in-person appointment," Gupta says.
The bottom line: The pandemic was a real-time experiment of what was possible in widening access to treatment, and:
"There will need to be a lot of education for patients who need these medications so that they understand what the process is and they don't fall through the cracks," says Terry Wilcox, CEO of patient advocacy group Patients Rising.
What's next: The DEA has given the public 30 days to comment on the proposals before it finalizes its guidance.
Go deeper