Here comes the Labor-HHS approps fight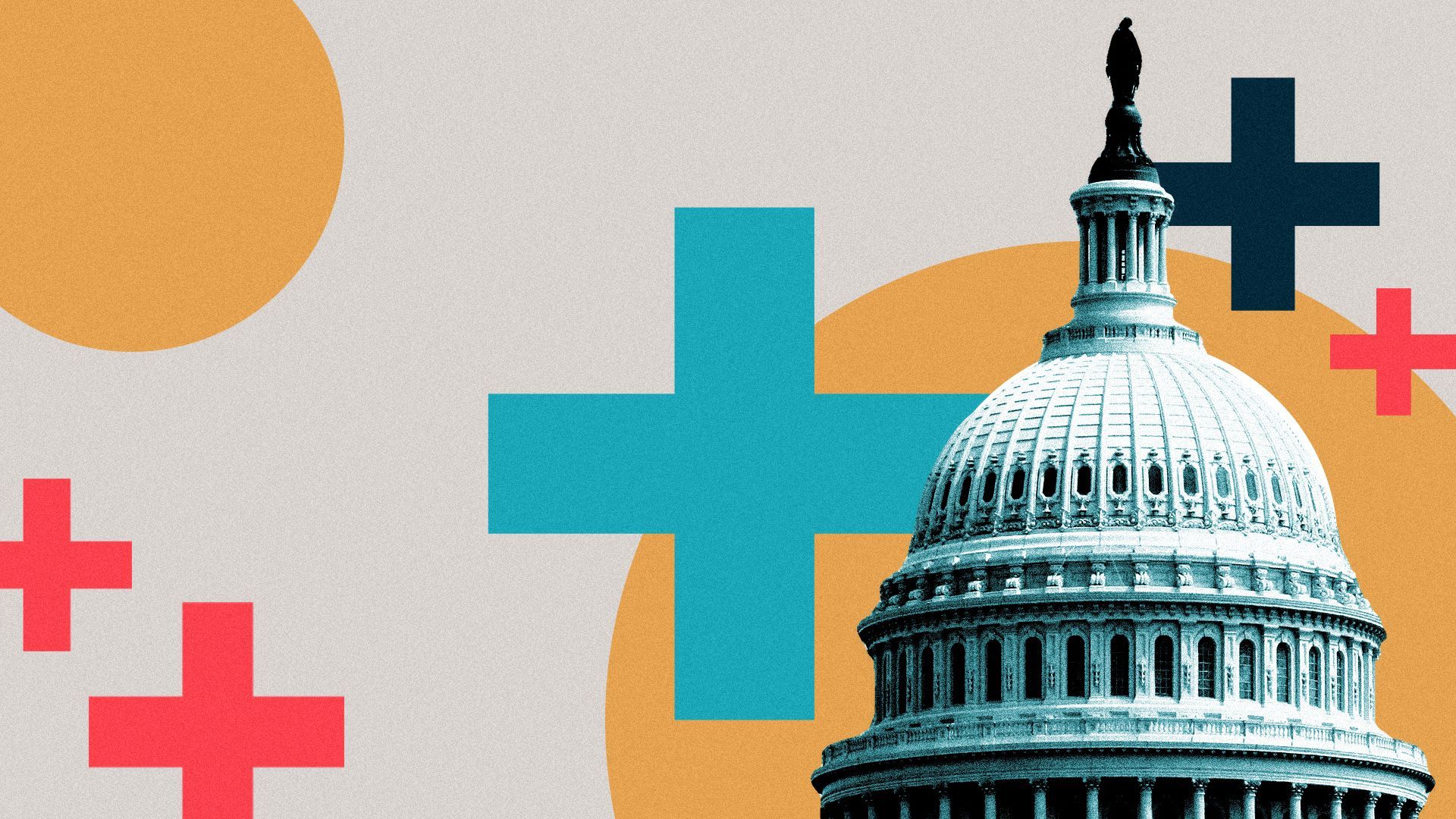 The Senate and the House are writing their versions of the Labor-HHS bill, and also preparing for the fights — some new and some old — that will come with it.
Why it matters: Although HHS and the NIH have been used to their funding levels increasing in past budgets, this time they're facing the real prospect of cuts for the first time in years.
Where it stands:
The House Appropriations Labor-HHS subcommittee is set to mark up its bill Friday at 10am ET. The committee has set the Labor-HHS spending number at $147.09 billion.
Senate Approps has set the Labor-HHS spending number at $195.23 billion.
Both are lower than the 2023 enacted Labor-HHS base discretionary funding, which was $207.37 billion.
And Monday, in a letter obtained by Axios' Andrew Solender, several House Freedom Caucus members told Speaker Kevin McCarthy they would vote against any appropriation bill funded at debt ceiling levels and would agree only to FY2022 funding levels without rescissions.
What they're saying: Asked about the timing of the Labor-HHS bill, Senate Appropriations ranking member Susan Collins told reporters Monday: "I'm not sure exactly how many we can do this month. Ideally we try to get them all done before the recess."
She passed up a chance to comment on how the House Appropriations bills are looking: "I'm concentrated on the Senate bills and getting those approved and to the Senate floor."
Between the lines: While the Senate is trying to write bipartisan appropriation bills, the House appears to be writing bills in a way that may make them difficult for even moderate Republicans to vote for — especially Labor-H, several health lobbyists said.
"I don't recall a time when members have been asked to vote for such deep reductions on this bill," said Jim Dyer, a senior adviser at Baker Donelson and former longtime staff director for House Appropriations Republicans.
"This bill [Labor-H] is a hard bill anyway, but when you knock it down 40% or whatever, you're going to have a lot of difficulty with moderates," Dyer added. "The Senate bill will be far more reasonable, but it will be austere."
However, Erik Fatemi, a principal at Cornerstone Group and a former Senate Labor-H appropriations Democratic staffer, said the Senate's allocation number doesn't quite tell the whole story after counting emergency funding and changes in mandatory programs.
"It will probably be at level funding when all is said and done," Fatemi said.
"I would not rule out a government shutdown on Sept. 30, but I think both sides are going to get there in the end, and I think avoiding the threat of sequestration is a lot of the reason why I'm optimistic," Fatemi said.
What we're watching: Remember, as part of the debt limit deal, if Congress can't pass 12 appropriation bills by next year, a 1% spending cut across the board is automatically applied.
If all 12 appropriation bills aren't passed by Sept. 30, a continuing resolution will be need to be put in place to avoid a government shutdown.
Of note: The House Labor-HHS bill will likely include antiabortion policy riders, which have been included in several other spending bills that have passed out of the House Appropriations committee and subcommittees.
That includes the controversial Hyde Amendment provision, which has traditionally been included in the bill. Some Republicans have pushed to pass separate legislation on the floor codifying it into law this Congress.
Go deeper